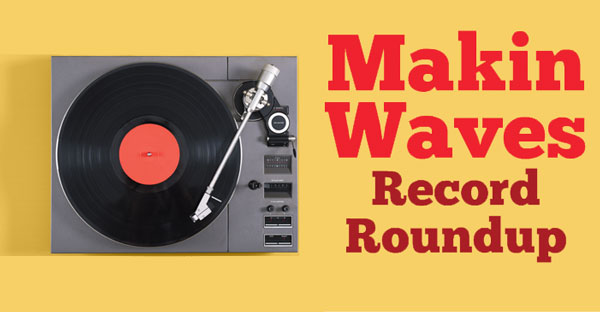 One of the things that founding Vansaders singer-songwriter-guitarist Doug Zambon is awesome at is writing about regret in a relatable way that makes you realize you're not the only schmuck in the pack. It's a very cathartic approach to music with a release of emotion lyrically rooted in the songwriting of Bruce Springsteen and Johnny Cash, as well as with a punk zeal cut from the edge of Social Distortion and The Clash. 
On The Vansaders' new nine-song LP, "Standstill," they trade in punk for acoustic Celtic-Americana that increases the intimacy of seven songs previously released on an LP and two of the band's three EPs. The collection also features two covers. A much improved version of Jawbreaker's "Kiss the Bottle," a sad tale about a down-and-out drunk who brings his girlfriend down with him by breaking her heart, better captures the Hank Williams-cryin'-in-my-beer essence of the lyrics with a beautiful arrangement inspired by Lucero's country-punk cover. The Vansaders' version also is improvement over that with exquisite fiddle and accordion tracks respectively played by Zach Doyle and Jake Garbe, two local traditional Irish musicians. Their work is among several exceptional guest performances expertly captured behind the board by Bouncing Souls guitarist Pete Steinkopf, who also produced The Vansaders' four previous releases. With Steinkopf at the helm, the band's take on "Kiss the Bottle" has a warm, edgy Celtic-like Flogging Molly vibe, yet the delivery also recalls "Tim"-era Replacements.
The other "Standstill" cover is "The Monster," a chronicle of a toxic relationship for which the protagonist takes the blame and from which he is reluctant to break free. Written and originally recorded by the late No Use for a Name front man Tony Sly, the Vansaders version resembles a Dylanesque take on Social D. 
The remainder of "Standstill" is redone originals, all wonderfully arranged and performed in a deeply moving way that defies the stagnant inspiration of the album's title. Throughout, The Vansaders – also guitarist-vocalist Deaglan Howlett, bassist-vocalist Kyle Zupe and drummer-percussionist Jay Maranzino -- prove that they are massively talented band who otherwise play punk rock not because they have to but because they want to. It's hard to make acoustic music this precise, intricate and intimate. 
It's even harder to keep up with the caliber of musicians involved. Ryan Gregg of The Shady Street Show Band contributes an achingly beautiful piano to a haunting version of "So Long Ago" from the 2015 "Jumping at the Shadows" EP. The regret of Zambon's original solo acoustic recording is recalled rather than the "fuck-it, fuck-you" vibe of the snarly, punk-fueled full-band live version. Zambon sounds like a young Bob Dylan as he sparingly picks and strums his acoustic guitar alongside Gregg on the album's most painful, yet cathartic track. 
Blues harp veteran Kenny "Stringbean" Sorensen adds a scorching solo and accompaniment to "Ripped It Apart," a fun, driving roots-rocker featuring a Levon Helm-spirited encounter with a she devil that also first appeared on "Jumping at the Shadows" but with a lineup different from Zambon's current band mates. 
Another deep track is the closing "Handshakes & Pity" from the 2014 debut LP, "Stuck in New York City." This is perhaps the greatest of the catalog's makeovers with Black Flamingos' guitarist Robbie Butkowski turning in a surprisingly sweet trumpet run on the tale about outgrowing the bar scene. The impeccably arranged remake features Brazilian-favored guitar and trumpet accompaniment ala Antonio Carlos Jobim and Stan Getz. 
Another standout is an acoustic version of "Sunrise" from the band's most recent EP, 2017's "No Matter What." Strings and vocal harmonies initially give the retake a Beatles/Beach Boys feel, especially on the beloved "bye bye bye to Bond Street" line. But then the tune breaks down into a sweet Mellencamp-like roots jam and continues as an anthemic sing-along, like it is live when the entire club nearly drowns out the band on the final chorus.
"Standstill" also features a Beatles-in-Ireland-like take on "No Plans" and a touching "Everything We're Not," both from the debut LP, and a fiddle-driven "Christine" from "Jumping at the Shadows." But the highlight of the album are the last four tracks: "Kiss the Bottle," "So Long Ago," "Sunrise" and "Handshakes & Pity," the best end to an LP I've heard in quite a long time, what 20th century radio used to call "a perfect album side.
Cook Thugless always have been a fascinating fusion of the trip hop of De La Soul, Tribe Called Quest and fellow Jersey City-ites P.M. Dawn and the jazz groove of Groove Collective, Gang Starr and fellow Brooklyn-ites Brooklyn Funk Essentials. But with their fourth studio LP, "Luxe," they get extremely experimental, particularly in regards to the vocals, and with a much harder edge, sometimes almost like Wu-Tang Clan or even Notorious B.I.G.
Trombonist Keith Lalley, who co-produced with guitarist Jace Limb, is the wizard behind most the vocal trickery. Throughout, "Luxe" demonstrates their progression as producers. Limb also mixed the album, designed its art and plays tasteful jazz-schooled licks on several tracks, along with bassist Riley Byrne. 
For the first time on a studio LP, Thugless have stepped away from an overt concept, such as their 2013 debut, "Time," 2015's "Space" and 2017's standout "Money." However, in contrast to the luxurious title, an autobiographical runs throughout about the joy and struggle of being a talented and productive independent band. 
"Luxe" opens with "Gemini," which soon will get the LP's fourth video. The tune features sweet, inventive rhymes by Jack Blerry in contrast to co-front man JeanLous' massive attack. "Stockholm" is a fun duet between them in a nod to one of the happiest and healthiest cities in the world. A percolating pop up-sounding track complements Jerry's breathy vocal and JeanLouis' bilingual rapestry. 
My favorite track, the fun, funky "DAT MOFK," the LP's first single and video from last spring, is next. To me, it stands out because of the edgy humor, the sultry Spanish feature of their Rutgers pal Shyrley, JeanLouis' and Blerry's impressive rhymes, and jazzy vibes that tie it all together. 
"Kobra Kommander" is a band bio with a nod to the title animated character. It's also one of the tracks that most experiments with the vocals, which often are turned up high and fast by Lalley. Yet, "Kobra Kommander" is one of the hardest-edged tracks on the LP.
Up next is "Lockjaw," a June video that also features Shyrley and stars another Rutgers pal, Brandon Flynn of Netflix's "13 Reasons Why." In a tune that explores the trappings of celebrity, I love the line, "The older I get, the less that I know."
"Figaro" is drummer J-Titty's turn at the mic with a Latin-style rap that is humorous, yet hard-edged and well-meaning as it exclaims that the band mates will be "Thugless for life." Amen to that, Brother! 
"Yung Bubz the Gato" is the most vocally experimental of the 10 tracks with an opening low from the bowels of Satan to a robotic high. These vocals by Lalley lead into a frantic rap by Blerry.
Another band tale is told in "For the Squad" through the metaphor of a broken-down car used to express the hopefulness of expressing themselves through their music. This one features a particularly impressive and inventive rapid-fire rhyme by JeanLouis backed by the sweet jazzy horns of Lalley and saxophonist Brian Clines and a lilting jazz vibe throughout by Limb. 
"The Devil" is featured in the latest and most expansive video, which was produced by their Jersey City pals in Pyrrhic Productions. More fun vocal trickery by Lalley introduces a crazy tale about the hardship of life and death told by JeanLouis. Amazing lines on the second verse about not being able to afford to die lead to a great abrupt ending of the spooky chorus. 
On the closing "Love Is a Wild Thing," Blerry looks back at the majority of the band's freshman year at Rutgers when they were young lions and had to learn the difference between real love and their lustful animal instincts among the fast female cheetah cubs at the school. 
Cook Thugless have a slew of shows coming up, including a mini tour with Jersey-bred, L.A.-based Jewish rapper Kosha Dillz on March 1 at FM Bar, Jersey City, with Green Knuckle Material and Feli Fame and March 2 at The Saint, Asbury Park, with Experiment 34. They'll also play March 17 at Scarlet Pub, New Brunswick, with The Do Rights and DAZED, and April 25 at Bowery Electric, New York City, with Murdock, Jonny Wolf and DAZED. 
Unlike a lot of today's punk rock bands, who rely on something other than songwriting to convey emotion, the Jersey City trio Cyclone Static maintain that edge while delivering a great deal of song craft in the tradition of Hüsker Du, The Pixies and Nirvana on their Mint 400 Records debut LP, "From Scratch." The 10-song effort also digs deeply into the still-flourishing well of '60s garage rock, especially that which was chronicled on "Nuggets," Jersey rock royalty Lenny Kaye's seminal 1972 collection. 
The sharply polished stash of angst-filled pop opens with my favorite, "Walk This Line," which seems as if Kurt Cobain and Johnny Cash got really fucked up one night in Rock 'n' Roll Heaven and sent down this tough-sounding, yet intelligent tune to Cyclone Static. The title track follows with a tube-smashing punk-rock look at time management.
Fans of Del Shannon will enjoy the energetic "Runaway" as much as fans of Social Distortion. The down 'n' dirty ditty owes a nod to both. 
The crunching strut of "Company Man" has all the balls that Jet wishes they had. The same can be said for the sweltering swagger of "Everlasting Glow," especially the garage rocker's fantastic opening drum roll.
Next up is "Circles," which, of all the songs on "From Scratch," best exemplifies the influence of Husker Du, The Pixies and Nirvana within the same track. The rhythms of drummer Jonathan LeVine and bassist Danny Patierno recall the first two, while, like much of the album, the guitar playing, vocals and songwriting of James Salerno recall Nirvana's Cobain.   
"Circles" is followed by the spooky metal-edged "Sacred Island," which is like a dark Scorsese movie with an anti-hero teetering on the brink. In this case, he laments a beloved scene no longer recognizable in the wake of gentrification. 
The fuzzy Nirvanaesque "Ordinary Days," the epic "Too Many Roads" and the closing stomp of "Unstoppable" finish out this monster record, which deservedly will take Cyclone Static far.