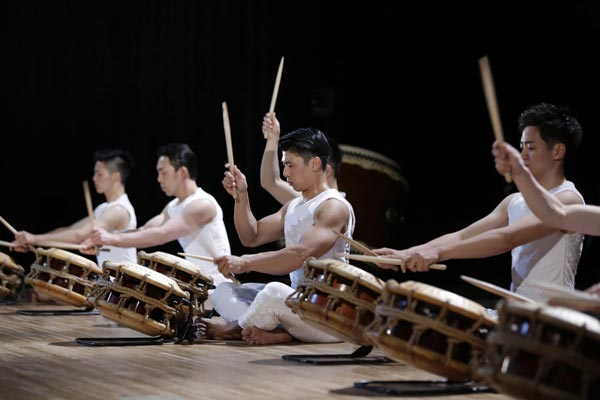 (MORRISTOWN, NJ) -- Kodo will demonstrate the limitless possibilities of the traditional Japanese taiko drum at Mayo Performing Arts Center on Thursday, March 14 at 7:30pm. Kodo has been touring under the banner "One Earth Tour" since 1984, embodying the group's desire to transcend language and cultural boundaries as they bring the sound of the taiko to all corners of the globe. Tickets range from $49-$79.
Through the "One Earth Tour," Kodo has given over 3,700 performances in 46 countries around the globe, making the group Japan's most internationally acclaimed performing arts ensemble. "Kodo One Earth Tour 2019: Evolution" showcases the perpetual creative evolution of Kodo under the artistic direction of renowned Kabuki actor Tamasaburo Bando.
The earliest incarnation of Kodo, called Sado no Kuni Ondekoza, was established in 1971 on Japan's Sado Island. The original members lived communally in an abandoned elementary school and sought to provide youth with a way to learn traditional Japanese performing arts. After debuting internationally, and becoming highly acclaimed, the group underwent a change in leadership that led to the official establishment of Kodo in 1981. Although performance became the primary focus of Kodo's activities, the initial dream to create a center to study traditional Japanese performing arts and crafts has never been forgotten. This dream became a reality in 1988 when Kodo Village, a creative space where Kodo members could explore new possibilities and interact with artists from around the world, was built. To this day, the lives of sixty Kodo members from throughout Japan are centered in this village.
Becoming a member of Kodo is no small feat and involves an intensive apprenticeship system. Beginning in April, apprentices live communally on Sado Island, near Kodo Village, and spend two years training in musical technique and all matters of body and spirit. In January of the second year, probationary members are selected from this group. These chosen few spend one year as junior members. If they are successful, they then become full Kodo members.
Kodo has remained fiercely dedicated to teaching and preserving traditional Japanese performing arts. In 1997, the Kodo Cultural Foundation was established to facilitate more education and outreach programs. The Foundation supports both local and international activities through social-education and outreach projects designed to give back to local communities. In 2011, Kodo celebrated its milestone 30th anniversary with a special commemorative tour throughout Japan, North America and Europe. In 2012, Kodo invited Kabuki luminary Tamasaburo Bando to become its artistic director.
---
The article continues after this ad
---
---
Tamasaburo Bando is a leading Kabuki actor and the most celebrated onnagata (actor specializing in female roles) currently on stage. He has demonstrated his profound aesthetic across numerous platforms, receiving the highest acclaim for his many artistic endeavors. In May 2012, Bando's first production as Kodo's artistic director, "Kodo One Earth Tour: Legend," premiered. Bando's second production, "Kodo One Earth Tour: Mystery," premiered in November 2013. The 2019 North American tour will be the first time his production, "Kodo One Earth Tour 2019: Evolution," is presented in the Americas.
Kodo thanks ANA for their support of "Kodo One Earth Tour 2019: Evolution" North America Tour.
Mayo Performing Arts Center, a 501(c)(3) nonprofit organization, presents a wide range of programs that entertain, enrich, and educate the diverse population of the region and enhance the economic vitality of Northern New Jersey. The 2018-2019 season is made possible, in part, by a grant the New Jersey State Council on the Arts/Department of State, a Partner Agency of the National Endowment for the Arts, as well as support received from the F.M. Kirby Foundation and numerous corporations, foundations and individuals. The Mayo Performing Arts Center has been designated a Major Presenting Organization by the New Jersey State Council on the Arts. Mayo Performing Arts Center was named 2016 Outstanding Historic Theatre by the League of Historic American Theatres, and is ranked in the top 50 mid-sized performing arts centers by Pollstar Magazine.
Mayo Performing Arts Center is located at 100 South Street in Morristown, New Jersey.