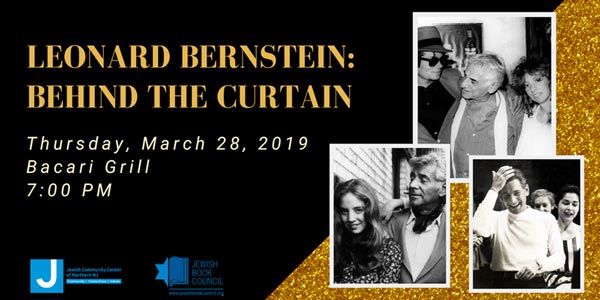 (WASHINGTON TOWNSHIP, NJ) -- The Jewish Community Center of Northern New Jersey hosts Jamie Bernstein, author of Famous Father Girl, at Bacari Grill in Washington Township on Thursday, March 28th from 7:00pm to 9:00pm.  It will be an evening of revelations about one of the 20th century's best known musicians. Guests will enjoy Bernstein vocal selections performed by Kristen Plumley, soprano & Ron Levy, piano, author book signing, wine, beer and hors d'oeuvres – followed by coffee and dessert.
Chief conductor of the New York Philharmonic, composer of such scores as West Side Story, Candide, On the Waterfront, and On the Town, Renaissance artist in a variety of musical forms, and all-around celebrity, Leonard Bernstein held court with everyone from the Kennedys to the Black Panthers to John Lennon. 
In this intimate portrait of a complicated and occasionally tormented artist and father, Jamie Bernstein—a celebrated concert narrator, broadcaster, journalist, poet, and radio producer/host in her own right—tells the intimate story of the man who taught her to love this messy and beautiful world.
Tickets are $36 in advance, $40 at the door and include the book Famous Father Girl by Jamie Bernstein.  Tickets are available online.  Bacari Grill is located at 800 Ridgewood Road in Township of Washington, New Jersey. 
The Jewish Community Center of Northern NJ (formerly the Bergen County YJCC), a 100-year old organization, embraces Jewish values and heritage, while maintaining an inclusive environment that celebrates diversity and welcomes the community at large to enhance mind, body and spirit through cultural, educational and recreational opportunities, without regard to race, religion or ability. The JCC of Northern NJ is in the process of realigning its goals and mission with the greater community and has embarked on a significant process to develop a long-term strategic plan to redefine the organization to meet the evolving needs of the community. 
---