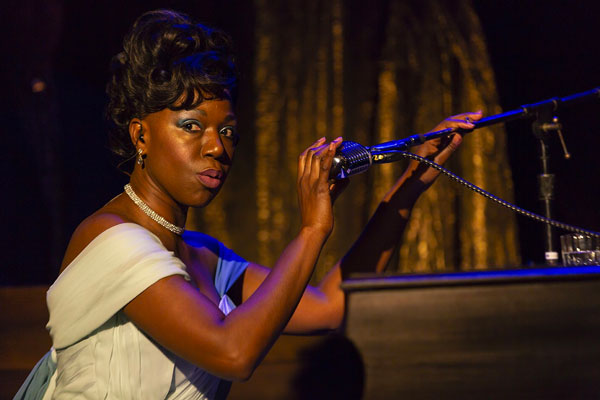 Kicking off the month of February, the George Street Playhouse welcomed lovers of theater, musical history, and all things embodying the High Priestess of Soul to enjoy the opening night of Little Girl Blue: The Nina Simone Musical. Serving as both writer and star of this unique slice of iconographic life, Laiona Michelle struts, sings and serves up the complex, yet honest tale of Eunice Kathleen Waymon for all to see in this world premiere performance.
Accompanied by a small cast of five, Little Girl Blue takes a stylized journey into two special performances in Simone's career -- one shortly following the assassination of Dr. Martin Luther King Jr. in April 1968; the other, 8 years later at a jazz concert in Europe. Entering along the far left aisle, the first act begins with Simone enduring the glare of paparazzi flashbulbs, armed police escorts, and the shouts and slurs hurled from a growing mob of detractors and concertgoers right before taking the stage. After a soundly placed witticism that puts them firmly in their place, she steps up to the mic with an unmistakable dramatic flair.
From there, our chanteuse shares stories of her past and present, effortlessly mingling in songs from her canon as well as timeless standards. Michelle's deep dive into Simone's childhood is evident in her reenactments of conversations between Simone and her parents. Together, the audience learns of the hopes, dreams and struggles that molded the reluctant jazz diva and underappreciated concert pianist into the star we thought we knew.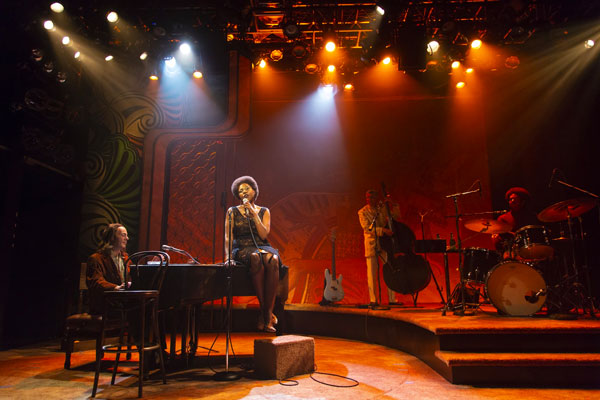 Joined on stage by Mark Fifer on keyboards, Saadi Zain on bass, and Kenneth Salters on drums, Michelle delivers the gravitas and grandeur fans of Nina Simone should expect from a play about her life. But she also exposes Simone as the vulnerable and bruised soul who made a way for herself when prejudice, inequality and abuse routinely blocked her path. From "Feeling Good" to "Four Women" to "Mississippi Goddam," Michelle deliberately plucks songs from Simone's discography that easily stand alone as singular stories of hope, hilarity and hurt in the face of adversity, lust and change. Yet when these songs are culled and combined into a first act narrative, the tunes also paint a picture as vivid and visceral as the Shoko Kambara backdrop that adorns the musical's set.
That unabashed honesty in the first act carries us full steam into the second, where in 1976, tales of adoration for Bach and her husband, Andy Stroud, give way to tales of assault and rebirth. Her relaxed updo has now embraced the natural curls of an afro. And her political commentary has evolved from a place of heartache and frustration to one of cynicism and determination. This Simone is the Simone. This is Little Girl Blue.
---
The article continues after this ad
---
---
Michelle plays the more mature Simone with aplomb, navigating the edge where artistry meets madness with empathy and respect. And command respect she does. Although at times uneven in its execution of musical numbers and insights on a world in disarray, the second act guides the audience through Simone's darkest moments -- from the retelling of sexual assault at the hands of a furious Stroud to the emotional collapse sparked by a rejection from a university that refused to view a young black woman as capable of pursuing a career as a classical pianist -- and reminds us that healers often have trouble healing themselves.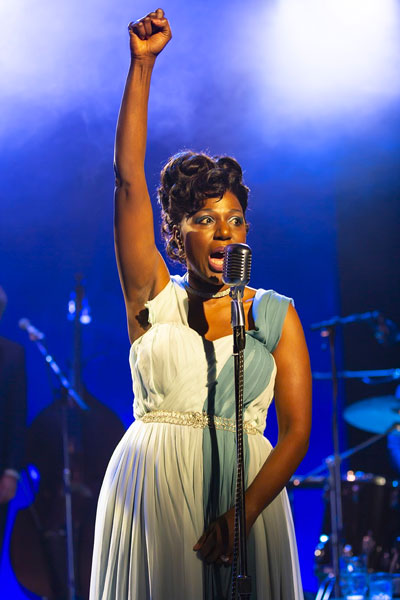 Yet from the ashes of her pain, Simone rises as the High Priestess of Soul. Punctuated by her classic song "Sinnerman," Simone's lyrics become the message, and her prodigious piano work, the messenger. In a flurry of movement, the audience shares in Simone's rebirth experience, and marvels as she turns tears of struggle and hurt into tears of triumph and pride. Nowhere is this felt more than when we watch Simone tell the story of opening her rejection letter from her premier performing arts school of choice, the Curtis Institute of Music, at a young age. In an instant, she is emotionally shattered and spiritually broken. But with support from her friends and the conviction that this will not be her undoing, she pulls herself together to launch into songs of hope and fearlessness.
Little Girl Blue: The Nina Simone Musical may not be the biopic that teaches us the most important bullet points about a woman whose musical canon includes everything from Israeli folk tunes to traditional ballads to classical compositions to children's songs, but it is a story that captures the person behind the music. Oftentimes, fans of iconic musicians choose to separate who the artists are from the works they produce. Many prefer to keep them in a box and only view them through the lens of acceptability and socially acceptable memes.
Michelle's writing and portrayal of Simone, along with the director Devanand Janki's vision, goes beyond acceptability. The musical shows us a raw and scarred Simone. A bisexual Simone. A defiant Simone. A judgmental Simone. A very human Simone. Some fans may have trouble appreciating that humanity, making Michelle's script and performance just as fearless and hopeful as the woman herself. Miss Simone would be proud.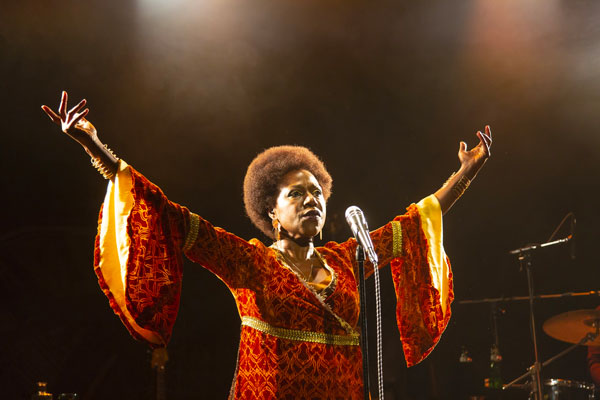 Little Girl Blue - The Nina Simone Musical runs at George Street Playhouse in New Brunswick now through February 24.
Photos by T. Charles Erickson
---
---

Candace Nicholson is a freelance writer, editor and blogger covering arts & culture, small business and community. When she's not pitching magazines, editing creative genius or penning blog posts, she's a regular contributor to LAFRA's Widows, Orphans & Disabled Firemen's Fund. Visit her blog at www.incandescere.com
---