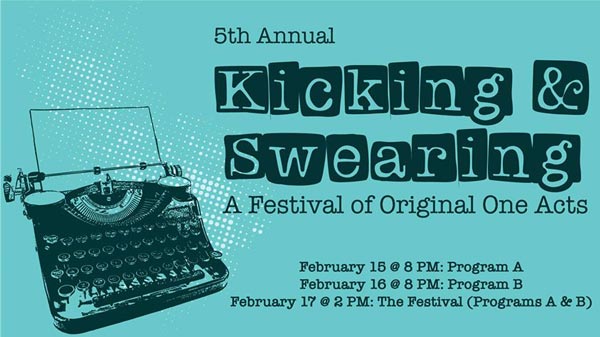 (RAHWAY, NJ) -- The Fifth Annual Kicking & Swearing One-Act Festival will take place from February 15-17 at the Union County Performing Arts Center's Hamilton Stage. It's a weekend filled with original one-act plays by the most talented budding writers and directors in the theater world. The festival offers two evenings of insightful writings that include original comedy, tragedy, satire, and sci-fi short plays to make up a matinee of spectacularly exciting theater. 
The first group of selected plays will be performed on Friday, February 15 at 8:00pm, and the second group will be performed on Saturday, February 16 at 8:00pm. The Sunday matinee, February 17 at 2:00pm, will present all selected plays, followed by a Q&A session with the writers, directors, and cast.
General admission tickets are available for purchase for $15 or $20 at www.ucpac.org/events. Tickets may also be purchased by visiting the Main Stage Box Office located at 1601 Irving Street in Rahway, NJ. The Box Office can be reached via email at boxoffice@ucpac.org or by calling 732.499.8226.
The Hamilton Stage is located at 360 Hamilton Street in Rahway, NJ and both locations are easily accessible to major roads and public transportation.
Scroll down for a list of the plays.
---
The article continues after this ad
---
---
PROGRAM A:

"Cherry the Babysitter" - Written and Directed by Candy Fox

"Fine" - Writers: Lisa Black and Fred Dennehey, Director: Lisa Black

"Housecall" - Writer: Fred Dennehey, Director: Beatrice Esteban Messina

"Ignorance or Bliss" - Writer: Lisa Annitti, Director: Bob Lowy

"Garcon a la pipe" - Written and Directed by Nick Bonaparte

"Dead Reckoning" - Writers: Lisa Black and Fred Dennehey, Director: Lisa Black

"The Quarter" - Writer: Lisa Annitti, Director: Bob Lowy

"Volume Control" - Written and Directed by Nick Bonaparte
 "Laundromat" - Writer: Scott Mullen, Director: Sherrie Lilenfeld

PROGRAM B:

"Three on a Dime"- Writer: Eileen Benson, Director: Dickson Lane

"Dogs in Space" - Written and Directed by Ian Federgreen

"Woof, A Farce" - Written and Directed by Bill Ward

"The Sentence" - Writer: Ryan Kaminski, Director: Peter Curley

"At the Doctor's Office"- Writer: Rich Fowler, Director: Dave McGrath

"Experimental British Farce" - Writer: Ian Federgreen, Director: Bill Seesselberg

"The Case of the Missing Identity" - Writer: Rich Fowler, Director: Dave McGrath

"Time Juice" - Writer: Matt Gustavsen, Director: Julie Dennebaum

"The Good Luck Charm" - Writer: Mark Belasco, Director: Mark Belasco and Peter Curley