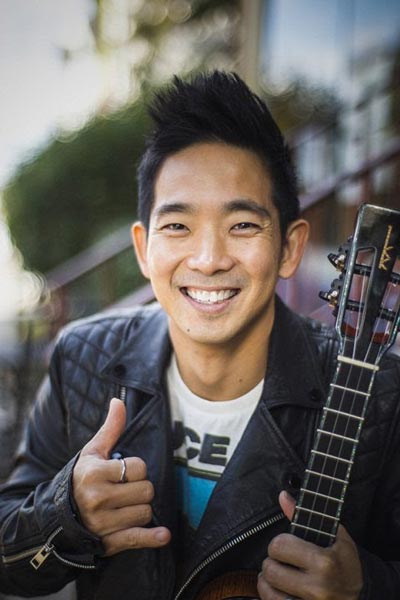 (NEWTON, NJ) -- Few people have done more for popularizing the ukulele than Jake Shimabukuro - a musician who brings elements of jazz, blues, funk, rock, bluegrass, classical, folk, and flamenco to the instrument, often covering popular songs and giving them a fresh take.  He will bring his unique talents to The Newton Theatre on Saturday, June 15 at 8:00pm.
Almost everyone in Hawaii has strummed a ukulele at one time or another. But at the age of 14, Jake Shimabukuro realized that he was doing something a little different with the four-stringed instrument – OK, a lot different. Shimabukuro's wholly unique approach to the ukulele started early. As a youngster growing up in Honolulu, Hawaii, he started playing the instrument at the age of four and began developing his craft further by studying the likes of musical masters such as Eddie Kamae, Ohta-San and Peter Moon. As he matured, Shimabukuro also found inspiration from guitar players, drummers, pianists, and singers. Even athletes helped fuel the intensity of his artistic fire.
Shimabukuro's records have topped the Billboard World Music Charts on numerous occasions, and as a live performer, he has become one of the hottest tickets around. He's played with world-renowned orchestras and at prestigious venues such as the Hollywood Bowl, Lincoln Center and the Sydney Opera House, and has dazzled audiences at music festivals including Bonnaroo, SXSW, the Playboy Jazz Festival and Fuji Rock Festival. He even performed for that rarest of audiences: Her Majesty Queen Elizabeth II. Not too shabby for a humble young man from Hawaii and his trusty ukulele.
Shimabukuro tours roughly half the year and makes frequent appearances on media outlets such as The Today Show, Good Morning America, Jimmy Kimmel Live!, Late Night with Conan O'Brien, A Prairie Home Companionand NPR's Morning Edition. His newest record, The Greatest Day, was released on August 31, 2018. "I'm really excited to play the new songs in my shows," he says. "Making this record was one of the highlights I've had in the studio. I couldn't be happier with the sounds and arrangements. But most of all, we had a ton of fun making it."
Jake Shimabukuro performs Saturday, June 15 at 8:00pm at The Newton Theatre, 234 Spring Street in Newton, NJ.  Tickets start at $39 and are available for purchase at The Newton Theatre box office, online at www.TheNewtonTheatre.com, or by calling 973-940-NEWT.
---