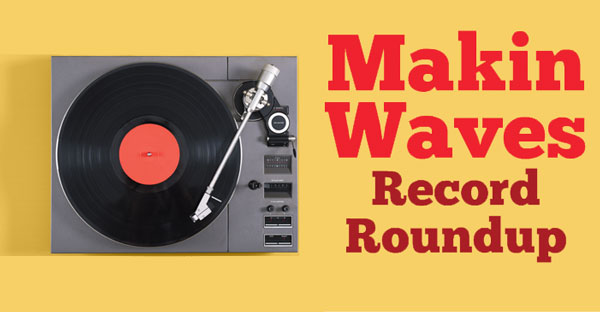 Praise the Rock Gods, the Jersey Shore did not get a hurricane this year! But we did get a musical one: Asbury Park-based Rachel Ana Dobken's debut full-length "When It Happens to You," a cross between the soulful sounds and folky lyricism of Carol King and the edgy chops of Screaming Females. There are so many interesting sounds on this record, such as little finger snaps beneath powerful horns and a swirling Hammond B3 or an oddly tuned acoustic guitar alongside an electric that pines so hauntingly, it sounds like a slide is being used. 
The most interesting instruments of all, however, are Dobken's diverse vocals and prose-like storytelling. Lyrics slide and glide so close to the edge of a line, they nearly run into the next one. The rich results, produced, written and arranged by Dobken, make for an unusual and powerful record, a far superior follow-up to the 2016 EP, "Detach." 
The opening "Intro" is a cool, breezy instrumental that slightly recalls Chris Isaak and relies somewhat on the jazz chops Dobken developed at Bard College. Next is "Belief Beneath," a chronicle of miscommunication and a lack of communication between both lovers and haters. I love the line, "I'm stumbling and this world is crumbling."
Featuring a sweet, chunky bass line by Dan Haase, "Always" looks at the struggles and joys of a lasting relationship. The aforementioned guitar pine of Ryan MacLean makes the breakup song "Got Away" one of the standout tracks. Lyrically, the atmospheric tune is along the lines of "I Love You, You're Perfect, Now Change," but without the comedy. 
"Understand" is a particularly well-produced track that nicely pairs Dobken's sweet, soulful vocal with quirky keyboard bits, then uses a cooing, bird-like vamp as an additional instrument in the middle of the tune and at a rousing end. Lyrically, the strongest song on the album is the musically sparse "Learning to Let Go." Here's a sample of why: "Learning how to let go, trying to find the words to say goodbye. Thinking you should know though that happiness is just a state of mind. But all I see is the side of me feeling stuck in the in-between because every night I'm losing sleep. I can't figure out what's bothering me, and if I die before my time. Comes in the morning, comes without warning."
With both "Us" and "Taking My Time," Dobken takes a more whimsical approach to melody. On the Natalie Merchant-like "Us," that approach defies the penetrating poetics about a growing relationship that has blossomed into love. With "Taking My Time," the whimsy is matched by an eerie carnival sound made more haunting by MacLean's finely finessed pine. Both tunes feature the playful bass playing of The Burns' Chris Dubrow in great interplay with Dobken's and MacLean's guitars.
That brings us to the standout closer, "Everybody Wants," which taps into the rich gospel music and horn-driven rock 'n' soul of Asbury Park. The inventive tune features great performances by Waiting on Mongo trumpeter Bruce Krywinski and bari saxman Denis Daley and trombonist Ian Gray, both of Remember Jones and Shady Street Show Band. Kudos also goes to Mark Masefield for his awesome Hammond B3 work. 
Dobken often performs at Danny Clinch Transparent Gallery in Asbury, where she is curator of live music. Clinch returned the favor by taking the album photos of "When It Happens to You" and contributing harmonica to it. 
Indestructible Asbury Park rapper Bulletproof Belv follows his local hit, "Dark City Lights," with an impressively dichotomous LP, "With or Without You," his third since 2015. The nine-song collection again teams the pride of Bangs Avenue with Long Branch producer EL Trapo, who diversely helms all but one track, and fellow Asbury talent Matty Carlock, a punk-rock singer-songwriter whose turn to hip hop features is almost as prolific as Belv's output. 
Their latest collaboration following "Dark City Lights" from last year's "11:11 Wishful Thinking" LP, is the standout club anthem "F Being Friends," which was produced by Jason Freeze, also a well-known DJ whose crowd-inspiring turntable skills deeply influenced the track. With a poppy yet passionate "Lights" approach, the irresistible tune chronicles a friends-with-benefits situation that has yet to develop into a more romantic relationship. A group chant of "all night long" will animate any dance floor or concert crowd with shouts and fist pumps. Kudos also goes to "Friends" backing vocalist Ashley McKinley, an Asbury singer-songwriter who recently moved to Nashville. I am looking forward to hearing the song live when Belv performs with Carlock on Feb. 16 at Asbury Park Lanes as part of Experiment 34's album release party. 
Another standout on "With or Without You" is the opening "Every Night," the video to which will coincide with the release of the LP. That track is about getting out of the hood, while making a bit of fun of YouTube and the folks who are obsessed about having an audience there. Besides Belv's fiery lyrics and delivery, my favorite aspect of "Every Night" is haunting, church-like "backing vocals," a production rather than performance element used extremely effectively by Trapo throughout the LP.
Layers of echoing, ethereal and eerie vocals often are in contrast to Belv's rapid-fire raps, as are Trapo's slow, sexy, extremely danceable jams 'n' grooves, his cymbal-like under beats, and such subtleties as cut-and-paste vocals that sound like a DJ scratching. I also really like slight splashes of trip-hop that seem to give a nod to two of my favorite rap acts, A Tribe Called Quest and De La Soul – although none of the record is that psychedelic. Right alongside Belv driving the tracks are strong main beats layered and paved by Trapo like a master music mason.
Other highlights include "Difference," somewhat of a sequel to "Wave Running," a single that Belv and Trapo did last year featuring their friend, chart-topping Paterson rapper Fetty Wap, who's taken Belv on tour. With "Difference," Belv continues to prove that he's a decent singer, much like the new piano version of "Dark City Lights" featured on CoolDadMusic.com. 
"Sauced," an urban ode to street life, "Star Wars" and perhaps barbecue, also is fun as it tells of an encounter with a spell-binding witch. The same can be said for "Whole Week," in which Belv is the life of the party for seven days straight. 
On a bit more serious note, the hopeful quest of "Living Dreams" is inspiring, while "Get It" is about obtaining what you want out of life whether you can afford it or not, and "Ain't for Everybody" demonstrates how Belv may not be the greatest boyfriend in the world. And the closing "Wait for Me" is a sexy look at a long-distance relationship. 
It's always fascinated me how American roots music has such a solid foundation in the great culture of country, blues, and folk, yet it's often about rambling and recklessness. On their third release, the five-song EP, "Gas Station Blues and Diamond Rings," Jackson Pines once again prove themselves to be one of New Jersey's best examples of those kinds of sounds and stories.
The collection opens with the standout "Radio Kid," a cross between Mississippi John Hurt-like country blues and Paul Simonesque folk-rock that tells of an estranged, deceased father and a time when media and life were simpler, slower and more meaningful. I love the line "sometimes the business is in the front and all the bullshit is in the rear," as well as the one that inspired the EP's title and the entire heartbreaking third verse.
The EP continues with "Bay Ridge," which expands the duo of singer-songwriter-guitarist-harmonica player Joe Makoviecki and upright/electric bassist James Black with drummer Santo Rizzolo (Dana Fuchs, Tara Dente) and Erik Kase Romero, who plays a sweet, soulful Hammond B3 on this track and others. Romero also co-produced with Makoviecki and recorded and mixed at The Crib in Oceanport. "Bay Ridge" is a pretty ode to Jane Austen, Irish bloodlines and true love that features a nice country yodel near the end.
The country vibe continues with "Roll," a hearty strum about roaming along the liberating but challenging home of the road. Makoviecki sings, "I was born with a star in my eye and a knack for the Irish goodbye." I can so hear Kenny Chesney or Zack Brown doing this fun but meaningful romp. Jackson Pines should try to sell it to them.
Up next is the single, "Thinking About It," a rhythmically spare, melodically simple ditty that balances hours wasted on a cell phone with those spent with loved ones. The closer is "Friends of Mine," an awesome Woody Guthriesque modern-day folktale about what became of childhood friends. The cast of assorted misfits and outcasts includes an addict's wife, a shunned lesbian, a suicidal jock and a woman whose sexual identity is misunderstood by friends.
Throughout "Gas Station Blues & Diamond Rings," Makoviecki picking is first rate and compliments his rootsy croon like cream cheese on date nut bread. The new EP is a prequel to the previous one, "Lost & Found." The two collections will be combined into an LP later this year. In the meantime, Jackson Pines will play Feb. 9 at the State Theatre, Easton, Pa., with Honeysuckle and Pentley Holmes.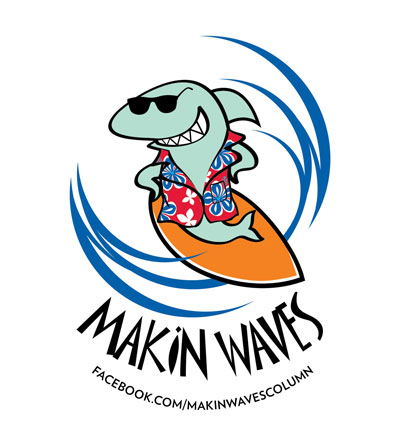 Bob Makin is the reporter for Home News & Tribune and a former managing editor of The Aquarian Weekly, which launched this column in 1988. Contact him via email and like Makin Waves on Facebook.