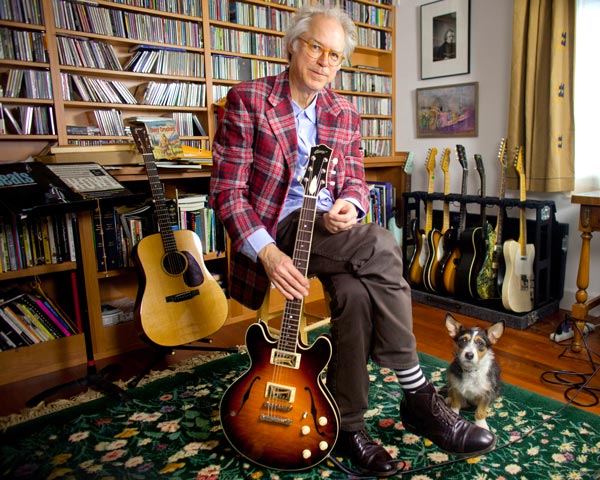 (MAHWAH, NJ) -- Guitarist Bill Frisell will headline the Les Paul Festival Concert on Saturday night, February 16 in the Sharp Theater at Ramapo College. Often hailed as one of the most distinctive and original improvising guitarists of our time, Frisell's career as a guitarist and composer has spanned more than 35 years and 250 recordings, including 40 of his own.
"It's hard to find a more fruitful meditation on American music than in the compositions of guitarist Bill Frisell. Mixing rock and country with jazz and blues, he's found what connects them: improvisation and a sense of play. Unlike other pastichists, who tend to duck passion, Mr. Frisell plays up the pleasure in the music and also takes on another often-avoided subject, tenderness." -- The New York Times
Recognized as one of America's 21 most vital and productive performing artists, Frisell was named an inaugural Doris Duke Artist in April 2012. He is also a recipient of grants from United States Artists, Meet the Composer, and National Performance Network. Currently Frisell is the Guest Curator for the Roots of Americana series at Jazz at Lincoln Center and Resident Artistic Director at San Francisco Jazz.
"Frisell is a revered figure among musicians -- like Miles Davis and few others, his signature is built from pure sound and inflection; an anti-technique that is instantly identifiable." -- The Philadelphia Inquirer
Described as being "at the very epicenter of modern American Music" (BBC), Frisell's recording catalog has been cited by Downbeat as "the best recorded output of the decade."
---
The article continues after this ad
---
---
Tickets are $30/27/24. For more information, click here. 
Sponsored by The Les Paul Foundation. Presented by Ramapo College Music Program, the Berrie Center for the Performing and Visual Arts, the School of Contemporary Arts, Ramapo Music Club, and the Mahwah Museum
Sharp Theater is located at 505 Ramapo Valley Road in Mahwah, New Jersey.