originally published: 01/19/2019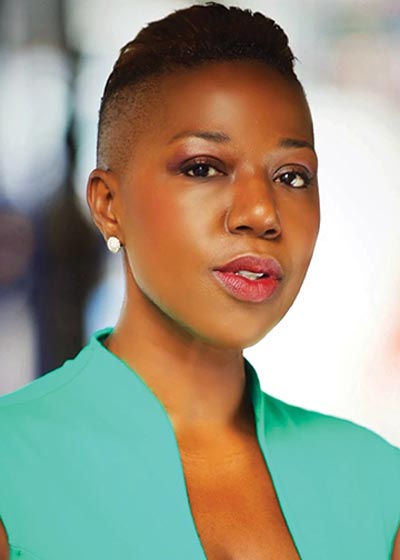 This might be the right time for Nina Simone—15 years after her death. That's what Laiona Michelle thinks, and, in a way, Michelle will be testing that idea by bringing the singer-activist to life in a world-premiere musical show at George Street Playhouse.
Michelle wrote the show—"Little Girl Blue: The Nina Simone Musical"—and she will appear in the title role at the New Brunswick theater from January 29 through February 24.
Simone was born Eunice Waymon in North Carolina in 1933. She was a child musical prodigy who made an international career as a singer, songwriter, arranger, and pianist. Her repertoire included jazz, blues, folk, R&B, and pop, and she often insinuated classical music into her performances, especially that of Johann Sebastian Bach.
She released 40 albums, the first one being "Little Girl Blue."
In 1964, prompted by the murder of Medgar Evers and the bombing of a Baptist Church in Birmingham, Alabama, she wrote and recorded "Mississippi Goddam," a call to action for black Americans.
---
The article continues after this ad
---
---
That record was boycotted and even physically destroyed by radio stations in the South, and Simone's growing participation in the civil-rights movement eroded her audience. It wasn't the last civil-rights song she would sing.
"I believe," Michelle said in an interview, "that Nina was doing what she did way before her time. I feel that if Nina was here right now, it would be just right.
"Forty years ago, people weren't ready to hear that. There was a civil rights movement—Martin Luther King and James Baldwin and others were on the ground, and Nina was with them—but on the stage as a performer, a lot weren't able to do that."
Michelle believes that Simone's message would resonate with a wider audience today when black and white Americans are more likely to be protesting injustice side by side.
"Today people would lead her loud and clear," Michelle said. "I feel that women of all races are screaming, and yelling and waving and standing strong as one, despite their color. I think that's remarkable. We're not only fighting for rights, but we're demanding them."
"Little Girl Blue" will allude to a pivotal episode in Simone's life, the rejection of her application to study piano at the Curtis Institute of Music in Philadelphia. She was already an accomplished musician, and she believed that she was snubbed, and her life ambition was derailed, because of her race.
"I've always been attracted to ballet and classical art and opera," Michelle said, "and whenever my mother would take me to those events, I never saw a reflection of myself on the stage. I knew that had to be a bed on which I built this show—not just a bullet point. Anybody of any ethnicity who is denied their talent or their sexual identity—it's really a stripping of a soul. I think anybody can identify with that."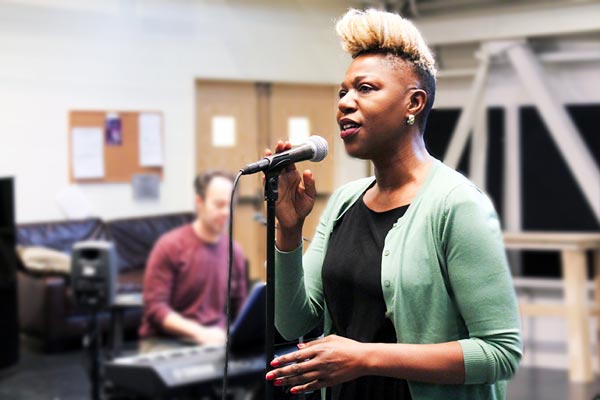 Michelle, who has a substantial track record on the stage, including the Broadway production of "Amazing Grace" and the first national tour of "The Book of Mormon," was applauded by critics for her performance in Christopher Demos-Brown's "American Hero" at George Street last season.
She is a theater-arts graduate of Alabama State University where she was mentored by actress-academician Tommie Stewart
"It was Dr. Stewart," Michelle said, "who really built up my confidence to just trust that I could be me and bring it to the stage, and that would be enough. I could bring myself to any character."
Michelle said Brandeis University was looking for a black male to complete a fine-arts graduate class: "Dr. Stewart said, 'I have a black male for you,' and she slipped them a tape of me performing. I didn't know anything about it. I got a full scholarship to go to graduate school."
Michelle said that at the universities, which practiced "color-blind" casting, she was accustomed to playing leading ladies. When she moved to New York after earning her master's degree, she wasn't offered those roles.
"I had a great agent," she recalled, "who said, 'You keep complaining about roles. What do you want? Why don't you write that—maybe that doesn't exist yet."
Michelle said she shied away from doing that for many years, but more recently, reflecting on the body of her work, she decided she had to start writing the stories she wanted to tell.
Simone was a natural subject to whom Simone had always been attracted: "We're very different. She was outspoken, brazen, brave, sensitive. She had cracks and flaws, too. Those are things that make a character satisfying to play."
"Little Girl Blue" is performed in two acts—inspired by Simone appearances at the Westbury Music Fair in 1968 and at the Montreux Jazz Festival in Switzerland in 1976.
The radicalism, idealism, courage, and turmoil of Simone's life is revealed in her songs, in her banter with her musicians and her remarks to the audience, and in flashbacks in which Michelle portrays both Simone and personalities from her past.
"This is like a dream experience for me," Michelle said. "I was able to write a piece that really used all my skills, all my talent. I'll be playing the piano, speaking different dialects, singing. It's thrilling, it's fun, it's exhausting, but the in the end it's satisfying."
To purchase tickets or for more information, visit the George Street Playhouse website at www.GeorgeStreetPlayhouse.org, or call the box office at 732-246-7717.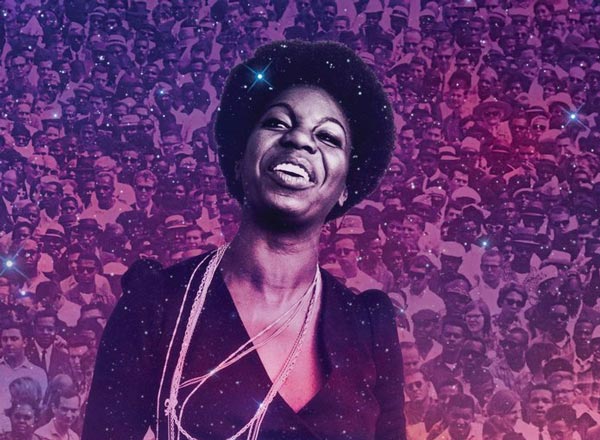 ---
For more by Charles Paolino, visit his blog.
---