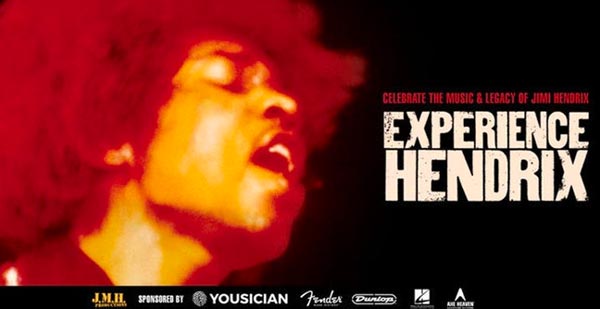 (NEWARK, NJ) --  Celebrate the music and legacy of Jimi Hendrix as Experience Hendrix comes to Newark's New Jersey Performing Arts Centeron Friday, March 29 at 8:00pm. This critically acclaimed multi-artist tribute to Hendrix features performances by Billy Cox, Joe Satriani, Dave Mustaine, Jonny Lang, Dweezil Zappa, Eric Johnson, Doug Pinnick, Chris Layton, Mato Nanji, Kenny Aronoff, The Slide Brothers, Henri Brown, Kevin McCormick and special guest Taj Mahal.
What began as a single show tribute at the Rock & Roll Hall of Fame in 2000 has blossomed into a full-fledged concert experience that has thrilled countless fans across the U.S. The concert presents a host of great artists collaborating and interpreting Hendrix's legendary songs as part of a powerhouse, 3-hour concert experience. The concert will bring together artists as disparate as guitar wizard Joe Satriani, blues great Taj Mahal, Ernie Isley and Dweezil Zappa. Megadeath's Dave Mustaine will make his Experience Hendrix Tour debut while mainstays such as Billy Cox, Jonny Lang, and Eric Johnson will also be on board for the expedition.
The 2019 Experience Hendrix Tour is sponsored by Youcisian, the popular online music instruction platform, along with Fender Musical Instruments, Dunlop, Hal Leonard, and Axe Heaven.
Tickets range from $53 - $133 (plus applicable fees) and available at NJPAC.org or 1-888-GO-NJPAC (1-888-466-5722) and the NJPAC box office. New Jersey Performing Arts Center (NJPAC) is located at 1 Center Street in Newark, New Jersey.
---