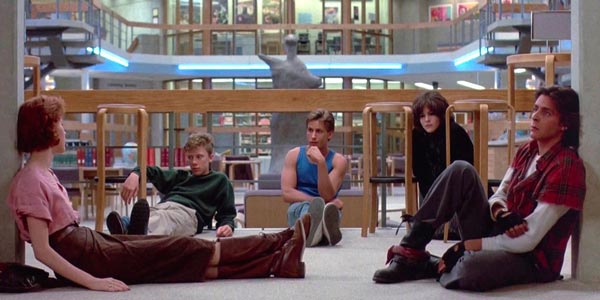 (RAHWAY, NJ) -- A series of three classic films is being presented on 35mm film at Union County Performing Arts Center's Main Stage theater. All viewings cost a $5 admission ticket that includes a 30 minute pre-show on the theater's historic "Biggest Little Wurlitzer" organ and free popcorn along with the film screening. The films include The Breakfast Club (January 25), Pretty Woman (February 15), and The Karate Kid (March 8).
---
The Breakfast Club – Friday, January 25 at 8:00pm - A brain, an athlete, a basket case, a princess, and a criminal are forced to meet in a Saturday detention. Each student has different friends, different histories, and has committed a different infraction. However, in this melting pot of high school cliques, the students are each forced to relate to someone they never would have dreamed of, and rethink the boundaries they've put between each other.
---
Pretty Woman – Friday, February 15 at 8:00pm -- A millionaire businessman Edward Lewis, played by Richard Gere, has just been dumped by his girlfriend, and sees an opportunity to meet both his and Vivian Ward's needs. Vivian, a prostitute working in Hollywood's red-light district, played by Julia Roberts is paid by Lewis to pretend to be his female companion on business trips, buying her a new wardrobe and bringing her to extravagant places unlike the life she is used to living. As the two grow closer, Edward begins to see that Vivian is much more than meets the eye...
---
The Karate Kid – Friday, March 8 at 8:00pm - The iconic film starring Ralph Macchio as Daniel and Pat Morita as Mr. Miyagi, about martial arts teaches that self-defense can be honorable and compassionate. Daniel enlists the help of Mr. Miyagi, a local handyman, to teach him the art of karate. Mr. Miyagi's unconventional training methods, at first confusing to Daniel, make him strong enough to compete in the All-Valley Karate Championships against the rival dojo. 
---
The Union County Performing Arts Center's Main Stage is housed in the restored "Rahway Theatre" – which has resided in Downtown Rahway since 1928. This historic landmark has become the centerpiece of the recently established arts district of Rahway, New Jersey, which has played a vital role in the revitalization and cultural renaissance of the community. The Main Stage is listed in both state and national registers of historic sites, and is now operating as a multipurpose venue for the performing arts. It is the largest center for the performing arts in Union County. The renovations on the 1330-seat venue were completed in 1960. The Union County Performing Arts Center is located at 1601 Irving Street in Rahway, NJ and is easily accessible to major roads and public transportation.
---