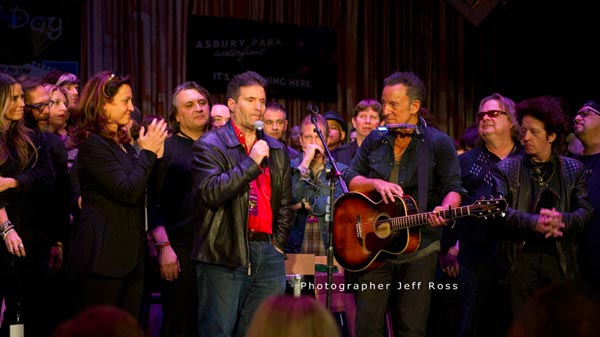 (ASBURY PARK, NJ) -- If you couldn't get tickets for the fabled "main event" of the 2019 Light of Day Winterfest, you have another chance see the show.  For the first time in the 19-year history of the festival, the "main event", the star-studded "Bob's Birthday Bash" on January 19th (a show that has long sold out), will be broadcast live via fiber optic cable at McLoone's Supper Club in Asbury Park.
The broadcast will originate, as always, from the Paramount Theater, on Saturday, January 19, starting at approximately 7:30pm, and will be available ONLY at McLoone's Supper Club, 1200 Ocean Ave., Asbury Park, on the venue's state-of-the-art video screens and sound systems. Doors open at 6:30pm. There is a suggested $20 per person donation that will go to further the Light of Day Foundation's mission to defeat Parkinson's disease, ALS (Lou Gehrig's disease) and PSP (Progressive Supranuclear Palsy) in our lifetime and help people who are affected by these diseases on a daily basis. Advance tickets are available at www.Timmcloonessupperclub.com.
Light of Day WinterFest favorites Willie Nile, Joe Grushecky & the Houserockers, Jesse Malin, Steve Forbert & The Renditions, James Maddock, John Eddie & His Dirty Ol' Band, and Joe D'Urso & Stone Caravan will welcome raucous Philly buzz band Low Cut Connie (whose fans range from President Obama to Elton John), to share headlining status at the star-studded "Bob's Birthday Bash," the main event of LIGHT OF DAY WINTERFEST '19, its 19th anniversary edition, with a goal of surpassing $5.5 million raised in its ongoing battle against Parkinson's disease. "Bob's Birthday Bash" also will feature performances by New Jersey cult hero Dean Friedman and another WinterFest favorite, Ben Arnold.
The 10-day festival is bringing over 150 music acts to 30 venues in two New Jersey cities, New York City, Philadelphia, and Rockland County, NY January 11-21, following a holiday season European tour.
In 2018, Light of Day WinterFest raised enough money to catapult its 18-year cumulative total past the $5 million mark. Light of Day WinterFest 2019 is expected to push the 19-year total past $5.5 million.
---
The article continues after this ad
---
---
Complete ticket and additional information for all LIGHT OF DAY WINTERFEST 2019 events at www.lightofday.org and on Facebook.
The Light of Day Foundation, Inc., utilizes the awesome power of music to raise money and awareness in its continuing battle to defeat Parkinson's disease and related neuro-degenerative diseases, specifically Progressive Supranuclear Palsy (PSP) and Amyotrophic Lateral Sclerosis (ALS), within our lifetime. The Foundation's mission is to fund research into possible cures, improved treatments and support for patients who suffer from those diseases, their families and their caregivers to help improve their quality of life. Gifts to the Light of Day Foundation, Inc. are tax-deductible to the full extent of the Internal Revenue Code. The Light of Day Foundation, Inc. is designated by the IRS as a not-for-profit 501(c) (3) organization. The Light of Day Foundation, Inc.'s Federal ID # is 20-1560386. Light of Day - the concerts and the organization - grew from a birthday party and fund-raiser held in 1998 at the Downtown Cafe in Red Bank to celebrate the 40th birthday of artist manager and music industry veteran Bob Benjamin, who was diagnosed with Parkinson's disease in 1996.