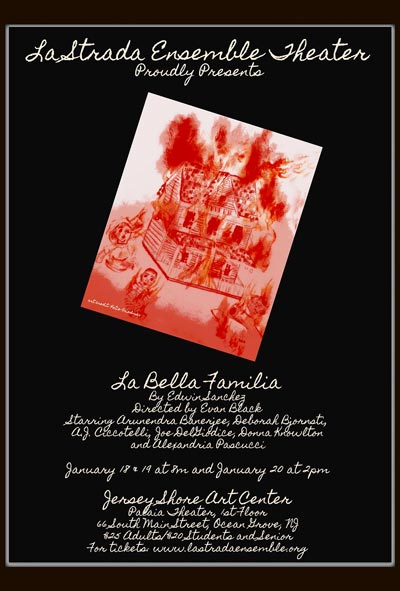 (OCEAN GROVE, NJ) -- La Strada Ensemble Theater presents La Bella Familia by Edwin Sanchez from January 18-20.  The play deals with a Puerto Rican hit woman and the gentlest man in the world move next door to the neighbors from hell and everyone learns, the hard way, that family comes first.
Edwin, a graduate from Yale Drama School, says about the origins of La Bella, "I thought about this woman who's world was nothing but violence and how would she be as a mother.  I also thought about this very gentle man and how it was his gentleness that drew her to him.  And then the child and how defending the child became the most important thing in the world. This play started with the scene where Benny first meets Linda and Guy and Bebe.  I was auctioned off!!  It was at New Dramatists and they had a fund raiser where people bid on playwrights and we would write a scene based on a real life event of their.  The people I got said they had the neighbors from hell and I was off and running!"
The evening is directed by founding member Evan Black and stars founding members A.J. Ciccotelli and Donna Knowlton.  It also stars Arunendra Banerjee, Deborah Bjornsti, Joe DelGiodice and Alexandria Pascucci . 
Performances will take place on January 18 & 19 at 8:00pm and January 20 at 2:00pm. Tickets are $25/$20 for students and senior citizens with an ID.  The performance will be held at Jersey Shore Arts Center, 66 South Main Street, 1st Floor Theater in Ocean Grove.   For tickets and information, please visit www.lastradaensemble.org.
Edwin's Sanchez recent productions of his plays include Unmerciful Good Fortune and Trafficking In Broken Hearts, both in Los Angeles as well as the world premiere of the romantic comedy I'll Take Romance at the Evolution Theatre in Ohio. Other productions include: DIOSA, produced by Hartford Stage after a successful workshop by New York Stage and Film, Trafficking In Broken Hearts at the Bank Street Theater in New York, Unmerciful Good Fortune at the Intar Theater in New York, for which he received the Princess Grace Playwriting Award in 1994, and Barefoot Boy With Shoes On at Primary Stages in New York. This play was selected by the Eugene O'Neill Playwrights Conference to represent the National Playwrights Conference at the Schelykovo Playwrights Seminar in Russia; Icarus produced by Fourth Unity, Actors Theater of Louisville as part of their Humana Festival, San Jose Rep and regionally throughout the U.S.; and Trafficking In Broken Hearts, Atlantic Theater in New York, and productions in Brazil and Switzerland. He was also among the playwrights involved with Brave New World, an organization commemorating the events surrounding September 11th.  Edwin is on the playwriting faculty at Primary Stages in New York City.
---