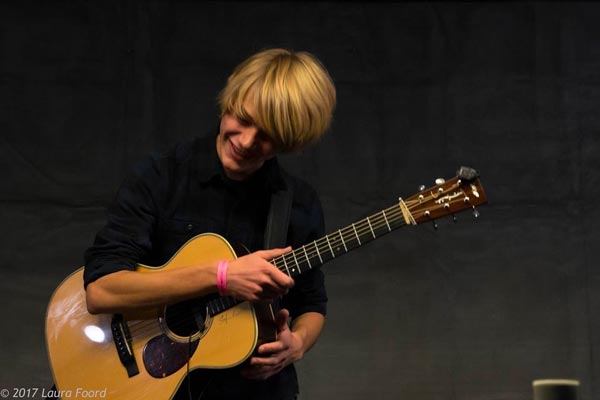 (MORRISTOWN, NJ) -- Quentin Callewaert will headline at the Minstrel Acoustic Concert Series on Friday, February 15 at 7:30pm at the Morristown Unitarian Fellowship ( 21 Normandy Heights Rd) in Morristown. Russ Rentler will open. Quentin Callewaert has only been on the music scene for a few years now, but he is creating a major buzz as one of the most gifted guitarists around.
Classically trained, Quentin's interest in fingerstyle acoustic guitar was inspired by Doc Watson, Merle Travis and Tommy Emmanuel. He is also a gifted singer with a refreshingly bluesy voice that compliments his blend of Americana, gospel and bluegrass. It's been an extremely busy year for this singer/guitarist, performing full shows in venues all across the North East. In order to find out how truly versatile this young musician is, you will simply have to hear him play!
Russ Rentler is a talented multi-instrumentalist performing original and traditional songs on hammer and Appalachian dulcimers, guitar, banjo, mandolin, bouzouki, autoharp and dobro. In 2016, he retired from medical practice. This has finally allowed him to pursue his life-long dream and passion of performing original and traditional music.  He counts Bob Dylan, John McCutcheon and Walt Michaels as major influences in his style.  His live performances are a mix of folk, Celtic and blues-inspired tunes with multiple instrument changes interspersed with his off-beat humor and wry observations about life that keep the audiences coming back for more. (As well as for free medical advice!)
The event is part of the Minstrel Acoustic Concert Series, sponsored by The Folk Project each Friday evening at the Fellowship. Admission is $10.00 per adult at the door. Children 12 and under are free. 
The Folk Project is a non-profit 501(c)(3) Corporation whose mission is to present high caliber folk music performances and instructional workshops for the public and members; to encourage development of musicianship and performance skills in the northern New Jersey area; and to provide interesting social and learning activities relating to traditional and participatory folk music and dance.
---
The article continues after this ad
---
---
Funding has been made possible in part by funds from Morris Arts through the New Jersey State Council on the Arts/Department of State, a Partner Agency of the National Endowment for the Arts.