originally published: 01/08/2019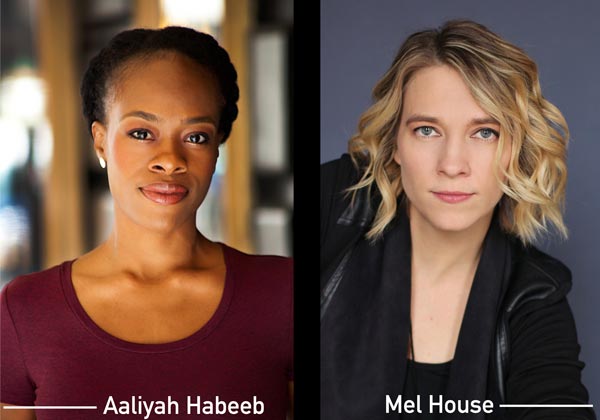 (WEST ORANGE, NJ) -- Aaliyah Habeeb and Mel House will star in Christina Gorman's cyber-security romance Roan @ The Gates, directed by Michelle Tattenbaum at Luna Stage. This World Premiere features an all-female cast and female-led creative team. It starts previews January 31 and opens February 2 for a limited run through February 24.
Set in Washington D.C. and Russia, Roan @ The Gates explores what happens when personal lives collide with national security. House plays the role of Roan, a data analyst for the NSA, and Habeeb is Roan's wife, Nat, a lawyer committed to human rights advocacy. The play has been described as "a beautiful and high-stakes adventure that illuminates the cost of secrecy."
Director Tattenbaum and playwright Gorman spoke recently about Gorman's choice to create an all-female storyline set in the often male-dominated world of cyber-security. One of Gorman's inspirations for Roan @ The Gates was a shadowy photograph of Edward Snowden with his girlfriend, which sparked her interest in the human cost of whistleblowing. However, she says, "I immediately thought, 'I really don't want to write another male protagonist.' I consciously chose to write these staggering, intelligent, strong, messy, center-stage roles for two women."
Tattenbaum is excited about the world Gorman has created. "Christina has written a beautiful play about two womxn who are trying to make their voices heard in a world that would rather not listen," she says.
Habeeb, House, Gorman, and Tattenbaum are joined by female-identifying designers (Marika Kent, Light Design; Deborah Caney, Costume Design;Megan Culley, Sound Design) "I feel so lucky to be working with a group of such talented womxn to be bringing their story to life on stage," says Tattenbaum, who assembled the team. Justin and Christopher Swader, who designed Pirira at Luna Stage in October, are designing the set.
---
The article continues after this ad
---
---
Luna Stage, where the play will premiere, also features an all-female leadership team. Artistic Director Ari Laura Kreith, who chose Roan @ The Gates as part of her first season, came to Luna in February 2018 and took the helm of the company in July. She is joined by new Managing Director Miriam Gardin, who joined Luna in July 2018, and Production Manager Liz Cesario, who came on board in August.
 "It seems bizarre that it's still true, but women remain underrepresented in all aspects of theatre: actors, directors, designers, writers, etc.," says Gorman. "I want productions of my plays to balance that, both onstage and behind the scenes. Luna's commitment to that is one of the reasons I'm thrilled to be part of the season."
Tickets are $16-39, and are available at LunaStage.org/Roan or by calling 973 395 5551. A limited number of premium Opening Night tickets are available for $59, including the post-show party with cast and creative team.
---
Bios
Aaliyah Habeeb spent last summer at Shakespeare's Globe shadowing the incredible duo Claire van Kampen & Mark Rylance on the production ofOthello. New York: The Fabulous Miss Marie (Off-Broadway); The Rape of Lucrece (New York Shakespeare Exchange); Love Ya Like A Sis(Venus/Adonis Play Festival). Regional: Surely Goodness & Mercy (Writers Theatre NJ); African America & Hijab Tube (Mixed Blood Theatre). BA: University of Pittsburgh, MFA: Mason Gross School of the Arts, Member: AEA. Instagram/Twitter: @aalibumaye
Mel House has played roles from Shakespeare to Ibsen, working Off-Broadway, regionally, and internationally, as well as originating roles for the web, film, and TV. After producing Meir Ribalow's Shrunken Heads at Playwrights Horizons, she directed Break Like You, a short documentary about Hip Hop influencer and activist Emile Jansen in Cape Town, South Africa. She recently worked with Per Brahe doing mask-based performance in Bali, Indonesia. House is a member of the Actors Center Company and a finalist for Sundance's New Voice's Lab for her darkly comedic digital series, Hot Angry Mom. Member: AEA.  
Christina Gorman's plays have been produced at The Public Theater, American Blues Theater, Ensemble Studio Theatre, Hangar Theatre, Prospect Theatre Company, Summer Play Festival, Stageworks/Hudson, Samuel French Short Play Festival, and Stella Adler Studios. Her plays have been developed/presented at Alley Theatre, Geva Theatre Center, hotInk International Festival, New Harmony Project, Troy Foundry Theatre, and Berkshire Playwrights Lab. Awards/Affiliations: Edgerton Foundation New American Play Award, Blue Ink Playwriting Award, Samuel French Short Play Festival Award, American Blues Theater Artistic Affiliate, New York Foundation for the Arts Fellow, Ensemble Studio Theater New Voices Fellow, Women's Project Playwrights Lab Alumna, The Public Theater Emerging Writers Group Alumna.  
Michelle Tattenbaum most recently directed Peter and the Starcatcher at Cape Fear Regional Theatre. Previous projects with Itamar Moses include the world premiere of the musical Nobody Loves You at the Old Globe (San Diego Theatre Critics Circle nomination: Best Director) and the NY premiere at Second Stage; Love/Stories (World Premiere, The Flea) and The Four of Us (LA Premiere, Firefly: Theater & Films). Ms. Estrada by the Q Brothers Collective (World Premiere) at the Flea, where she is an Associate Artist. Member: SDC. Two-time Drama League Directing Fellow. 
Ari Laura Kreith recently directed Luna's production of Pirira. She is also the founder and Artistic Director of Theatre 167, where she conceived and directed The Jackson Heights Trilogy — three full-length plays collaboratively written by 18 playwrights featuring 37 actors in 93 roles in 14 languages. NYC World Premieres: Mourning Sun (Theatre 167/Uganda), Pirira, Tina Howe's Singing Beach. European premiere: Adam Guettel's Myths and Hymns. Immersive, site-specific: Queens Museum, NY Transit Museum; touring excerpts of Marina Budhos' novel Watched. Commissions: New Ohio; Queens Theatre.  LPTW Lucille Lortel Visionary Award; NYIT Caffe Cino Fellowship. BA: Yale, MFA: UC Davis, Member: SDC. 
Luna Stage develops and produces vibrant plays about local and global experiences. Luna brings communities together for artistic events that catalyze conversations and create understanding and change. Firmly rooted in New Jersey's Valley Arts District of Orange and West Orange—a crossroads of cultures—the Company celebrates the diverse voices that surround us. Luna Stage is dedicated to eliminating barriers to participation and nurturing the next generation of audiences and artists.
Luna's classes for children and adults, and its developmental programs for early career artists, inspire community members to nurture their own creativity and vision.
Luna Stage has contributed to the development of over 80 new works for the stage, earning a reputation for artistic excellence. Some of those plays have gone on to productions in New York City and beyond. Luna's unique approach to producing, as well as the work itself, fosters an environment of inclusivity, understanding, and infinite possibility.