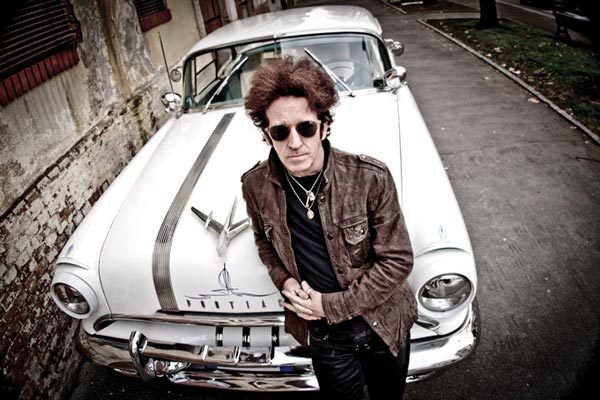 (MONTCLAIR, NJ) -- Outpost in the Burbs hosts "Songwriters Stripped" on Friday, January 11th featuring performances by James Maddock, Willie Nile, Danielia Cotton, Williams Honor, and Joe D'Urso.  The show will benefit the Light of Day Foundation. The concert beings at 8:00pm (7:30 doors) and takes place in the main sanctuary of the historic First Congregational Church, 40 South Fullerton Avenue in Montclair, NJ.
This will be an evening of songs performed "up close and personal" in round robin fashion, with all artists together on stage, each artist performing stripped down to their song, their voice, their story and their guitar. Expect unique interpretations of songs and spontaneous collaborations. VIP Tickets are available for this show and include a pre-show meet-and-greet reception and reserved priority seating.
Tickets are available at Watchung Booksellers, 54 Fairfield Street, Montclair, 973-744-7177, Studio 042 – Super Business Printer, 423 Bloomfield Ave., Montclair, 973-509-7591; and online.
The Light of Day Foundation grants money to organizations which fund specific research initiatives, including the Michael J. Fox Foundation, CurePSP, the Parkinson's Foundation (formerly the Parkinson's Disease Foundation), and the Parkinson's Unity Walk. The Light of Day Foundation also supports "boots on the ground" programs designed to help people with these diseases live better lives on a daily basis, including co-sponsored projects with Joan Dancy & PALS, with a mission to help New Jersey residents in nearby Monmouth and Ocean Counties afflicted with ALS by providing a better quality of life for them and their families.
In 2018, Light of Day WinterFest raised over a half million dollars for the fourth straight year, catapulting its 18-year cumulative total past the $5 million mark and L.O.D. Winterfest 1019 is expected to push the total past $5.5 million. 
---
The article continues after this ad
---
---
This fall, the Light of Day Foundation made a $100,000 donation to the Parkinson's Foundation to launch the Come Out In The Light Of Day educational initiative, a pilot program to be tested in New Jersey for patients who are newly diagnosed with Parkinson's.
Upcoming shows for Outpost In The Burbs include Lissie - Solo Acoustic (January 25); Marcia Ball (February 8);  David Bromberg Quintet (February 22); NRBQ (March 8); and Richard Barone's Music + Revolution: with Eric Andersen, Jeffrey Gaines, The Kennedys, Glenn Mercer (The Feelies), Tammy Faye Starlite, and Steve Addabbo (March 29).
The Outpost in the Burbs is a non-profit outreach organization dedicated to building community through music, community service, and cultural programs. Since its inception in 1987, the Outpost has produced more than 500 concerts by internationally known folk artists—Judy Collins, Roger McGuinn, Chris Hillman, Richie Havens, J.D. Souther, Dar Williams—and more than 50,000 people have attended. Outpost volunteers have donated more than 35,000 hours of their time through our programs affiliated with Habitat for Humanity, Toys for Tots, Human Needs Food Pantry of Montclair, MESH, Community Food Bank of N.J., Dress for Success and the soup kitchen staffed by Outpost volunteers at Christ Episcopal Church in East Orange that feeds some 75 people twice a month.