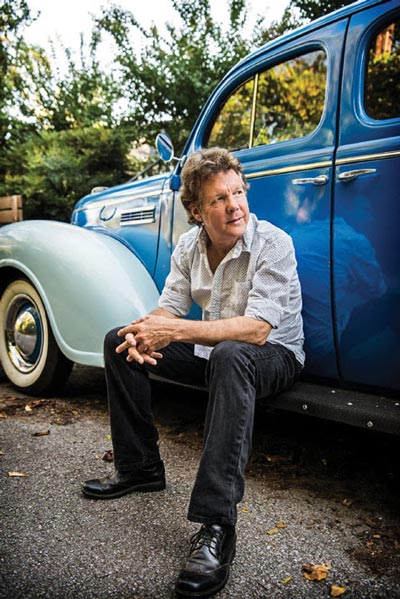 (NEW YORK, NY) -- Light of Day New York City, starring Steve Forbert & The Renditions, The Weeklings, John Eddie & His Dirty Ol' Band, and Joe D'Urso & Stone Caravan will be take place on Wednesday, January 16 at The Cutting Room, 44 E. 32nd St., New York City. Doors 6:30pm; Showtime 7:00pm. Tickets are $45 general admission; $75 Gold Circle.
More than four decades have passed since Steve Forbert made his way to New York City from his Meridian, Mississippi birthplace in quest of a career in music. It was the most unlikely time and place for a folk singer to leap into the fray in a burgeoning scene where new wave and punk were emerging while he took the stage as the archetypal folkie, armed with just an acoustic guitar and sheaf of very personal songs. After busking on the street for change from passers-by, he rose to sharing bills at CBGB's with the likes of Talking Heads, The Shirts and John Cale as well as headlining more traditional venues such as The Bitter End and Kenny's Castaways. Against staggering odds, he found blazing success early on. His career had its share of triumphs as well as stumbles and disappointments as did his private life. Through it all, over the course of a marriage, divorce, raising three children, writing and recording 18 studio albums and fronting an ever-changing line-up of supporting musicians, he persevered and stayed true to his roots and the folk ethos. Now, he has chronicled those life-changing experiences in Big City Cat: My Life In Folk Rock, co-written with Therese Boyd. The memoir, originally conceived as a stage play, offers a uniquely introspective view of a life and career during a period of cultural upheaval and the author's emerging self-awareness. Sharing reflections and journals he kept at the time, Forbert weaves an absorbing narrative that fully addresses the trials, travails and triumphs that would eventually play out over the course of his prolific 40+ year career.
The Weeklings are America's most unique celebration of the music and muse of The Beatles, performing explosive renditions of Beatles classics, uniquely arranged Beatles nuggets such as "Paperback Writer", "Baby You're a Rich Man" and "I Am the Walrus" plus brilliant Beatles-inspired power-pop originals, like their newest, "In the Moment" and "Running Away". The Weeklings bring The Beatles to life through their extraordinary musicianship, exceptional vocals and charming stage presence. Comprised of Jersey Shore veterans Glen Burtnik aka "LeftyWeekling" (bass and vocals), Bob Burger aka "Zeek Weekling" (rhythm guitar and vocals), John Merjave aka "Rocky Weekling" (lead guitar and vocals), and Joe Bellia aka "Smokestack Weekling" (drums and vocals), the Weeklings are currently, for the third year in a row, in the running to be voted The Coolest Song in the World on Little Steven's Underground Garage, this time for their song "In the Moment."
Virginia born, New Jersey raised, Nashville based John Eddie is a singer/songwriter/semi-professional drinker who fronts a kickin' little combo called The Dirty Ol' Band. They play their own brand of deep fried, gas guzzling, heart breaking, liver killing rock 'n' roll smothered in twang. They've put food on the table and tequila in the fridge for the last hundred years by playing everywhere from crummy bars to stadiums, backyard barbecues to Jay Z and Beyonce's wedding (OK, that last one didn't happen.) And even though a lifetime on the road has guaranteed John Eddie has never had a healthy, steady relationship, it has allowed him to share the stage with the likes of Bruce Springsteen, U2, Bob Seger, Willie Nelson, Miranda Lambert, Jamey Johnson, and many more. So if you get the chance to catch John Eddie and His Dirty Ol Band don't let it pass you by. It might not change your life but you will definitely raise your bottles and raise your glasses, you will shake your heads and shake your butts and maybe your life don't need changing anyway.
Just returning from Light of Day Europe, Joe D'Urso & Stone Caravan, an Americana/Jersey Shore/Rock & Roll band, are a Light of Day fixture who, like Willie Nile, have played Winterfest every year since its inception. Their brand new 14th CD, Jersey Diner, features 11 songs written by D'Urso and three tunes penned by Tom Waits, Bruce Springsteen and Sandy/Harry Chapin.
---
The article continues after this ad
---
---
With a goal of pushing its 19-year total past $5.5 million in its ongoing battle against Parkinson's disease, Light of Day Winterfest 2019 is a 10-day festival that will bring over 150 music acts to 30 venues in two New Jersey cities, New York City, Philadelphia, and Rockland County, NY, January 11-21, following a holiday season European tour.
In 2018, Light of Day Winterfest raised enough money to catapult its 18-year cumulative total past the $5 million mark. Light of Day WinterFest 2019 is expected to push the 19-year total past $5.5 million. The festival has gained international notoriety for surprise performances by Bruce Springsteen in 11 of its 18 years, including his most recent appearance, in 2015.