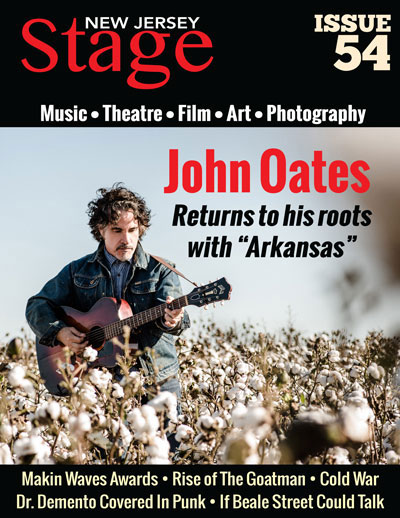 (BELMAR, NJ) -- The latest issue of New Jersey Stage magazine contains something for every arts fan. Rock and Roll Hall of Famer, John Oates, is the cover story in an issue packed with music, film, theatre, and art coverage. The issue is available for free at www.NJArtsMag.com
John Oates became a legend with his work in Hall & Oates, the best selling duo of all-time, but he returns to the music that first led him to a guitar with Arkansas - an album that began as a tribute to Mississippi John Hurt and grew into a snapshot of traditional American music. Oates, who spoke with NJ Stage about the album and his love of that type of music, will perform songs from that album at South Orange Performing Arts Center (SOPAC) on January 4th.
The issue also contains an interview with John Cafiero of Osaka Popstar about creating the compilation Dr. Demento Covered In Punk, which has dozens of punk artists cover the most popular songs from the long running radio show. Issue 54 spotlights the winners of the 20th Annual Makin Waves Awards and the return of the Makin Waves Dirty Dozen; a preview of Light of Day shows; the latest episode of Bongo Boy TV with great music videos from around the world; and a featured music video by Mardi Gras, a band from Rome, Italy.
Film-wise, the issue has reviews of If Beale Street Could Talk and Cold War by Eric Hillis of The Movie Waffler; and a preview of the first two weeks of the New Jersey Film Festival. There's an interview with Matt Okin, artistic director of Black Box Studios, about his play Beltsville/Rockville, Part 1: Rise of the Goatman which runs at The Theater for the New City in New York City; the latest podcast by 2 Guys from Jersey; artwork of Frank Sinatra by Peter Max; and photography of Iceland by Nick Kiefer.
New Jersey Stage magazine is a digital magazine published each month and available for free at www.NJArtsMag.com. Unlike many digital magazines, New Jersey Stage is designed to be readable on a PC, tablet, or smartphone without the need to zoom in. It is not simply a pdf of a magazine, it is a publication designed for digital.
---
The article continues after this ad
---
---
"Many people ask us each month for a print version, but what we do each month cannot be in print," continued Wien. "Each issue contains 30-50 videos, plus photo slideshows and internet links to further resources. We like to say our magazine brings the arts to life. That's something that cannot be done in print."
Each issue of New Jersey Stage is available for free and supported by advertising. As an arts publication, it strives to be affordable for every arts organization with ads ranging from $50 to $100 per month. All ads appear both in the monthly digital magazine and at the daily website. More than 325,000 unique visitors read New Jersey Stage in 2018, making it among the most popular New Jersey based arts & entertainment websites in the state. With a great audience and the lowest ad rates around, New Jersey Stage is the perfect place to promote upcoming shows and events.
Subscriptions to the magazine are available by clicking here. For information on how to advertise in the magazine, click here.