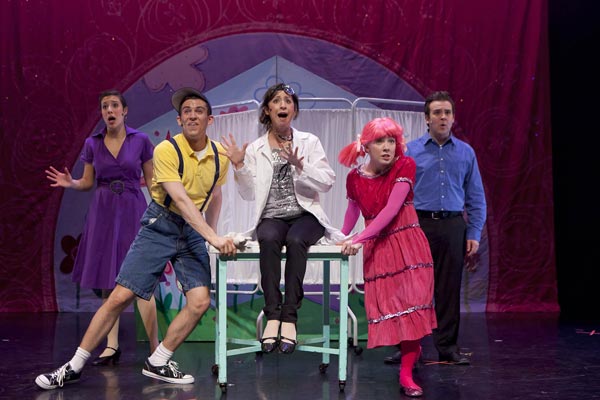 (MORRISTOWN, NJ) -- A girl finds herself in a colorful predicament after her indulgence in too many pink cupcakes lands her in the doctor's office with a severe case of Pinkititis in the fun, children's musical Pinkalicious, to be performed at the Mayo Performing Arts Center on Sunday, January 13 at 1:30pm and 4:30pm. Tickets are $12-15. Limited tickets remain for the 1:30pm show.
Pinkalicious, began at the award-winning Vital Theatre Company's home theater at 76th Street and Broadway. After completing its initial sold-out six week run, it moved to the Soho Playhouse where it enjoyed an extended run through summer of 2007. The production currently resides at the MMAC (Manhattan Movement & Arts Center).
The production, with book and lyrics by Elizabeth Kann and Victoria Kann, and music, lyrics and orchestrations by John Gregor, is based on the popular children's book by Elizabeth Kann and Victoria Kann. Elizabeth and Victoria are sisters who grew up in Brooklyn, New York. Victoria's award-winning artwork has graced the covers and pages of many magazines, newspapers, and books. Elizabeth's writing has appeared in a variety of newspaper and print publications. To learn more about the sister duo and their books, visit them online at their website at www.thinkpinkalicious.com.
Mayo Performing Arts Center is located at 100 South Street in Morristown, New Jersey.
---