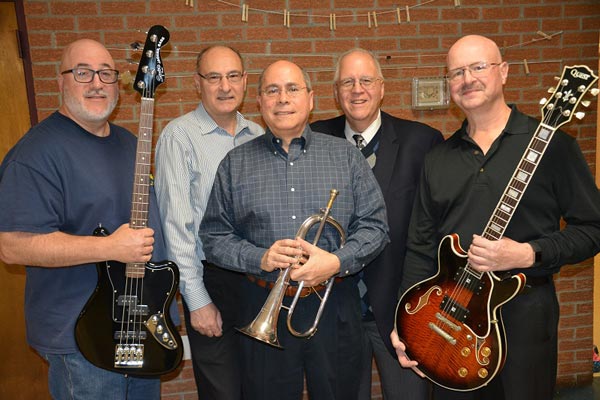 (CLIFTON, NJ) -- The Clifton-based Manhatten Brothers will perform a "Holly Jolly Holiday" jazz concert at Grace Church, 45 Hazel St., on Friday, December 14. The show, presented by the Theater League of Clifton, starts at 7:30pm.
Tickets for the jazz concert are $20 per person and can be reserved by phone (973-928-7668), online, or via regular mail (PO Box 4072, Clifton, NJ 07012). Tickets also will be available at the door. Seasonal refreshments and goodies will be served during the program.
The concert will feature familiar holiday season songs and American Songbook jazz standards. The Manhatten Brothers jazz band is composed of five Clifton High School graduates: Paul Liberti (electric bass and vocals), Class of 1978; Dante Liberti (keyboard and vocals) and Norman Barta (trumpet and saxophone), Class of 1975; and Jim Haraka (drums) and Bob Fugel (electric guitar), Class of 1974.
The five band members are part of the larger Clifton-based Manhatten Brothers ensemble—a diverse group of musicians that have performed together in various iterations for over 40 years.
Last month the Theater League of Clifton presented its fall season production of "Godspell 2012," the 27th main-stage show since the group was established in 2005. Each season the Theater League of Clifton produces and sponsors theatrical performances, a dinner theater, and other cultural events in Clifton.
---