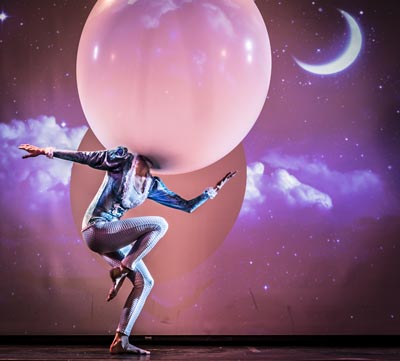 (UNION NJ) -- Snowkus Pocus, a charming tale of a young girl experiencing winter for the first time, is coming to Kean Stage on Sunday, December 9 at 3:00pm. The story is told through dazzling cirque, breathtaking ballet and incredible acrobatics.
"Briana is swept away in the land of Snowkus Pocus by the North Wind and learns the beauty of the season," said Tad Emptage, producer of Cirque-tacular Entertainment.  "The show is told with multi-talented, world-record-holding acrobats. It's a lot of fun and appropriate for all ages. Grandma and her granddaughter can enjoy the same show side by side."
Snowkus Pocus premiered Off-Broadway three years ago and has been touring during the winter months ever since. The performers take on the roles of Jack Frost, the North Wind, the Snow Queen and the Aurora Borealis, among others. Audience members will see daring high-wire acts, hula hoop sensations and even a performer with her head inside a giant balloon, portraying the arrival of the sun come springtime. How does she do it?
"We can't give away all our secrets," said Emptage. "Come to the show and find out."
Snowkus Pocus is sure to rekindle your childlike sense of wonder.
---
The article continues after this ad
---
---
"Even the cold season is warm when you're enjoying it with family and friends," he said.
Snowkus Pocus will be presented on Sunday, December 9 at 3:00pm in the Wilkins Theatre, 1000 Morris Ave., Union, on the main campus of Kean University. Tickets are $18. For more information, or to purchase tickets, visit www.keanstage.com, call (908) 737-7469 or visit the box office in Wilkins Theatre.
Founded in 1855, Kean University has become one of the largest metropolitan institutions of higher education in the region, with a richly diverse student, faculty and staff population. Kean continues to play a key role in the training of teachers and is a hub of educational, technological and cultural enrichment serving more than16,000 students. The University's five undergraduate colleges offer more than 50 undergraduate degrees over a full range of academic subjects. The Nathan Weiss Graduate College offers five doctoral degree programs and more than 60 options for graduate study leading to master's degrees, professional diplomas or certifications. With campuses in Union and Toms River, New Jersey, and Wenzhou, China, Kean University furthers its mission by providing an affordable and accessible world-class education.  
Kean Stage at Kean University educates, entertains and challenges audiences by presenting high-quality programs that reflect the diversity of the region and of the arts. These cultural offerings complement the intellectual life of the classroom for our students, increase opportunities for community engagement, and provide affordable access to the arts for New Jersey residents. Audiences of all ages are invited to enjoy a wide range of professional theatre, Broadway tours, dance performances, concerts, international films and family-friendly shows. In addition, Kean Stage encourages University students to attend events, and provides several options to explore the performing arts through master classes, workshops, lectures, employment opportunities as ushers, backstage technicians and box office staff.