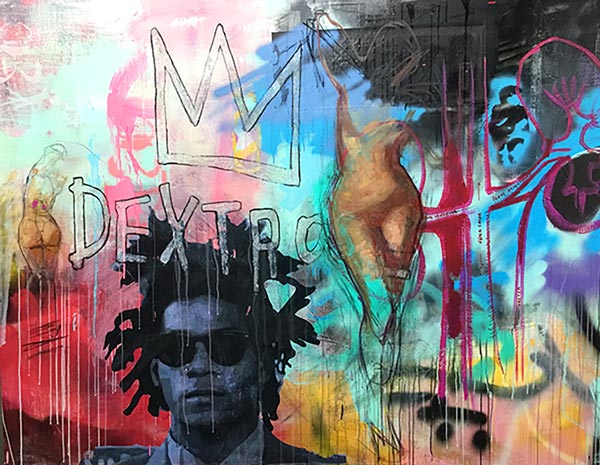 (SOUTH ORANGE, NJ) -- The Herb & Milly Iris Gallery at the South Orange Performing Arts Center hosts a new exhibition by Jenny Flexner Reinhardt December 10, 2018-February 22, 2019.  In The Price of Sugar, Reinhardt has woven the theme of the bright and seductive appeal of sugar and confectionary, along with its dark side; the addiction, the excess and the disease. Sugar is both sweet and dangerous.
Reinhardt is inspired by the bravado of the middle-of-the-night street artist. While not a nocturnal painter herself, she is fascinated by the guerrilla-esque talents of the stencil maker, the spray-painter and the tagger. Her work is part graffiti, part abstraction with figurative form and vintage graphic design thrown in for good measure. It is a heady mixture that guarantees an interesting narrative and will keep you exploring the images for all their hidden elements of literature, history and cultural references that are subconscious elements of life.
Jenny Flexner Reinhardt studied at University of Michigan before completing her MFA Cum Laude at the New York Academy of Art. She is an art educator as well as being a very accomplished artist of the highest order.
A reception open to the public will take place December 13 from 5:30pm to 8:30pm.
The Herb & Milly Iris Gallery at SOPAC showcases emerging artists and brings contemporary art to a broader audience. The Gallery was the initiative of beloved SOPAC Board Member, Milly Iris, and inspired by her love of art and young people. Milly and her husband Herb were avid collectors, devoted arts advocates, and longtime supporters of SOPAC.  Exhibitions at The Herb & Milly Iris Gallery are curated by Jeremy Moss.
---
The article continues after this ad
---
---
Since 2006, SOPAC has been serving as a premier performing arts center in the region. SOPAC offers innovative artistic and cultural experiences for diverse audiences in an intimate, inviting environment. The premier arts center hosts a variety of live performances, community events and education programs for all ages.  To further expand its offerings, SOPAC has a partnership with the Juilliard School of Music to present Juilliard @ SOPAC — a series featuring upcoming musicians from the acclaimed conservatory.  SOPAC is home for Seton Hall University Arts Council's performances, including Classical Concert Series, Jazz 'N the Hall performances and Seton Hall University Theatre productions.  SOPAC also presents performances by its theater company in-residence, American Theater Group. 
Photo: Dextrose, 2018, Mixed Media