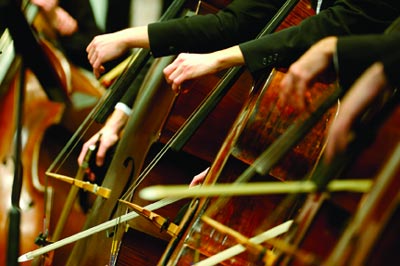 You know the old joke: If it ain't Baroque, don't fix it? Well, put away those tools, dear reader. Bach's Brandenburg Concertos ARE Baroque, so no fixing necessary.
This Saturday, December 1, Symphony in C is performing Johann Sebastian Bach's Brandenburg Concertos Nos. 2 through 6 at the Rutgers-Camden Center for the Arts. Officially presented in 1721, these collective works are considered to be some of the finest orchestral compositions of the Baroque era (generally 1600 to 1750). These six concertos are among the most recorded, performed and beloved works by Bach. – And that's J.S. Bach, for those of you keeping score at home. There are a LOT of Bachs.
Although we're not totally sure, we think these works were composed between 1711 and 1720, but know that the six pieces that make up the Brandenburg Concertos were presented by Bach to Christian Ludwig, the Margrave of Brandenburg on March, 24, 1721 in Germany. (Being a longtime opera person, I'm finding it super hard to type "Christian Ludwig" instead of "Christa Ludwig," beloved German mezzo-soprano.)
As you can probably guess, these Concertos get their name because of this presentation to the Margrave of Brandenburg. We know that the Margrave collected musical scores, and it seems that he may have requested that Bach contribute something to that vast library. It seems that Bach went through his prior compositions (yup, there were a lot of them) and selected six pieces from among various concertos he had composed over the years. He polished them up a bit, personally handwrote the copies (a task in this era that always totally boggles my mind) and sent them off to good old Christian. Likely, Bach was hoping that he could (ahem) score a job with the Margrave as a result. To accompany his gift, Bach wrote a very flowery dedicationin French (for some reason).
Translated into English, the dedication clocks in at about 155 words, in which Bach manages to use "Your Highness" or "Your Royal Highness" a total of nine times!
But alas, it appears that a position for Bach with the Margave never materialized. Two years later, Bach took over as the cantor at St. Thomas in Leipzig, where he stayed until his death in 1750.
So what exactly IS a concerto? Well, they are larger-scale instrumental works, often made up of several movements, one of which usually features a soloist. Concertos represent a nice niche in this era for wealthy, aristocratic patrons: a concerto used more instrumentalists than your typical chamber composition (think of this as a Baroque form of conspicuous consumption). And yet, they did not require the extra forces required by operas and oratorios, such as solo singers, choristers, dancers and larger orchestras. In addition, since concertos also featured soloists in some really spectacular Baroque-style virtuosic playing, both the instrumentalists and audiences really enjoyed them.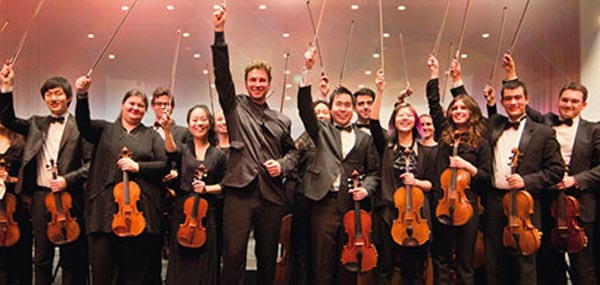 For those of you familiar with the Brandenburg Concertos, Symphony in C is presenting numbers 2 through 6 in this concert – so don't freak out, thinking you arrived late, when you hear them start with the second one. And actually, Symphony in C is performing these concertos in a different order: 4, 3, 6 (intermission), 5 and 2.
Here are the six Concertos that you will hear:
No. 4 in G major


What to listen for: Not to make the trumpet soloist do all the heavy lifting (see No. 2), the violin soloist has some real virtuosic parts in the first and third movements. The first movement also features a nice dance-like ritornello (Italian for "little return" – kind of like a reprise).



Soloists: Lydia Roth and Giorgio Consolati, flutes; Nikki Choi, violin



No. 3 in G major



What to listen for: The second movement, which might be one of the shortest on record. It consists of ONLY ONE MEASURE, made up of two chords. Scholars think that these two chords were meant to top-and-tail a cadenza – a virtuosic, improvised solo that was likely performed by a harpsichord or violin player. Sometimes orchestras sub in a movement from another work here, but not always.




This is one of the two concertos written entirely for strings (6 being the other one).



No. 6 in B-flat major



What to listen for: Like No. 3, this work is scored only for strings, but without violins. Instead, Bach has two instrumentalists play the viola da gamba (with a leg that sits on the floor like a cello) and two play the viola da braccio (held in the arms like a normal viola). The viola da gamba is approximately the size of a cello, but thinner in the body and fretted across the fingerboard similar to a guitar. (For this bit of trivia that will stun everyone at your office holiday parties, you're welcome)




Soloists: Matthew Cohen and Lisa Sung, violas



No. 5 in D major



What to listen for: The harpsichord. Until this point, the harpsichord was treated mostly as a harmonic accompanist, keeping things together. But here, Bach elevates the harpsichord to a solo instrument in its own right. We think the inspiration for this was the purchase of a new harpsichord for Bach's orchestra in Cöthen in 1719 that he wanted to show off. Harpsichords, though, can't vary their dynamics (meaning that they can't play louder or softer – there's just one setting). Harpsichord strings are plucked rather than struck, like the later piano. To address the issues of balance when playing against the other instrumentalists, Bach shifts the role of the harpsichord throughout this work from accompanist to feature.




Soloists: Lydia Roth, flute; Claire Bourg, violin; Clara Gerdes, Harpsichord



No. 2 in F major



What to listen for: The amazing trumpet solo work  – considered one of the most difficult in the entire trumpet repertoire – in the first and third movements.




Soloists: Giorgio Consolati, flute; Rita Mitsel, oboe; Maximillian Morel, trumpet; Adelya Nartadjieva, violin.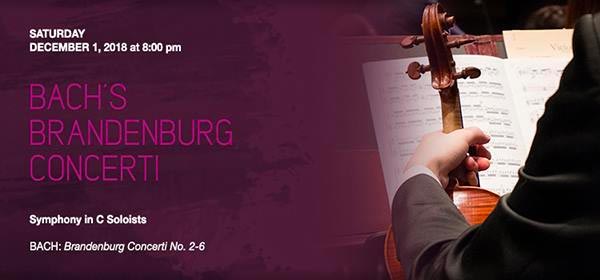 The Details
Symphony in C will present Bach's Brandenburg Concertos on Saturday, December 1 at 8:00 p.m. at the Rutgers-Camden Center for the Arts, located on North 3rd Street in Camden. Tickets are $24 – $51 and can be purchased at symphonyinc.org.
Content provided by
Discover Jersey Arts
, a project of the ArtPride New Jersey Foundation and New Jersey State Council on the Arts.