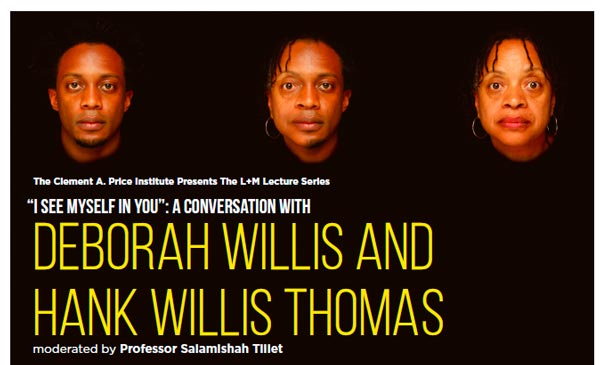 (NEWARK, NJ) -- Next in line for the L+M Lecture Series is "I See Myself in You:" A Conversation with Deborah Willis and Hank Willis Thomas, moderated by Rutgers University–Newark (RU-N) Professor Salamishah Tillet. The event, which is free and open to the public, will be held in the lecture hall of Express Newark (54 Halsey Street-Room 213, Newark, NJ) on Friday, December 14 from 6:00pm-8:00pm. A joint book launch of Willis's In Pursuit of Beauty: Imaging Closets in Newark and Beyond and Thomas's All Things Being Equal will follow the lecture. The evening will culminate with an after party featuring a photo session with Akintola Hanif and music by DJ Fauzi at Shine Portrait Studio.
The lecture is sponsored by L+M Development Partners; Clement A. Price Institute on Ethnicity, Culture, and the Modern Experience; Truth, Racial Healing and Transformation Center at RU-N; and Express Newark. Shine Portrait Studio and New Arts Justice Initiative at Express Newark are sponsors of the joint book signing.
Deborah Willis is a University Professor and chair of the Department of Photography and Imaging at the Tisch School of the Arts at New York University and exhibiting photographer. She is the author of the groundbreaking photographic histories, "Reflections in Black: A History of Black Photographers -- 1840 to the Present" and "Posting Beauty: African American Images from the 1890s to the Present." She is a recipient of the John D. and Catherine T. MacArthur Fellowship and the NAACP Image Award in 2014 for her co-authored book (with Barbara Krauthamer) Envisioning Emancipation.
Hank Willis Thomas is a conceptual artist whose work has been exhibited throughout the United States and abroad including the International Center of Photography, New York; Guggenheim Museum Bilbao, Spain; Musée du quai Branly, Paris. Thomas is a recipient of the Guggenheim Fellowship (2018) and his collaborative projects include Question Bridge: Black Males, in Search of the Truth (The Truth Booth), and For Freedoms, which was awarded the ICP Infinity Award for New Media and Online Platform. In 2017, Thomas unveiled his permanent public artwork "Love Over Rules" in San Francisco, California, and "All Power to All People" in Opa Locka, Florida.
Salamishah Tillet is the associate director of the Clement A. Price Institute and a professor of African American and African Studies at RU-N. She is a much sought-after commentator on the politics of artistic expression and leading thinker on the relationship between art and social justice. In 2003, she co-founded A Long Walk Home, a Chicago-based national nonprofit that uses art to educate, inspire, and mobilize young people to end violence against girls and women. Her book Sites of Slavery: Citizenship and Racial Democracy in the Post-Civil Rights Imagination examines how contemporary African-American artists, writers, and intellectuals remember antebellum slavery within post-Civil Rights America to challenge the ongoing exclusion of African Americans from America's civic myths and to model a racially democratic future. 
---