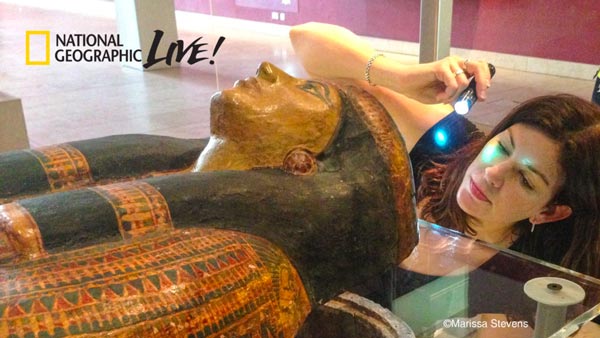 (TOMS RIVER, NJ) -- National Geographic Live, National Geographic's touring speaker series, and the Jay and Linda Grunin Center for the Arts present "When Women Ruled the World" with Dr. Kara Cooney, a National Geographic author and professor of Egyptian art and architecture at UCLA. The event will take place at 7:00pm, Thursday, December 6 at the Grunin Center.  
Cooney is a professor of Egyptology at UCLA. Her academic work focuses on death preparations, afterlife beliefs, and gender studies. She has participated in digs with the Metropolitan Museum of New York at the Royal Pyramid complex of Senwosret III and the Theban Necropolis with Johns Hopkins University. She appeared as a lead expert in the popular Discovery Channel special The Secrets of Egypt's Lost Queen, and is a recurring team member of the History Channel's Digging for the Truth. Her book The Woman Who Would Be King: Hatshepsut's Ride to Power in Ancient Egypt was published in 2014, and she also wrote When Women Ruled the World: Six Queens of Egypt, which was published by National Geographic in 2018.
National Geographic Live is the live events division of National Geographic. With a broad roster of talent including renowned photographers, scientists, authors, filmmakers and adventurers, National Geographic Live's critically acclaimed programs have connected with audiences worldwide for over a century. Currently, National Geographic Live events are held in a variety of cities around the world, including, Seattle, Tampa, Los Angeles, and Calgary. In each of these cities, speakers share behind-the-scenes stories from the front lines of exploration onstage alongside stunning imagery and gripping footage. For more information, visit natgeolive.com.
About the Jay and Linda Grunin Center for the Arts - The Jay and Linda Grunin Center for the Arts, located on the campus of Ocean County College, is a performing arts center dedicated to providing art and entertainment to Ocean County and the Jersey Shore. Featuring premiere acts from across the globe, the Grunin Center's intimate venue allows patrons to experience once-in-a-lifetime from venerated artists, hometown musicians, and unique entertainers. Music performances of all genres, theatre, film, and dance make their way to the Grunin Center stage each season. The Grunin Center is also the home to young performers from various educational performing arts organizations, including Ocean County College students from the performing arts and fine arts programs, and the Ocean County and NJ State Teen Arts Festivals. Our Art Gallery highlights local artists by displaying several collections throughout the year. Additionally, the Garden State Philharmonic is the Orchestra-in-Residence. For more information, visit grunincenter.org.
About National Geographic Partners LLC - National Geographic Partners LLC (NGP), a joint venture between National Geographic and 21st Century Fox, is committed to bringing the world premium science, adventure and exploration content across an unrivaled portfolio of media assets. NGP combines the global National Geographic television channels (National Geographic Channel, Nat Geo WILD, Nat Geo MUNDO, Nat Geo PEOPLE) with National Geographic's media and consumer-oriented assets, including National Geographic magazines; National Geographic studios; related digital and social media platforms; books; maps; children's media; and ancillary activities that include travel, global experiences and events, archival sales, licensing and e-commerce businesses. Furthering knowledge and understanding of our world has been the core purpose of National Geographic for 130 years, and now we are committed to going deeper, pushing boundaries, going further for our consumers … and reaching millions of people around the world in 172 countries and 43 languages every month as we do it. NGP returns 27 percent of our proceeds to the nonprofit National Geographic Society to fund work in the areas of science, exploration, conservation and education. For more information visit natgeotv.com
---