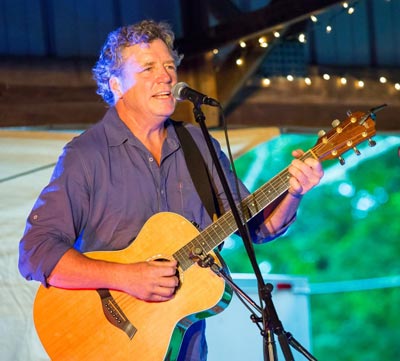 (SUCCASUNNA, NJ) -- Riverside Rhythm and Rhyme (RR&R) presents Patrick Fitzsimmons on Sunday, December 16 from 4:00pm to 6:00pm at the Investors Bank Theatre in Succasunna. Tickets are $20 for general admission; $15 for RAA/SSG/JAM members; and free for those under 18.
Singer-Songwriter Patrick Fitzsimmons writes songs that have that rare combination of strong lyrics coupled with memorable melodies. A skilled vocalist and musician, he plays acoustic guitar, banjo, ukulele and percussion to add depth and rhythm to his original music. His latest CD "Bird Tree" just out, features clever songs and catchy tunes along with local voices and instrumentalists.
Fitzsimmons served his professional music tenure in the late 90s as a member of From Good Homes, a rock band out of northwestern New Jersey signed to RCA Records. When the band broke up in 1999, Fitzsimmons moved to Burlington, Vermont and embarked on a solo career. He has been touring the northeast ever since, drawing enthusiastically attentive crowds wherever he plays. 
Geoff Doubleday, hailing from Sussex County, NJ, to open the concert. An engaging performer with a strong voice, Doubleday fronts his own band "Doubleday" and has been known to back up Fitzsimmons with harmonies, guitar and percussion. 
RR&R is an eclectic coffee house/listening room style venue in the heart of Roxbury Township showcasing local and regional independent artists. Skylands Songwriters Guild, based out of Ledgewood, NJ, is a recognized 501(c)(3) educational non-profit organization dedicated to cultivating the Singer-Songwriter community of Northwest New Jersey and surrounding region. Show is presented in conjunction with the Roxbury Arts Alliance and is a "WXPN Welcomes" event.
---
The article continues after this ad
---
---
Investors Bank Theatre is located at 72 Eyland Avenue in Succasunna, New Jersey.
Photo by Cathy Miller