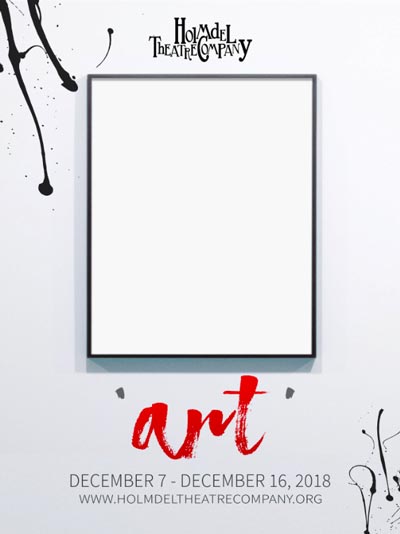 (HOLMDEL, NJ) – The Holmdel Theatre Company (HTC) will present 6 performances of Yasmina Reza's 'ART'  from December 7th through December 16th. Translated from French by Christopher Hampton, the play tells the story of what happens when Serge buys an expensive painting, and the reactions of his two closest friends, Marc and Yvan, to his purchase. As what begins as a discussion about the quality of the painting that Serge has purchased quickly devolves into petty jabs and personal attacks, the three men border on destroying their friendships. 
Winner of the 1996 Olivier Award for Best Comedy and the 1998 Tony Award for Best Play, 'ART' is a hilarious masterpiece that will have audience's laughing the whole way through. Director Tyrone Mitchell Henderson will bring the show to life, Henderson is a seasoned director, actor, and acting coach with extensive credits to his name including roles on hit shows like Orange is the New Black, House of Cards, and The Good Fight and on stage in Yellowman, King Lear, The Tempest, and many more. Henderson is the Founder of Quick Silver Theater Company, a collective of 13 artists dedicated to amplifying the collective voice, individual potential, and overall presence of people of color, women, and other marginalized groups within the American theatrical landscape. HTC is excited to bring his expertise and dedication to inclusion and representation to their stage.
"I am pleased to have been invited into the Holmdel Theatre Company family," Henderson says. "Kathy Connolly and I have known each other for a couple of decades and I am honored that she asked me to direct 'ART' as part of her inaugural season as Artistic Director."
'ART' is the second production in HTC's 2018-2019 season, and the company's last show in 2018. Connolly is excited to end the year and first half of her debut season as Artistic Director alongside Henderson. Connolly shares Henderson's dedication to inclusion and representation and intends to uphold these principles in all productions at HTC. 
Holmdel Theatre Company performs at 36 Crawfords Corner Road in Holmdel, New Jersey.  Tickets are available online or by calling 732-946-0427.
---