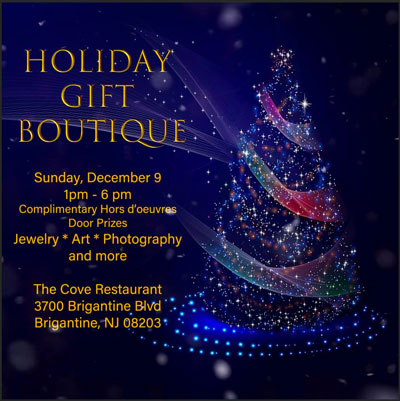 (BRIGANTINE, NJ) -- November is finally here and that means the holidays are right around the corner. The elves are busy getting things ready at the north pole.  In South Jersey, the artists are busy getting unique items together for you to come shop, grab a drink & enjoy complimentary hors d'oeuvres at the Holiday Gift Boutique on Sunday, December 9th at The Cove Restaurant in Brigantine. The event runs from 1:00pm to 6:00pm.  
There will be jewelry that everyone always loves to get during the holiday.  The jewelry artisans at the event will be the one and only Anthony Niglio (Dream Trader Jewelry),  Heather Anton (Heather's Feathers), Janet Bodoff, Suzanne Battaglia (Sea Signs Handmade Jewelry), Heidi Leledakis (Aphrodite's Treasure) & Brigantine Artisan Ginny Hauck).  Someone on your list loves paintings we have that covered with Brigantine artist Ali Brennan, Heather Sines (Painted Trove), Brigantine sea artist Dana Patson (Crackleberry Designs), artist and gallery owner Tania Pomales ( Tania Pomales Art/Calvaria Gallery) & Annette Valentine.  Brigantine photographers Connie Pyatt (Connie Pyatt Photography), Donna Swiatek (Beach Angel Photography & Jane Ann Hart (jahART), will have those Brigantine captures for the person wanting to always have a piece of Brigantine wherever they reside.  Lastly are fun and awesome artists with their unique spin on art are Brigantine painter and digital artist, Karl Pyatt, Brigantine Island Items owner and artist Leah Smith & Metal sculptor Annie Machotka. 
The event kicks off at 1:00pm and ends at 6:00pm.  They are accepting can goods for the Food Bank in Brigantine.  There is no fee to attend.  Grab yourself a drink at the bar & enjoy the complimentary hors d'oeuvres while shopping for that special someone or yourself and some artists will be offering door prizes at their tables.  Could be bottle of wine or gift certificate or something unusual, you won't know until you get there, but it will be something that will please you.
Brigantine Art Walk is a celebration of ART.  The purpose of the Art Walk is to showcase the talented local artists and their work.  The jersey shore has a diverse palette of talent up and down the coast.  We want to bring these talented artists to Brigantine.  
Sponsors for the 2018 Art Events are:  Brigantine Chamber of Commerce, Pirates Den, The Cove Restaurant, Bayside Marina, Casale al Mare, C&K Pyatt Photography Art (Connie Pyatt Photography), Beach Angel Photography, JCS Accounting Solutions LLC & Heather's Feathers 
---
The article continues after this ad
---
---
The Cove Restaurant is located at 3700 Brigantine Blvd in Brigantine, New Jersey.