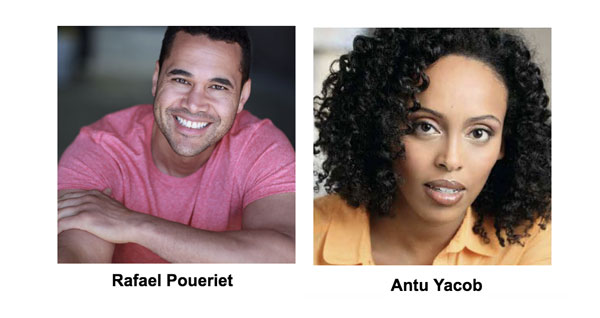 (WEST ORANGE, NJ) -- Luna Stage explores friendship, loss, and forgiveness in its second play of the 2018-19 MainStage Season. The Assignment, by Camilo Almonacid, begins a two-week limited engagement at Luna Stage on Thursday, November 29 and closes on Sunday, December 9.  The production is directed by David Winitsky.
The Assignment stars Rafael Poueriet as Julian J. Torres, an ebullient 37-year old scholarship student who is trying to reframe his life after a troubled youth and time in prison. Opposite Poueriet, Antu Yacob stars as Helen Payne, a brilliant and reserved English professor recovering from tragedy. Wary at first, Dr. Payne is won over the by Julian's intelligence and likability. The two unlikely friends connect through the power of great literature.
Winitsky called The Assignment "a moving and human mediation on the ways that we seek to find meaning, forgive, and continue forward." Artistic Director Ari Laura Kreith chose this play for her inaugural season because "Luna produces plays that engage the deepest challenges facing us as a culture. Camilo's play offers a perspective that is beautifully drawn, funny, surprising, and true."
Performances take place Thursdays @ 7:30pm; Fridays & Saturdays @ 8:00pm; and Sundays @ 3:00pm & 7:00pm at Luna Stage, 555 Valley Street in West Orange, New Jersey. Running time is 90 minutes, no intermission.
---