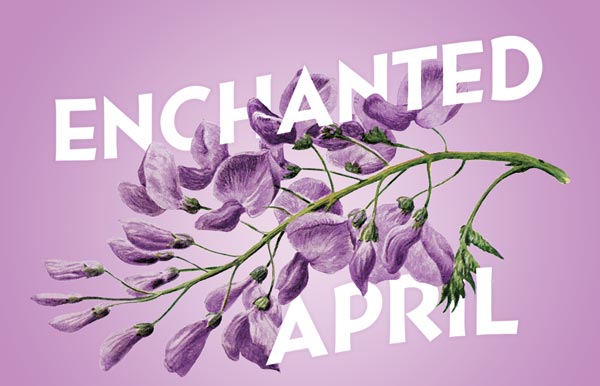 (SUMMIT, NJ) -- The Summit Playhouse presents the romantic comedy Enchanted April by Matthew Barber for the next two weekends. The production, which began on November 2nd, features four women who appreciate wisteria and sunshine find themselves in a castle in Italy for a quiet holiday in Enchanted April. Liberated from their daily routines, these women ease into rural Italy, and each finds herself transformed by the experience.
Sweet-natured Lotty Wilton is suffering depression from the bleak London winter, and from an oppressive relationship with her pompous solicitor husband. When she sees an advertisement to rent an idyliic castle in Italy for the month of April she jumps at the chance to escape her downtrodden existence. Sensing an instant kinship with fellow housewife Rose Arnott, a severely angelic woman with sorrows of her own, Lotty persuades her along on the adventure. They find Caroline Bramble, a beautiful and exhausted socialite, and Mrs. Graves, an overbearing widow, to round out the party. As the month passes, verdant sun-drenched San Salvatore works its magic on each sad and hardened heart, healing grief and bringing hope. And with the arrival of two chastened husbands and one attractive young artist, romance blooms again. 
Enchanted April, based on Elizabeth Von Arnim's beloved novel of the 1920s, is a gentle and romantic comedy of manners. Against the backdrop of a country still reeling from World War I Enchanted April offers to its characters, and viewers, a necessary balm of sunshine and renewal.
Directed by Lauri MacMillan the cast includes Karen Thornton, Jackie Jacobi, Jessica Phelan, Marguerite Wurtz, Paula Ehrenberg, Jennifer Colgan, Jay Mattlin, Jonathan Rudolph, Bobby Marusiefski and Anthony Bentravato.  
Remaining performances include November 9, 10, 16, and 17 at 8:00pm and November 11 at 2:00pm. The Summit Playhouse is located at 10 New England Avenue, Summit, NJ.  Tickets are available online at Brown Paper Tickets or by calling 908-273-2192.   
---