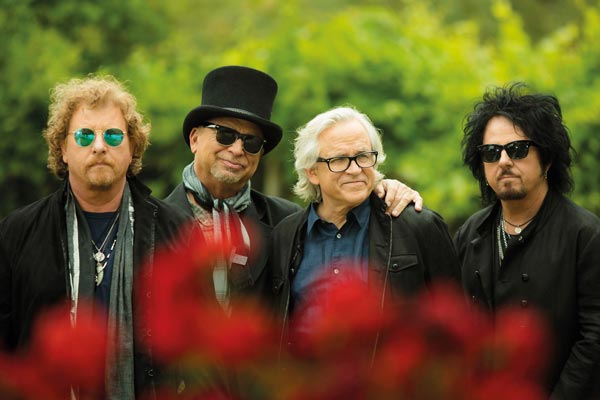 (NEW BRUNSWICK, NJ) -- State Theatre New Jersey presents the band TOTO as part of their 40 Trips Around the Sun tour celebrating their 40th anniversary on Tuesday, November 13 at 8:00pm. Tickets range from $35-$95. 
Historically, few ensembles in the history of recorded music have individually or collectively had a larger imprint on pop culture than the members of TOTO. As individuals, the band members' performances can be heard on 5,000 astonishing albums, which together have sold half a billion worldwide. As a band, TOTO has sold over 40 million albums, amassing a catalog of indelible hits: "Hold the Line," "Rosanna," and "Africa," among many others. Amongst these recordings, The Recording Academy (formerly National the National Academy of Recording Arts and Sciences or NARAS) applauded the collected works with 225 Grammy® nominations. Celebrate 40 years together and thousands of credits and accolades to their names, TOTO remains one of the top selling touring and recording acts in the world. 
With over 40 years together and literally thousands of credits, including the biggest selling album of all time: Michael Jackson's Thriller,TOTO remains one of the top selling touring and recording acts in the world. They are the benchmark by which many artists base their sound and production, and they continue to transcend the standards set by the entire music community, being simply synonymous with musical credibility. They are pop culture, and are one of the few 70's bands that have endured the changing trends and styles to a career enjoy a multi-generational worldwide fan base. The 40 Trips Around the Sun Tour is the band's most extensive run in years.
For tickets, more information, or group discounts, call State Theatre Guest Services at 732-246-SHOW (7469), or visit STNJ.org. State Theatre Guest Services, located at 15 Livingston Ave, New Brunswick NJ, is open Monday through Friday from 10am to 6pm; Saturday from 1pm to 5pm; and at least three hours prior to curtain on performance dates unless otherwise specified. Additional ticket and transaction fees may apply. 
---