---
Big News! Emily Mann to retire as McCarter Theatre's Artistic Director following 2019-2020 season
Click here for the story!
---
State Theatre NJ presents TOTO
originally published: 11/01/2018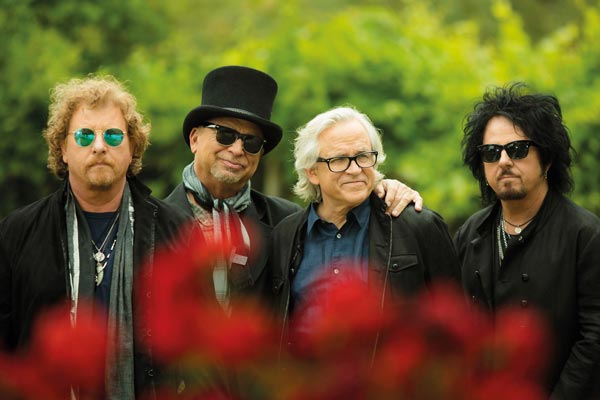 (NEW BRUNSWICK, NJ) -- State Theatre New Jersey presents the band TOTO as part of their 40 Trips Around the Sun tour celebrating their 40th anniversary on Tuesday, November 13 at 8:00pm. Tickets range from $35-$95. 
Historically, few ensembles in the history of recorded music have individually or collectively had a larger imprint on pop culture than the members of TOTO. As individuals, the band members' performances can be heard on 5,000 astonishing albums, which together have sold half a billion worldwide. As a band, TOTO has sold over 40 million albums, amassing a catalog of indelible hits: "Hold the Line," "Rosanna," and "Africa," among many others. Amongst these recordings, The Recording Academy (formerly National the National Academy of Recording Arts and Sciences or NARAS) applauded the collected works with 225 Grammy® nominations. Celebrate 40 years together and thousands of credits and accolades to their names, TOTO remains one of the top selling touring and recording acts in the world. 
With over 40 years together and literally thousands of credits, including the biggest selling album of all time: Michael Jackson's Thriller,TOTO remains one of the top selling touring and recording acts in the world. They are the benchmark by which many artists base their sound and production, and they continue to transcend the standards set by the entire music community, being simply synonymous with musical credibility. They are pop culture, and are one of the few 70's bands that have endured the changing trends and styles to a career enjoy a multi-generational worldwide fan base. The 40 Trips Around the Sun Tour is the band's most extensive run in years.
For tickets, more information, or group discounts, call State Theatre Guest Services at 732-246-SHOW (7469), or visit STNJ.org. State Theatre Guest Services, located at 15 Livingston Ave, New Brunswick NJ, is open Monday through Friday from 10am to 6pm; Saturday from 1pm to 5pm; and at least three hours prior to curtain on performance dates unless otherwise specified. Additional ticket and transaction fees may apply. 
---


Arijit Singh's New North American Tour Will Include Single Stop In Tri-State Region At Prudential Center on April 13
(NEWARK, NJ) -- Bright Brain Productions, the leading entertainment company based in California announced the "Arijit Singh LIVE Tour" in 12 cities all across the U.S. This is the first of its kind and largest tour done by Arijit Singh or any Indian artist. The tour beings on April 5 and travels through major U.S. cities culminating on May 5.  The tour stops at Prudential Center in Newark on Saturday, April 13 at 7:00pm.
---
Light of Day's Main Event To Be Broadcast Live at McLoone's Supper Club
(ASBURY PARK, NJ) -- If you couldn't get tickets for the fabled "main event" of the 2019 Light of Day Winterfest, you have another chance see the show.  For the first time in the 19-year history of the festival, the "main event", the star-studded "Bob's Birthday Bash" on January 19th (a show that has long sold out), will be broadcast live via fiber optic cable at McLoone's Supper Club in Asbury Park.
---
Wharton Institute for the Performing Arts To Hold Winter Open House On January 27
(BERKELEY HEIGHTS) -- Wharton Institute for the Performing Arts (WIPA) will host a Winter Open House on Sunday, January 27 from 1:00pm to 4:00pm. The free event is open to the public and will be held at the Performing Arts School (PAS) located at 60 Locust Avenue in Berkeley Heights.
---
Billy Idol and Steve Stevens To Perform At Count Basie Center For The Arts
(RED BANK, NJ) -- Billy Idol and Steve Stevens, one of rock's most iconic and enduring duos, will hit the road this March for their first ever tour performing as a duo: Turned On, Tuned In and Unplugged. The Billy Idol/Steve Stevens tour comes to The Count Basie Center for the Arts on Thursday, April 4th.
---
McDonald's Gospelfest To Celebrate The Life of Aretha Franklin With Return to Prudential Center
(NEWARK, NJ) -- The 37th Annual McDonald's Gospelfest returns to the Prudential Center on Saturday, May 11 for the gospel event of the year. This year's event will honor and celebrate the life and legacy of the "Queen of Soul" Aretha Franklin with an All-Star cast. The 5:00pm to 7:00pm portion of the evening will feature a rising stars competition for all ages and cultures in categories including Soloists, Choirs, Praise Dancers, Singing Groups, Gospel Comedians, Gospel Poets and Gospel Rappers. The gospel concert, beginning at 7:00pm, will feature some of the most renowned gospel artists in music history with the goal of spreading love, peace and joy to all races, nationalities and beliefs.
---


Scott Wolfson and Other Heroes At Riverside Rhythm & Rhyme
This coming Sunday, January 20, Scott Wolfson and his band will be serving up their unique blend of Americana at the Riverside Rhythm & Rhyme series at Investors Bank Theater in Succasunna, New Jersey. The band – Scott Wolfson and Other Heroes – formed in Jersey City in 2011, and, even though the members have migrated in various directions since then, they still consider themselves to be a Jersey City band.
---
"He Totally Wowed Us!" John Oates LIVE! at SOPAC
It's brisk for an evening walk on South Orange Ave. in South Orange, NJ, this Friday, Jan. 4, 2019 evening, but it's a good road to follow as it leads us directly to the South Orange Performing Arts Center (SOPAC) for a special performance by singer, songwriter, and guitarist John Oates and his backup group, The Good Road Band.
---
"Tons of Fun!" The Glenn Miller Orchestra LIVE! at the Grunin Center
Although Friday, December 21, 2018 is the shortest day of the year, the audience of big band music lovers here at Toms River, NJ's Grunin Center for the Arts is hoping for a long evening of classic swing and holiday tunes performed by the incomparable Glenn Miller Orchestra!
---
Mike Davis and The New Wonders
Mike Davis traces his love for the trumpet back to a Disney movie. He grew up in a musical family, with both his parents playing strings in the Seattle Symphony. But Davis wanted an instrument of his own. Then, at age 9, he saw "The Aristocats," the animated film about a bunch of French felines — including a group of jazz-playing alley cats.
---
Ana Gasteyer's "Holiday Tipple" LIVE! at the Grunin Center
The Grunin Center stage in Toms River, NJ is set this Saturday, December 15, 2018 with drums, a grand piano, a guitar, an acoustic bass, and various microphones for vocals. A stool and several microphone stands are bedazzled with colorful garlands of shiny red, gold, and green, and wrapped gifts are strewn on stage among the instruments. Projected white snowflakes adorn the walls, and Christmas music plays as patrons enter the theater to put everyone in the mood for tonight's holiday show — Ana Gastayer's Holiday Tipple!
---
Event calendar
Friday, Jan 18, 2019
---
MUSIC

---
---
---
---
---
THEATRE

---
---
Annie Jr.

@ The Oakes Center, Summit - 7:30pm
---
Some Girl(s)

@ Studio Playhouse Upper Montclair, Upper Montclair - 8:00pm
---
---
COMEDY

---
---
MISC

---
---
View all events
---