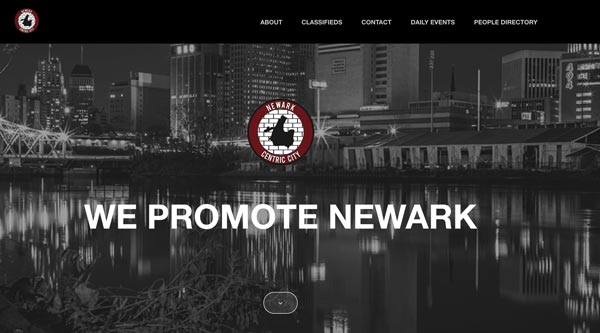 (NEWARK, NJ) -- Newark Centric City officially launched on September 29, 2018, but site owner Suzanne Joblonski has been actively promoting Newark through social media for the past year and a half.  New Jersey Stage spoke with her to learn more about the site.
What inspired you to create the Newark Centric City website and what do you hope to accomplish?

For years, I have  been promoting all the great things happening in Newark and the people making them happen on my social media pages as my way of showing the world the Newark they had not been hearing about and seeing in mainstream media. I wanted to show mostly my (then) New York friends the fun I was having in this beautiful city and all it took was a swipe of a MetroCard on The PATH to get here. Realizing not everyone relied on social media to get the info, I thought that blogging and photoblogging would also help tarnish Newark's perceived bad reputation.
I found much more engagement on my Facebook and Instagram pages then I did on the blog. I had an opportunity to introduce myself as now a Newark resident to Mayor Baraka in March 2017 and made him a promise to make this city shine. A week later there was a news reporter in the city which happened to be the same day as the State of the City. She interviewed 3 people who perpetuated the ugly side of Newark. I was angry. I invited to come back to visit what she missed. She declined. I went to work on crafting the promise I made a week earlier.  
As much as I really loved to write, I learned photos and videos tell a much more compelling and truer narrative of the Newark I was experiencing. The idea for a website was always there but it felt like it would be too much extra to take on as a team of one. Then a web developer who I had unknowingly recommended to someone looking for one contacted me asking if I wanted a website. I plunked down some of my savings which isn't much living on a fixed income (SSDI) and a site was born. It was actually all written in a notebook while sitting in the historic Military Park one afternoon. 
What I hope to accomplish? That Newark Centric City become a go to source that people will turn to when they are looking for things to do on our daily calendar  in Newark, searching for an artist, web developer, etc in our people directory, and looking for a venue to host their events or for us to create/plan events as we've , all while supporting our #InNewarkForNewark Initative that benefits organizations in Newark each month. Not that I envision this to ever replace Facebook, but it could be Newark's kind of Facebook, but only better and free of censorship, hacks and chainmails we all despise. The content is supplied directly from those buying the promotions.
---
The article continues after this ad
---
---
Talk about the services you offer from classifieds to event listings and the people directory.

The classifieds offer real estate professionals who want to list their properties, apartments, homes, office space and employers offering employment in Newark. $1.00 of every ad supports an organization in Newark serving neighbors without addresses.
The Newark Centric City Daily Events listings are an extension from my social media pages l would curate and post at no charge by 9am  every morning because like me, many would be upset they'd find out about events after they happened or didnt get a notification on their phone about it. Thanks to a sponsorship from O La La Empanadas we can continue this widely relied on feature. And for those wanting their events listed, they are also supporting our #InNewarkForInitative.
The Newark Centric City People Directory is just what it sounds like. Why continue to ask for recommendations and tag people who may never see them? Here you can find it one spot.
Newark Centric City Hosts is about hosting and creating events in around Newark. The aim is to get people to see, do, and experience than what they do not know or accustomed to.
Vantage Point Newark Centric City is our Instagram contest where followers can post their best visual representation of Newark and compete for Newark area gift certificates.
And I just love creating social media content and in part thanks to Rock Plaza Development, Krewr App, and Legends Events hiring me to do their social media gave me the confidence to know my promotions of their businesses help them reach and attain business. If I could do it for them, why not do it for my own and start my own business in and for Newark, the city I love.
What would like people outside of Newark to know about the city?
I want people outside of Newark to know what you heard isn't always truth, to experience it for yourself regularly and not just by flying in or on a train stop, and take advantage of the greatness offered here. I am happy to show you around and customize your itinerary from where to eat, what to see, not what to miss, and so much more.
For more on the site visit www.newarkcentriccity.com and follow them on Facebook, Twitter, Instagram, and LinkedIn.