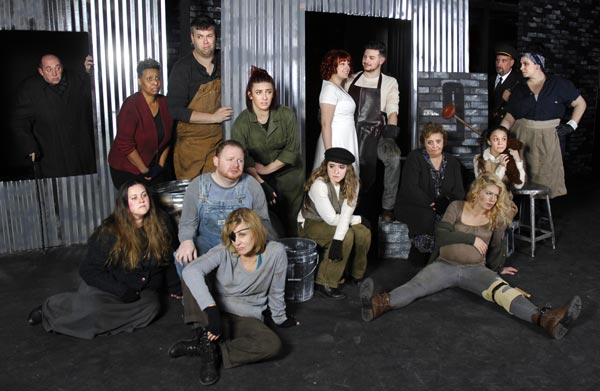 (MONTVILLE, NJ) -- The Barn Theatre of Montville, New Jersey will be presenting "Urinetown" from November 9th through December 1st. Set in the not-so-distant future, a terrible water shortage and 20-year drought has led to a government ban on private toilets and a proliferation of paid public toilets (owned and operated by a single megalomaniac company).
The poor stage a revolt, led by a brave young hero, fighting tooth and nail for the freedom they all pray for. A brilliant musical satire modeled off the plays of Weill and Brecht, Urinetown is a wickedly funny, fast-paced, and surprisingly intelligent comedic romp.
The cast of "Urinetown" features: Allie Acquafredda as Little Sally; Geraldine Baillod as Josephine Ma Strong; Billy Brisley as Old Man Strong & Hot Blades; Rafi Bromberg as Billy Boy Bill; Corey Chichizolia as McQueen; Ilyssa DePonte as Soupy Sue; Julie Dwoskin in Ensemble; Danny Egan as Tiny Tom; Meg Foley as Little Becky Two Shoes; Lauren M Grof-Tisza as Pennywise; Joe Guadara as Senator Fipp; Lindsey Hresko as Robbie the Stockfish; Stephen Kalogeras as Bobby Strong; Jeff Knapp as Barrel; Cheryl Marocco Bookstaver as Mrs Millenium; Dave McDonald as Dr Billioux; Danielle Pennisi as Hope Cladwell; Tom Schopper as Cladwell; Leslie Silverman in Ensemble; Rachel Tovar in Ensemble; Tim White as Officer Lockstock.
Performances will be on November 9, 17 ,23, 24, 30 and December 1 at 8:00pm and November 10, 11, 18, & 25 at 2:00pm. Tickets are $25 (senior/student tickets are $23 on matinees only)
The Barn Theatre is located on Skyline Drive in Montville, NJ, just minutes off Exit 47 from Route 287. For more reservations, information or directions, call The Barn Theatre Box Office at (973) 334-9320.
Photo by Tom Schopper
---