---
New Jersey State Council on the Arts Names Allison Tratner as Executive Director Click here for the story!
---
Rowan Lab Theatre's Cabaret Celebrates The Power of Women and The 1960s
originally published: 10/29/2018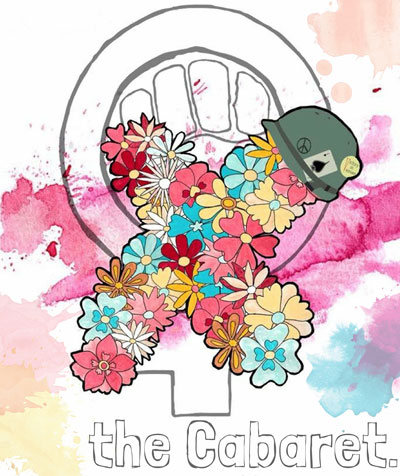 (GLASSBORO, NJ) -- Rowan University's Lab Theatre presents X, a musical theatre cabaret exploring issues related to women, as seen through the lens of the 1960s. Performances are November 9 and 10 in the Department of Theatre & Dance's Lab Theatre on the Glassboro campus.
Named for the female chromosome, X is presented under the direction of faculty member Christopher Roche. The show will feature four movements - female empowerment, love, drugs and war/protest - told through a selection of popular songs from the 1960s.
The 10-person cast performs music made famous by such artists as Joan Baez, James Brown, The Beatles, Crosby Stills & Nash, Bob Dylan, Aretha Franklin, Lesley Gore, Jefferson Airplane, Janis Joplin, Sly & the Family Stone, and Tina Turner.
According to Roche, the evening follows much of the structure of the legendary rock musical Hair, which will be the final production of the Department of Theatre & Dance mainstage season April 5 – 13.
Performances of X are November 9 at 8:00pm and November 10 at 2:00pm and 7:00pm. Admission is $10 at the door. Seating is limited and on a first-come, first served basis.
---
The article continues after this ad
---
---
The Lab Theatre/Room 159 is located on the lower level of Bunce Hall on the campus of Rowan University, Route 322 in Glassboro, NJ. For more information, please call the box office at (856) 256-4545.


Center Players Presents "The Emperor's New Duds"
(FREEHOLD, NJ) --  Center Players Dessert Theater will present a family-friendly production of "The Emperor's New Duds" at Center Playhouse, 35 South St, in downtown Freehold, NJ from December 7 – 16. A musical adaptation of Hans Christian Anderson's the "Emperor's New Clothes," the play was written by Bernice Garfield-Szita, who co-directed the production with Enid Bush.
---
Centenary Stage's Young Performers Workshop presents 2018 Winter Festival of Shows
(HACKETTSTOWN, NJ) -- Based on the Gospel According to St. Matthew with music and new lyrics by Stephen Schwartz, Godspell is composed of various musical parables from The Gospel. Jesus Christ recruits a group of followers and teaches them various lessons through song and dance. Toward the end of the second act, the show begins to follow a more linear narrative as Jesus is betrayed by Judas and eventually crucified. Performances are Sunday, December 9 at 5:00pm; Saturday, December 15 at 8pm and Sunday, December 16 at 7:30pm.
---
The Shakespeare Theatre Presents "The Winter's Tale"
(MADISON, NJ) -- The Shakespeare Theatre of New Jersey's concludes its 56th season with its sixth and final Main Stage production, The Winter's Tale. Last seen at The Shakespeare Theatre in 2008, Artistic Director Bonnie J. Monte directs this production of Shakespeare's tragicomedic romance. Veteran company members Jacqueline Antaramian, Jon Barker, Erin Partin, John Keabler, Raphael Nash Thompson,Seamus Mulcahy, Patrick Toon, and Ames Adamson are among a cast of 20 actors. Performances run from December 5 to December 30. 
---
American Theater Group Announces Full Cast & Creative For "Tell Them I'm Still Young"
(SOUTH ORANGE, NJ) -- American Theater Group has announced the full cast and creative team for its World Premiere production of Tell Them I'm Still Young, a new play by Julia Doolittle, which will run at the South Orange Performing Arts Center from January 24 - February 3, 2019. Joining the previously announced Andre Braugher (Homicide: Life on the Streets, Men of a Certain Age, Brooklyn Nine-Nine) andMichele Pawk (Hollywood Arms, Hairspray, Mamma Mia) are Janice Amaya (Seen/Unseen) and Seth Clayton (The Madrid).
---
Holmdel Theatre Company Presents 'ART'
(HOLMDEL, NJ) – The Holmdel Theatre Company (HTC) will present 6 performances of Yasmina Reza's 'ART'  from December 7th through December 16th. Translated from French by Christopher Hampton, the play tells the story of what happens when Serge buys an expensive painting, and the reactions of his two closest friends, Marc and Yvan, to his purchase. As what begins as a discussion about the quality of the painting that Serge has purchased quickly devolves into petty jabs and personal attacks, the three men border on destroying their friendships.
---


Broadway's Mandy Gonzalez LIVE! at Toms River's Grunin Center
Broadway is in the house at Toms River, NJ's Grunin Center for the Arts with a Fearless live concert performance by Broadway star, Mandy Gonzalez!
---
"The Spitfire Grill" and Caitlin Geisser Return To Their Roots
"I saw something in her that you rarely come across," recalled Ted Wioncek III, Artistic Director at Eagle Theatre in Hammonton. "She's more than wise beyond her years; I believe she's going to be a game-changer and a trendsetter for this art form."
---
Broadway's Next H!T Musical LIVE! at Toms River's Grunin Center
It's Friday, October 26, 2018, and the Broadway's Next H!T Musical cast is just about ready to take the stage at the Jay and Linda Grunin Center for the Arts, located on the campus of Ocean County College in Toms River, NJ.
---
The Last Apple Pie: "Apples In Winter" Opens At Centenary Stage
Jennifer Fawcett's new play centers around a mother in a kitchen, doing something countless people across America will take part in over the upcoming holiday season: making an apple pie.
---
See Andrea McArdle LIVE! in Annie at Deal Park's Axelrod PAC!
Leapin' Lizards! Annie's finally made it to the Axelrod Performing Arts Center in Deal Park, NJ, and it stars Broadway's original Annie, Andrea McArdle, as Miss Hannigan!
---
Event calendar
Sunday, Nov 18, 2018
---
MUSIC

---
Allen Stone

@ House of Independents, Asbury Park - 8:00pm
---
---
---
---
---
---
---
---
---
THEATRE

---
Annie

@ Broad Street United Methodist Church, Burlington - 2:00pm
---
---
Annie

@ Axelrod Performing Arts Center, Deal Park - 3:00pm
---
Apples In Winter

@ Centenary Stage Company - Kutz Theater of the Lackland Center, Hackettstown - 2:00pm
---
---
---
---
Pinocchio

@ The Newton Theatre, Newton - 3:00pm
---
---
---
---
---
---
DANCE

---
---
---
KIDS

---
---
---
LECTURE

---
---
View all events
---