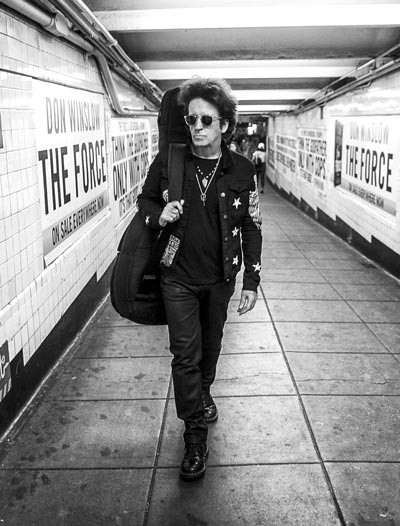 (MONTCLAIR, NJ) -- Outpost in the Burbs presents Willie Nile and his band, on Friday, November 9th at 8:00pm at the First Congregational Church, 40 South Fullerton Avenue. Opening the show will be New York City-based guitarist and record producer, Eric Ambel.
The New York Times called Willie Nile "one of the most gifted singer-songwriters to emerge from the New York scene in years." His album Streets Of New York was hailed as "a platter for the ages" by UNCUT magazine. Rolling Stone listed The Innocent Ones as one of the "Top Ten Best Under-The-Radar Albums of 2011" and BBC Radio called it "THE rock 'n' roll album of the year."
Bono, Bruce Springsteen, Pete Townshend, Lou Reed, Lucinda Williams, Jim Jarmusch, and Little Steven are among those who have sung his praises. His album, American Ride, won "Best Rock Album of the Year" at the Independent Music Awards. It appeared on over one hundred year-end Top Ten lists for 2013 and Bono called it, "One of the great guides to unraveling the mystery that is the troubled beauty of America."
In November 2014 he released an album of piano-based songs, If I Was A River, to universal critical acclaim. "One of the most brilliant singer-songwriters of the past thirty years" said The New Yorker. No Depression raved "Willie Nile's artistic renaissance continues unabated."
His 2016 album World War Willie appeared on numerous year end top ten lists as did hid his live shows. As American Songwriter said "Nile cranks up the volume and tears into these tunes with the same hunger, passion and exuberance he displays in his legendary sweat-soaked shows." World War Willie was voted "Album Of The Year" by Twangville Magazine and the song "Forever Wild" was named "Coolest Song In The World" by Little Steven's Underground Garage.
---
The article continues after this ad
---
---
Willie has toured across the U.S. with The Who and has sung with Bruce Springsteen and The E Street Band. As the induction program from the Buffalo Music Hall of Fame says: "His live performances are legendary." In the summer of 2017 Willie Nile released his 11th studio album Positively Bob – Willie Nile Sings Bob Dylan to rave reviews. Willie's 12th studio album, Children of Paradise, was just released and he is bringing his dynamic live shows to audiences worldwide.
Community Service: Outpost volunteers will be accepting donations of the following items for the soup kitchen in Orange, New Jersey at all concerts: peanut butter, jelly/jam, granola bars, fruit cups or other healthy snacks, white athletic-type socks. 
How to Get Tickets: Tickets are $28 (advanced) and $32 at the door. Tickets are available at Watchung Booksellers, 54 Fairfield Street, Montclair, 973-744-7177, Studio 042 – Super Business Printer, 423 Bloomfield Ave., Montclair, 973-509-7591; and online.
Outpost in the Burbs is an all-volunteer nonprofit outreach organization in Montclair dedicated to building community through music, community service, and cultural events. For over 30 years, the Outpost has presented more than 450 concerts by internationally known artists such as Judy Collins, Roger McGuinn,, Jorma Kaukonen, Jimmy Webb, Richie Havens, J.D. Souther, The Jayhawks, Nick Lowe, and Dar Williams. In addition to promoting and staffing concerts, Outpost volunteers have donated many hours of their time through programs affiliated with Habitat for Humanity, Toys for Tots, the Human Needs Food Pantry of Montclair, the Community Food Bank of N.J., Dress for Success, MESH (Montclair Emergency Services for the Homeless), and a soup kitchen run by Outpost volunteers in Orange, NJ.