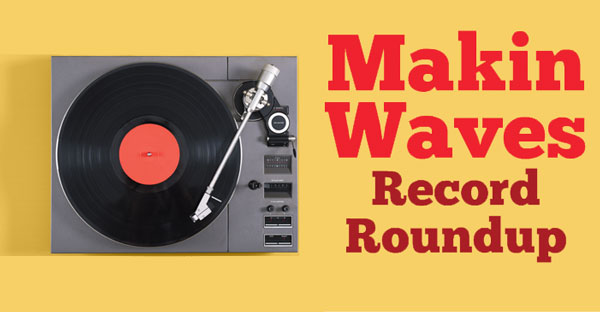 I was a big fan of dollys and, like thousands of others, was sad when they broke up. Then, when I first saw Natalie Newbold's latest band, Well Wisher, in August of 2017, I was even more disappointed because it seemed as if she had traded in her delicious indie-pop hooks for a harder AC/DC-Black Sabbath sound to which she was lending surprisingly good guitar chops instead of the excellent drumming style that made dollys so unique.
With Well Wisher's debut full-length, "This Is Fine," I'm relieved and delighted that Natalie came to her pop senses. The band's debut for the L.A.-based indie 6131 Records maintains some of the volume, thickness and crunch of that harder, heavier sound, but with a rich indie-pop sensibility. The results sound like dollys grown up, saddened by the world and their own personal situations, but toughened up by them and expressing that toughness with a harder sound and heartier edge.
I love the way band – also guitarist Lucas Dalakian, bassist Lynsey Vandenburg, and drummer Anthony D'Arcangelo -- stop on a dime to accentuate a certain part of a song and also the way some songs build from a sweet, soft start into a magnificent mash up reminiscent of Nirvana.
I'm also happy that former dollys bassist/co-songwriter Erik Kase Romero was behind the board on yet another outstanding production by him. Captured in an Airbnb rented in the Poconos, "This Is Fine" features many of Romero's signature nuances, such as bouncy bass lines and sweet gang vocals. I guess we've gotten to the point where we can call them "Romero touches," at least on a regional level.
If you don't know the story behind the breakup of dollys, I'm not going to share it here, but I will say that Natalie frequently references the emotional push 'n' pull of the resulting sadness, vindictiveness and appreciation. With an album cover that also depicts those emotions via a doll on fire, all 10 songs on "This Is Fine" are fantastic, but there are four in particular that I really love and prove what an exceptional songwriter Natalie is:
"Why Not You," a fascinating, slow-building emotional mine that wonders why the subject can't get with the program, then realizes, it's not them but the protagonist, as they share two of the albums best lines -- "With every breath you exhale, I'm bankrupted" and "I felt wrong for so long dreaming of what could be" – before ending with a weary but venomous vocal wail
"I Know Better," the album's first single and one of those infectious bits of Newbold confection that you just can't get out of your head
"All My Love," perhaps the most venomous of the breakup songs, which finds Natalie voicing anger over the self-pity that inspired defamation against her as she opens with a waif-like vulnerability; a similar melody to the closing of the previous track, "Leave Me Like You," and the telling lines, "Here is another sad song to kill the last one. I don't want to feel sorry for myself," yet ends with a blast of confidence and strength 
"Half Bad," perhaps the most delicious, dollys-like track with a pop groove underneath a sense of melancholy, like a cross between The Jam and The Smiths, yet, ironically, with a reference to the burning doll on the album cover.
All the songs will translate well live, especially during Well Wisher's tour, which will bring them Nov. 11 to Gold Sounds, Brooklyn, as well as stops in Pennsylvania, Delaware and Virginia. 
---
Wetbrain are one of Asbury Park's most underrated bands, but with the Ray Bradbury-like entitled "Things You Think You Thought You Know," their second LP in as many years, the prolific progressive-pop band deserve to be appreciated like the phenomenal Deal Casino. The artistic, well-crafted acts share a penchant for shaping super sad songs that somehow make you want to dance, while leaving plenty of musical meat for a wallflower to munch. Having surprisingly never played together, they would make a great bill, along with Sonic Blume, who demonstrate a similar fondness for Brit rock, and The Cold Seas, another experimental miner for pop gold.
Being a huge Pink Floyd fan for more than 40 years, I most love that a third of "Things" mines much of that Brit band's early catalog, such as "The Piper at the Gates of Dawn," "A Saucerful of Secrets," "Atom Heart Mother," and one of my all-time favorite albums, "Meddle." The entire middle of the 12-song LP features four great Floyd-like tracks:
 "Bottle Rocket," first of the Floyd tracks -- in this case, early Syd Barrett days when he used to share vocals with Roger Waters over a telling acid trip – this tune is one of a couple that explore outer space, yet is more edgy than Floyd's celestial ambience, more like early David Bowie and some of the '90s bands that may have influenced Wetbrain, such as perhaps My Bloody Valentine and Smashing Pumpkins
 "Broadcast," my favorite track because it mines Floyd's "Meddle" era so perfectly without being derivative and features beautiful Richard Wright-like piano playing that is a testament to the multi-hyphenated talent of Wetbrain mastermind Rudy Meier (he even co-designed the album art); love the Bradbury-inspired line, "Something catastrophic this way comes"
"Daylight," exquisite harmonies between Meier and bassist Ryan Grebel make this serving of melancholy pop a winner, as it pans the poppiest side of Floyd, kind of like The Anderson Council 
"Twilight," an all-too-brief instrumental that echoes Floyd's epic "Echoes," but underwater, this dreamy submersible track will appeal not only to fans of progressive rock but also dream pop.
"Things" is a follow-up of last fall's EP, "¡Quebrado!," which I unfortunately didn't get to write much about, and the preceding debut LP, "A Certain Light," which landed in my Top 10 list last year. Also featuring the fine guitar playing of Nick Kaelbein and drumming of Nick Aufiero, "Things" is a contender for this year's list. 
Other tracks are:
"Pilot," an opening Brit-tinged blast of artsy power-pop that is the first of a couple of songs that mock the media and TV junkies
"Astronaut," psychedelic Brit-flavored pop that blasts off with a stunning guitar solo, features the equally stunning line, "I want to float so I don't drown," and flirts with space, like "Bottle Rocket"
"Kamikaze," a noisy treat that harvests the '90s alternative sound field with gnarly guitars that offset Meier's sweet, high-pitched vocals
"Echo Chamber," an edgy track that dabs the artistic band's brush in punk waters
"Numbers," a charming nugget with a bouncy beat that will send indie-rock darlings to the dance floor, yet features fascinatingly dark lyrics, like a weird John Lennon song on "Revolver"
"Crapshoot," more melancholy pop like Deal Casino and whatever influences they share that make it so yummy to sound so sad, as does a bright, harmonic bridge that mixes "Things" up nicely 
"Ball and Chain," the heaviest and hardest of the tracks, opening with a fat, gristly guitar sound, but then refined with more artistic atmospherics and rich harmonies, while maintaining a strong edginess throughout, including some rad reverb and tremolo
"Calloused Heart," the closer, whose pretty acoustic intro makes a great juxtaposition from the distorted edge of the previous track, is ironically entitled, but like Wetbrain so often do, they mix things up; rather than being a hard song, it's a pretty one, as well as emotionally and sonically rousing, like a  rock 'n' roll roller coaster. 
Not surprisingly, the many layers of "Things You Think You Thought You Knew" were masterfully mastered by Alan Douches of West West Side Music (Dillinger Escape Plan, Clutch), and they were produced by the band and Pat Noon, who also recorded them at Eight Sixteen and Trax East studios.
Fans of Deal Casino really should check "Things" out and see Wetbrain live, which can be done on Nov. 2, EJ's,  Seaside Heights, with The Barrbarians, Baron Praxis, and Judo Chop; Nov. 15, The Pharmacy, Philadelphia, with Earth Telephone and Cavewoman, and Nov. 16, Second Annual Makin Waves Hunger Benefit for Food for Thought, Asbury Park Yacht. One of four shows over two nights that will benefit the folks who annually feed the hungry and the homeless on Thanksgiving, Christmas and Easter at Langosta Lounge, that evening's lineup also fittingly will feature the aforementioned Sonic Blume and The Cold Seas, who will collaborate with rapper Drew the Recluse on their new single, "Bloodstain."
Hidden Cabins are a great alternative roots-rock band from North Jersey who will release the five-song "The Hidden Cabins Band EP" on Oct. 12 on Pyrrhic Victory Records. The outing is the band's first as a four-piece following several releases as a duo. Vocalist-percussionist Craig Cirinelli and guitarist Brian Hofgesang now are joined by The Skels drummer Rich Perry and The Suspects bassist Jason Del Guidice.
Their studio collaboration opens with "The One That Got Out," a poetic jangle slightly reminiscent of R.E.M., but meatier, that borrows a bit o' melody from Red Hot Chili Peppers' "Scar Tissue." The title refers to a friend who exits a small town that seems to bring its people down.
That restless spirit continues with "News at 11," which compares reports of abuse to that within one's own circle of family and friends, understandably marking such situations preferable to watch than experience. A sweet, soulful organ played beautifully by Hofgesang drives this tasty track and makes it one of the standouts. 
That honor also goes to the ironically intense "The Calming," which features the record's best lyrics: "Aggression won't teach my young. Accept all that they've done." The chilling look at anger management hits hard on many levels.
Also tasty is "One More Sip," which sounds like Train without the pop theatrics. The accessible approach to roots music, however, makes for the EP's most rhythmic track, as well as a rich showcase for Perry's talent. I also will like the atmospheric effects that break up the middle of the track with a haunting vibe.
The closest thing to a clunker among the bunch is the overlong closer, "Bet It All on You," which gambles on a grandiose "Hey Jude"-like conclusion by repeating a verse over and over in a variety of different vocal and musical ways. But Crinelli is not Paul McCartney and "Bet" is no "Hey Jude." 
It's a shame too because before the five-minute ending, it's a very strong four-minute acoustic song with an exotic melody and instrumentation that has an Asian tinge, particularly kabuki theater. Perhaps it's better as a live jam.