originally published: 10/17/2018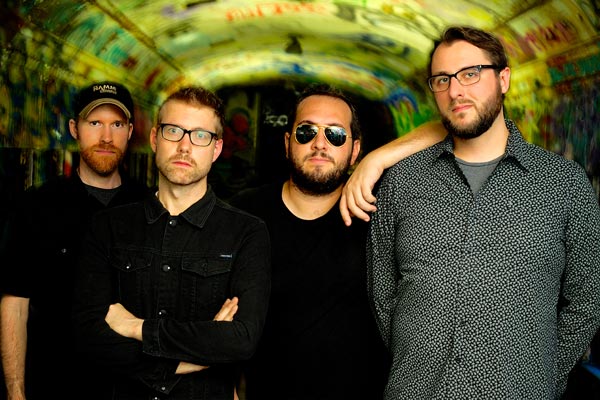 The Paper Jets premiere a video for "Charlie It Can't Be Done," the latest single from the long-awaited LP, "Everyday Forever." This week also features Steve Forbert, Lisa Bouchelle and Patrick Fitzsimmons. Photo by Ryan Larason. ​​​​​​​
Finally! The veteran Asbury Park power-pop band The Paper Jets are releasing a full-length album for the first time since 2014's "We Are All Strange Friends." The long-awaited "Everyday Forever," featuring the new single and video, "Charlie It Can't Be Done," follows the 2015 EP, "Almost Nine."
On behalf of co-founding drummer Frank Lettieri Jr. and newer lead guitarist Michael James Virok and bassist-vocalist Scott Austin Miller, vocalist-guitarist Brian Erickson shares the Elvis Presley-inspiration of the teaser track. 
"It's a song about Elvis Presley's stage manager Charlie Hodge," Brian said. "It's based on a sketch by the late comedian Bill Hicks and how Charlie brought Elvis his scarves and water on stage. I looked up who he was, and it turns out he was way more than that. He would hold the microphone on stage for Elvis in lieu of a mic stand. The King didn't need a stand when he could pay another human being to hold it for him!
"But it got me thinking about co-dependence and how people that might not like each other just stay together anyway because it's comfortable," the long-legged man in red pants continued. "And that extends to friendships and working relationships as well. It's about two best friends that break up. One of them is hurting and regretful and doesn't know what else to do. The other is hurt and takes a few parting shots. That's usually how these things go. The chorus switches perspectives. At first, it's Charlie not being able to command attention from Elvis. And then, Charlie leaves, and Elvis is no longer able to demand attention from him. Neither one can save the other, so it's time to stop, no matter how much it hurts."
In support of the 10-track collection, The Paper Jets will play a soon-to-be-announced record release party in Asbury Park. "Charlie" follows two previous singles, last month's "Chatter" and 2016's "Say I Can." Other tracks include the live favorites "C.C. It's Not Me," "Wonderful Love," "Say I Can," "Up to You," "Go On, Go On," "Fingers" and "My Gemini Heart." 
The album combines the punkish alt-rock of early Weezer, anthemic, ambitious songwriting of The Who, giant hooks of The Beach Boys, and hard-rock guitar heroics of Van Halen. "Everyday Forever" was written, produced, recorded and mixed by the band and mastered by Rodney Mills (Pearl Jam, R.E.M., Beastie Boys). 
A fixture of the Asbury Park music scene, the band's music has been featured on local compilations, such as "Asbury Park Summer Sampler," "24 Hour Songwriting Challenge," and "My Hometown: A Tribute to NJ," alongside three consecutive Asbury Music Awards nominations for Best Alternative Rock Band. Brian co-hosts the popular music podcast "The Great Albums," which has been downloaded more than three million times and reached No. 1 on iTunes' Top Music Podcasts chart, and the live YouTube TV show "One More with Brian Erickson," featuring interviews and performances with local musicians at Asbury Park Music Foundation. He also hosts and curates the monthly New Hope Takeover live concert series at historic John & Peter's and does other Red Pants Production shows at The Asbury hotel and other venues.
From the shadowy, tree-dotted, winding roads of Jackson, comes the documented turmoil of Black Surburbia recording act Miles NxBxdy, whose about to drop his debut album, "Free Bird for the Free World." The LP follows three of the 13-song collection's singles: "Silicon Valley," featuring Gnarly Nonsense; "Boys on the Run/Kids on Drugs," featuring C. Truth and label mate Drew the Recluse, and "Remain Calm." Also featured on the LP is Desperry on the powerful "Holy Hell." 
Miles tirelessly tears at the bark of the world around him, exposing sap, which drips boredom, frustration, desolation, and a seriously dark and intrapersonal side of rap. While no event is tied to the release just yet, you frequently can catch the rapper in Asbury Park with Black Suburbia label mates, as well as Pianos in NYC, Kung Fu Necktie in Philly, and underground parties and clubs.
Asbury surf-rock greats Black Flamingos' latest LP, "Black Flamingos Play Speedway and Other Hits," drops Oct. 25, just in time for the band's Halloween Tour. The trek with Hi-Tide label mates The Primitive Finks will launch Oct. 25 at Rosen Krown, Rochester, N.Y., and continue Oct. 26, Cherry Cola's, Toronto; Oct. 27, O Patro Vys, Montreal, and Oct. 28, River Street Pub, Troy, N.Y. By the way, those "Other Hits" include the live favorites "Malibu Run," "Chicken Wire," "Haunted Hall," "Shark Repellent," "Kali Ma" and "Black Swan."
Jersey-based Grammy-winning singer-songwriter Steve Forbert has out a new album, "The Magic Tree," and book, "Big City Cat: My Life in Folk-Rock." He's performing in support of both on Oct. 27 at the JCC of Central Jersey in Scotch Plains. The date is sandwiched by a European tour and a two-night stand in Houston. The Mississippi native also will play Nov. 9, World Café Live, Philadelphia; Nov. 30, Union Stage, Washington, D.C.;  Dec. 1, Godfrey Daniels, Bethlehem, Pa.; March 1, The Soundry,  Columbia, Md., and March 2, Havana, New Hope, along with several dates into next year throughout his native southland.
Congrats to veteran Jersey roots-rocker Lisa Bouchelle, who will open for Rock and Roll Hall of Famer Don Felder of The Eagles on Oct. 20 at the State Theatre in New Brunswick.  The big gig follows a sultry new clip for a cover of the Gordon Lightfoot classic, "If You Could Read My Mind," streaming above, and a September date at NYC's City Winery opening for Blues Traveler's John Popper, with whom she had the recent hit, "Only the Tequila Talkin'." The single is from her album "Lipstick Tomboy," which is closing in on two million streams on Spotify.
From Good Homes fans will be psyched to know that singer-songwriter Patrick Fitzsimmons will be returning home to native Sussex County to play his annual "Birthday Show" on Oct. 20 at the Fountain House in Fredon. Based in New Hampshire a long time, Patrick said, "Each year, I head to NJ -- the place of my birth -- to musically celebrate another year older. This year, I'll be accompanied by a great group of talented musicians: Paul Kuzik on bass, Geoff Doubleday on lead guitar, Tom Askin on piano, Loni Bach on cello and Carol Sharar on violin. I call them the Bird Tree Band because they were the players on my latest CD, 'Bird Tree.' I'll be playing lots of stuff off  'Bird Tree,' plus a bunch of other material from my previous six CDs."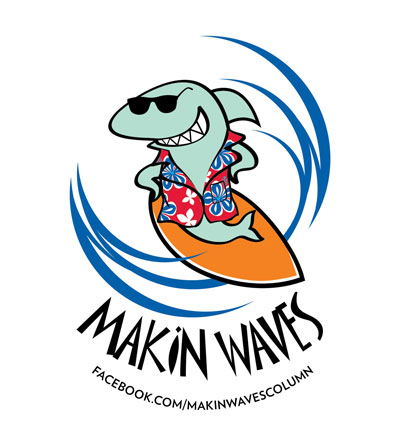 Bob Makin is the reporter for www.MyCentralJersey.com/entertainment and a former managing editor of The Aquarian Weekly, which launched this column in 1988. Contact him at makinwaves64@yahoo.com. And like Makin Waves at www.facebook.com/makinwavescolumn.