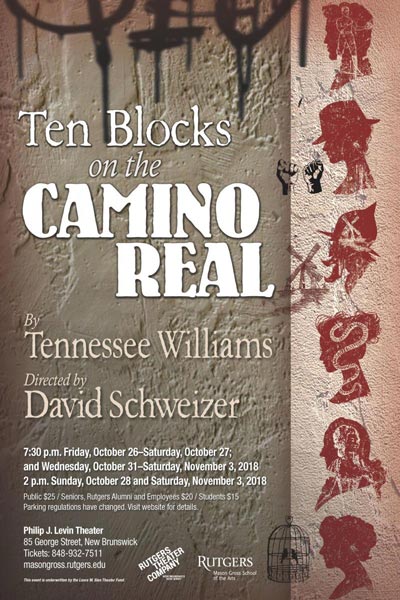 (NEW BRUNSWICK, NJ) -- Rutgers Theater Company Presents Ten Blocks on the Camino Real by Tennessee Williams from October 26 through November 3rd. Williams's phantasmagorical play is set in a plaza of a teeming tropical seaport where the rules are not always clear and the dangers real. A young, idealistic boxer stumbles into a world of figures from history and literature, artists and criminals, tyrants and idealists, the poetic and the banal, in a fever dream that Williams called "a prayer for the wild of heart kept in cages."
The production is directed by David Schweizer.
Performances are Friday, October 26 and Saturday, October 27 at 7:30pm; Sunday, October 28 at 2:00pm; Wednesday, October 31 through Friday, November 2 at 7:30pm; and Saturday, November 3 at 2:00pm and 7:30pm.
Tickets are: Public $25 / Seniors, Rutgers Alumni and Employees $20 / Students $15 - limited seating. Tickets to Mason Gross events may be purchased by calling 848-932-7511 (There is a $5 order fee for telephone orders); in person at the Mason Gross Ticket Office prior to the event; or in person at the venue 1 hour before the event. There is a $3 per ticket fee for before event walk-ups. The Mason Gross Ticket Office is at 85 George Street, New Brunswick.
This event is underwritten by the Leora M. Sies Theater Fund.
---