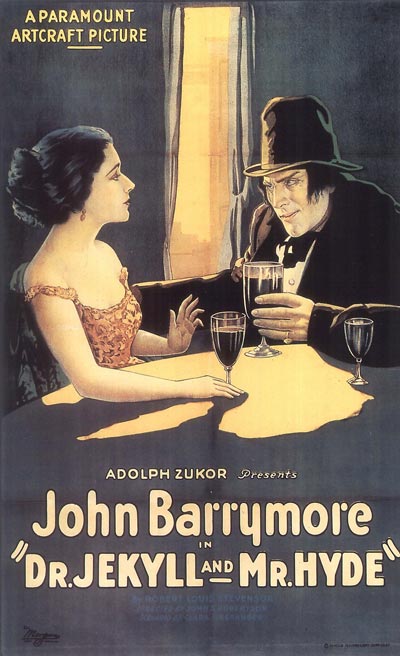 (CAPE MAY, NJ) -- The award-winning Equity professional East Lynne Theater Company presents two events in time for Halloween: "Poe by Candlelight" on Saturday, October 20 at 8:00pm and the classic silent thriller, "Dr. Jekyll and Mr. Hyde," accompanied by Wayne Zimmerman on the organ, on Sunday, October 21 at 7:30pm, both at The First Presbyterian Church, 500 Hughes Street in Cape May, where the theater is in residence.
"Poe by Candlelight" is the final "Tales of the Victorians" performance for 2018.  Like other "Tales" that take place at different venues throughout the summer, this features light refreshments and stories read by ELTC actors.  This year, aside from reading stories by the master of the macabre, Edgar Allan Poe, there will also be a selection from "Frankenstein" to celebrate the 200th anniversary of Mary Shelley's famous novel. Refreshments will be served in the hospitality room before the hour-long performance, and the actors are Lee O'Connor and Gayle Stahlhuth.  
O'Connor, also ELTC's technical director, is a favorite reader for "Tales," and has portrayed Sherlock Holmes since ELTC began producing radio-style Holmes' adventures in 2002. Stahlhuth, who has been ELTC's artistic director since 1999, was recently highly complimented for her directing and portrayal of Martha in ELTC's "Arsenic and old Lace" in Terry Teachout's review in "The Wall Street Journal." She's also performing in "O. Henry's Christmas Tales" for the holidays.
Many film scholars consider "Dr. Jekyll and Mr. Hyde" (1920) to be the first great American horror film. Based on the 1886 novel by Robert Louis Stevenson and the 1887 New York play adapted from the novel by Thomas Russell Sullivan and Richard Mansfield, a female pioneer in the film industry, Clara Beranger, wrote the screenplay.  It was produced by Adolph Zukor and Jesse Lasky, and stars John Barrymore.  Although Barrymore had been acting in films since 1914, he had not found the same success he enjoyed on stage, until "Dr. Jekyll and Mr. Hyde."
Dr. Jekyll, played by Barrymore, has a friend who believes that everyone has two has two personalities: one good one and one evil.  The good doctor sets out to prove or disprove this theory by creating a potion that turns him into a monster, and an antidote that turns him back to his normal good self.  Although he's in love with Millicent (Martha Mansfield), Jekyll's baser self begins to control him, leaving little time for her or his philanthropic work. As Hyde, he relishes destroying people's lives, including Gina's (Nita Naldi) whom he first met at a music hall.
---
The article continues after this ad
---
---
Silent films were always accompanied by an organ, piano, and sometimes a full orchestra: the beginnings of film scoring as we know it.  From Charlie Chaplin, who scored his own films, to John Williams and Thomas Newman of today, the power of music accompanying a silent or a talking film cannot be undervalued. Experienced composers know that music enhances the action and emotion, but never overshadows it.
Wayne Zimmerman has played in a variety of venues from coast-to-coast and in Hawaii, regaling audiences with his silent-film accompaniment and concerts. He has accompanied films presented by ELTC since 2011, and his popularity is ever increasing, with patrons driving in from Philadelphia, Princeton, and the New York City area just to hear him. 
Reservations are strongly recommended for both shows, and may be purchased through ELTC's website, eastlynnetheater.org, by calling 609-884-5898., or e-mailing eastlynneco@aol.com. Tickets for "Poe by Candlelight" are $12, and for "Dr. Jekyll and Mr. Hyde" $15. Ages 12 and under are free for both.
Meanwhile, there is only week left to see "Silent Sky" on ELTC's mainstage, playing through Saturday, October 13 only, and "Sherlock Holmes' Adventure of the Speckled Band" begins on October 28.