---
Tune into Radio Jersey with Lee Mrowicki every Monday through Friday from 6pm to 8pm
Broadcast on Asbury Music!
---
Lights! Camera! Politics! Begins 7th Season With "Bagdad Cafe"
originally published: 10/06/2018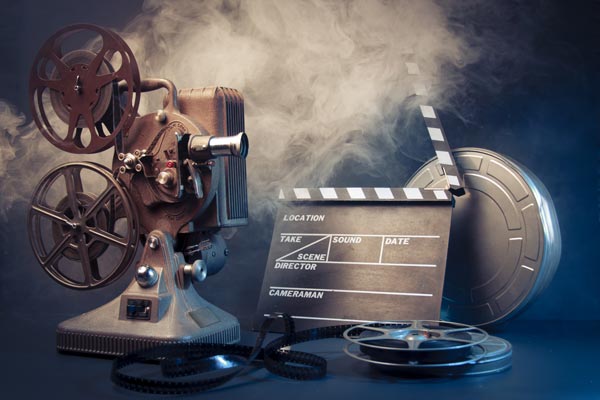 (ASBURY PARK, NJ) -- The 7th season of Lights! Camera! Politics! Film series begings on Saturday, October 13th at 3:00pm. This season is entitled "New Frontiers" and the first feature film is Bagdad Café starring CCH Pounder, Marianne Sägebrecht, and Jack Palance. The series is shown on Sundays at 3:00pm at The Stephen Crane House in Asbury Park.
Bagdad Café was directed by Percy Adlon and stars Marianne SÄgebrecht, CCH Pounder, Jack Palance, Christine Kaufmann, and Monica Calhoun. In the film, a lonely German woman ends up in the most desolated motel on earth and decides to make it brighter.
The Fall 2018 schedule continues on Saturday November 10th with 84 Charing Cross Road starring Anne Bancroft and Anthony Hopkins.  This touching drama is about a trans-Atlantic romance that begins when a vivacious New York writer with a passion for literature writes to a London bookstore in search of rare English classics. A reserved Englishman answers her request.
The season finale is scheduled for Saturday, December 8th featuring Ruggles of Red Gap. Nominated for a Best Picture Academy Award®, Ruggles of Red Gap stars Charles Laughton as a stuffy British butler, Marmaduke Ruggles, who is traded in a poker game from an English Duke (Roland Young) to a wealthy and rowdy American, Egbert Floud.
The film series is free and open to the public. Donations to the Asbury Park Toy Drive and Asbury Park Little League are graciously accepted. Each session features a post-screening reception providing the opportunity for viewers to discuss each film and share their viewing experience.
The Lights! Camera! Politics! Film Series provides a screening and discussion of feature films that emphasize a particular genre or theme each season. Classic Politics is a project of Ed Johnson AP.  For more information visit Classic Politics on Facebook or www.EdjohnsonAP.com.
---
The article continues after this ad
---
---
The Stephen Crane House is located at 508 Fourth Avenue in Asbury Park, New Jersey.


2018 International Film Festival Brings 4 Award Winning Foreign Films To Vineland
(VINELAND, NJ) -- Enjoy four highly-acclaimed award-winning recent foreign films representing diverse cultures at the 2018 International Film Festival, starting Monday, November 26, at the Levoy Theatre, 126-130 N. High St., Millville, NJ. The four films—A Fantastic Woman, The Interpreter, 1945, and Sammy Davis, Jr.: I've Gotta Be Me—will introduce the theatergoer to the universality of themes that are common to Jewish and other international themes. They are representative of the finest of today's international cinematographic art.
---
John T. LaBarbera Presents Charlie Chaplin's "The Immigrant" with New Original Score
(TEANECK, NJ) -- Performer, composer, and author John T. LaBarbera performs his original score for Charlie Chaplin's The Immigrant at the Puffin Cultural Forum in Teaneck on October 28 at 4:00pm. LaBarbera's score creates an emotional atmosphere through the melodic themes that are reminiscent of the Italian immigrant music published during the early 20th century. Chaplin's 1917 comedy about his own experiences as an immigrant draws on parallels of the popular songs of Tin Pan Alley which inform LaBarbera's composition, highlighting the comedic and romantic aspects of the film through ragtime style, slapstick references, and melodic leitmotif that adorn the film's narrative.
---
NJSO presents Star Wars: A New Hope in concert on Thanksgiving weekend
(NEWARK, NJ) --The New Jersey Symphony Orchestra presents screenings of the complete film Star Wars: A New Hope with Oscar-winning composer John Williams' musical scores performed live on Thanksgiving weekend, November 23–25. Performances take place in Red Bank, Newark, and New Brunswick.
---
East Lynne Theater Company presents "Poe" and "Dr. Jekyll"
(CAPE MAY, NJ) -- The award-winning Equity professional East Lynne Theater Company presents two events in time for Halloween: "Poe by Candlelight" on Saturday, October 20 at 8:00pm and the classic silent thriller, "Dr. Jekyll and Mr. Hyde," accompanied by Wayne Zimmerman on the organ, on Sunday, October 21 at 7:30pm, both at The First Presbyterian Church, 500 Hughes Street in Cape May, where the theater is in residence.
---
Basie Center Celebrates Dia De Los Muertos With "Coco" Benefit Screening And Community Ofrenda
(RED BANK, NJ) -- The nonprofit Count Basie Center for the Arts will present a big-screen showing of Disney's Coco as part of its annual celebration of Dia de los Muertos, sponsored by Basie's partner program Calpulli Mexican Dance Company. The screening, which takes place on Saturday, November 3 at 11:00am, will also serve as a fundraiser for the Red Bank Borough School District, which will receive half of all tickets sold.
---


REVIEW: "Cold War"
Back in 2006, German cinema scored something of a breakout global hit with Florian Henckel von Donnersmarck's The Lives of Others, which followed the travails of a group of disgruntled, pro-western artists in communist era East Germany. At the time I couldn't help viewing the protagonists of Von Donnersmarck's drama as the sort of people who would be just as discontented with their lot if they found themselves living in the capitalist west. The grass is always greener on the other side.
---
Baba Babee Skazala
Among the many intriguing films being screened at New Jersey Film Festival Fall 2018, one title immediately caught our eye — Baba Babee Skazala: Grandmother Told Grandmother.  
---
NJ Film Fest Preview: October 2018
(NEW BRUNSWICK, NJ) -- The New Jersey Film Festival Fall 2018 runs from September 14 to October 26 on the Rutgers University Campus in New Brunswick, NJ. Showcasing new international films, American independent features, animation, experimental and short subjects, and cutting-edge documentaries, the New Jersey Film Festival Fall 2018 will feature over 30 film screenings.  
---
REVIEW: "Black 47"
In a year that has offered cinemagoers culturally distinctive takes on the western genre from countries as disparate as Australia (Sweet Country), Indonesia (Marlina the Murderer in Four Acts) and South Africa (Five Fingers for Marseille), it's no surprise to find Irish cinema adopting the tropes of that most traditionally American of genres.
---
Michael Gallagher's terrific comedy Funny Story Premiere's at the Fall 2018 New Jersey Film Festival this Friday, September 14!
Michael Gallagher's terrific feature Funny Story Premiere's at the Fall 2018 New Jersey Film Festival this Friday, September 14!
---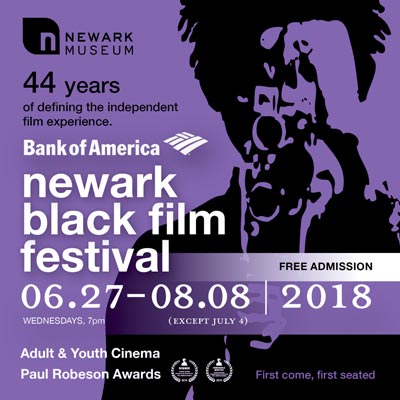 Newark Black Film Festival
​​​​​​​Richard Wesley is a playwright, screenwriter, and professor of Dramatic Writing at the Tisch School of the Arts at New York University, and has been involved with the Newark Black Film Festival for well over three decades. A Newark native, he's currently the Chairperson of the festival's Selection Committee. The NBFF is currently in full swing, with a screening of Cadillac Records tomorrow, and the biennial Paul Robeson Awards for young filmmakers taking place on Wednesday, August 8. This season's program also features the films Selma, I Called Him Morgan, The Art of the Journey, Coco, and Hidden Figures. We recently spoke with Wesley about the history and mission of the Newark Black Film Festival, the role it plays in the lives of young filmmakers, and a chance encounter with Sidney Poitier that launched him into the film industry.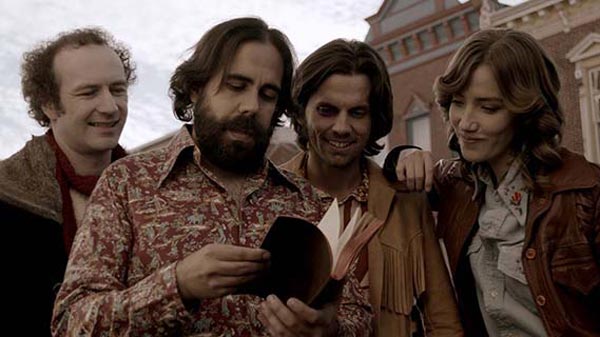 Winners of the 2018 New Jersey International Film Festival Competition Announced!
Winners of the 2018 New Jersey International Film Festival Competition Announced!




The 2018 Lighthouse International Film Festival
​​​​​​​Passes are now on sale for the 10th annual Lighthouse International Film Festival, which takes place on an idyllic barrier island in the Atlantic Ocean: Long Beach Island, aka LBI. – Some film buff trivia: it's where one of the infamous Jersey Shore shark attacks of 1916 happened, which inspired the infamous "Jaws."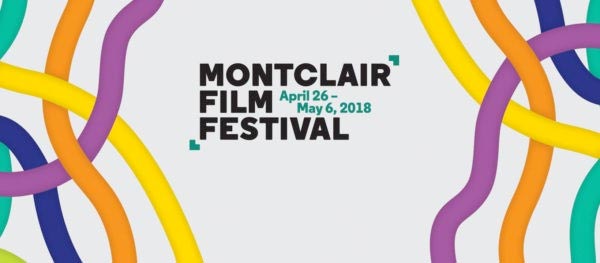 Evelyn Colbert On The Montclair Film Festival
The seventh annual Montclair Film Festival kicks off this Thursday with a world-class program, featuring more than 160 films, special events, parties and discussions with Jeff Daniels, Ethan Hawke, Rachel Weisz, Claire Danes and Dan Reynolds of Imagine Dragons. The festival will also feature a performance from MacArthur Genius Award-winner Taylor Mac – "A 24-Decade History of Popular Music (Abridged)" – which The New York Times writer Wesley Morris called "one of the great experiences of my life." We spoke with Evelyn Colbert, President of the Board of the Montclair Film Festival – and wife of Stephen Colbert – about this year's crop of new films, and how sharing stories can strengthen a community – and maybe a country.



Event calendar
Sunday, Oct 21, 2018
---
MUSIC

---
---
---
---
---
Suzzanne Douglas

@ South Orange Performing Arts Center (SOPAC), South Orange - 7:30pm
---
THEATRE

---
---
The Shuck

@ Cape May Stage, Cape May - 3:00pm
---
---
---
---
---
Almost, Maine

@ Jay & Linda Grunin Center For The Arts At Ocean County College, Toms River - 2:00pm
---
---
---
---
---
DANCE

---
---
FILM

---
---
KIDS

---
---
POETRY

---
---
MISC

---
---
---
View all events
---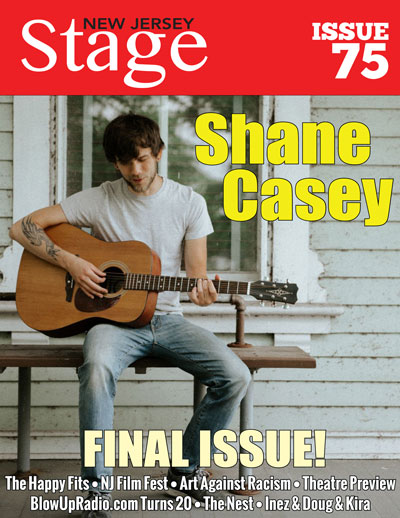 New Jersey Stage © 2018 by Wine Time Media, LLC | PO Box 140, Spring Lake, NJ 07762 (732) 280-7625 | info@newjerseystage.com

Images used on this site have been sent to us from publicists, artists, and PR firms.
If there is a problem with the rights to any image, please contact us and we will look into the matter.