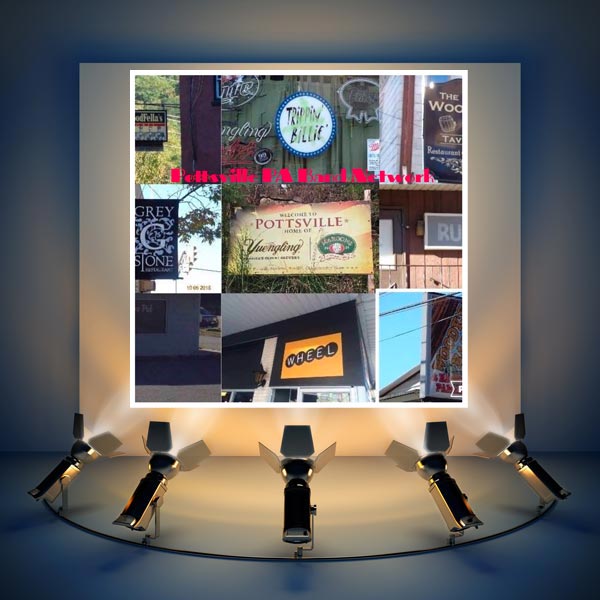 Saturday, September 15th, 2018 I left my home in Minersville, PA and traveled 3 hours and 108 miles to one of my favorite venues Roy's Hall in Blairstown, NJ. I arrived at 6:25 pm to attend the event featuring The Stillwater NJ based Atlanta Cafe Band who were opening for Scott Sharrard and his band.
I was early so I decided to stop into one of my favorite local restaurants by the name of The Post Time Pub.
As always I was greeted by their friendly staff who took my order. My meal was very tasty and hit the spot.
After spending some time talking with their friendly patrons it was time to head over for the event. I then left and walked across the street and up the steps into the beautiful Roy's Hall.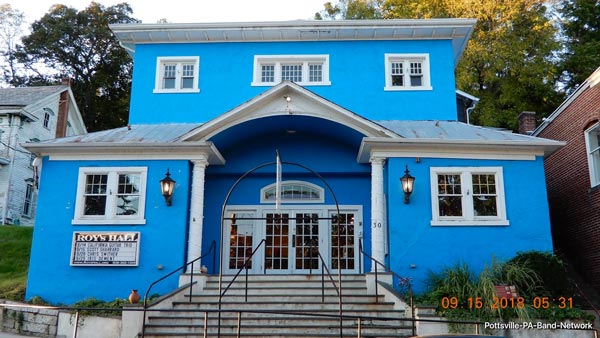 When I entered I was greeted by the friendly staff who checked me in.  I then chatted with they and the owners Mark & Stephanie Clifford who always have a warm welcome for me whenever I attend an event at Roy's Hall. 
---
The article continues after this ad
---
---
Roy's Hall has become like home to me after having attended many wonderful events over these past 6 years beginning in 2013 that featured many of my dearest friends and their bands, such as Joe Cirotti & his former band Only Living Boy, NJ, with our Pottsville Pa local band Crobot and Melissa Lucciola and her band opening, Peter Karp and The Road Show Band,  The Big Drops, Michael Richard Klics and his band, The James Abbott Band, Kinky Friedman, Brian Molnar, Milkweed Trio, and now The Atlanta Cafe Band with Scott Sharrard. 
After checking in it was time so we excitedly walked up the gentle incline of the hallway to the entry archway and through the curtain to take our seats in the beautiful theater's main room. 
This beautiful theater is reminiscent of the theater I used to attend during my childhood in my home town of Pottsville PA by the name of The Capitol Theatre.  
It always takes me back to a time when the "Theater" was THE place to see a live performance be it a symphony orchestra, an opera, a movie, or a Band such as we were there to enjoy on this particular evening. 
Upon my entering the theater I took a seat on one of the comfy couches they have set up on the floor a few feet away from the stage which I guess you could call the orchestra floor seating area. 
A few minutes later Mark Clifford introduced our mutual good friends "The Atlanta Cafe Band and they came on stage and greeted us and then they began their set.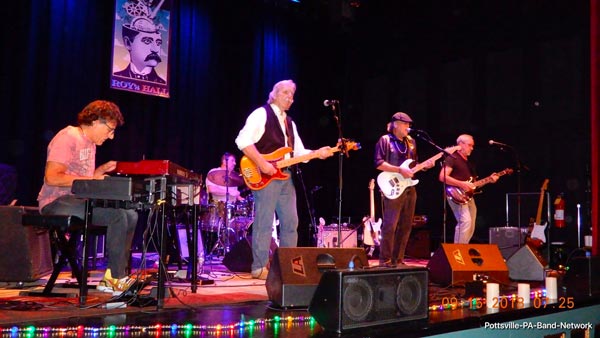 Actually as I had said earlier, The Atlanta Cafe Band is one of my many beloved NJ Bands and I also have the honor of working with them for promotion, booking, photo & live performance video recordings.  
They are based out of Stillwater NJ and the band features the talents of Charlie Ohlweiler (Lead Vocals/Guitar), Paul Sobolewski (Lead Guitar/Vocals), Wallace Wrede (Bass/Backing Vocals) Bob Vnencak (drums) and their newest member Alfonse Novelli (Keys). 
The Atlanta Cafe Band, who, after 40 years on the music scene, having played hundreds of shows, are certainly coming into their own.  The members have shared stages over the years both individually and as a band with local as well as National acts such as Sonny Landreth, Blackfoot/Skynyrd, Mickey Gilley, Hank Williams Jr., and Tedeschi Trucks just to name a few. 
Their own compositions of blues, country, and southern rock styled tunes, along with a different take on selected covers has garnered them a dedicated following in the tri-state area and I feel it's never too late for that following to grow even more!! 
Now back to the show, after Mr. Clifford's introduction, The Atlanta Cafe Band then treated us to a great opening tune with a truly wonderful cover of one of the Iconic Blues Master himself Gary Moore's hits "Midnight Blues".
Now, I've heard The Atlanta Cafe Band perform this live many times, but although they've graced the stage of Roy's Hall many times over the years, this was my first time experiencing them perform live here and I must say it was one of their best performances I'd ever experienced.  
Between the lighting, sound, and the grand stage it just truly brought out the best in them and showcased their amazing talent as a band. 
They performed this cover of Moore's "Midnight Blues" with such emotion and blues fire the likes of which, as I said,  I'd never experienced from them before!! 
Throughout their performance I was in awe of Charlie Ohlweiler's Killer vocals, Paul Sobolewski's smokin guitar riffs reminiscent of Moore himself, Alfonse Novelli's groovin keys, Wallace Wrede adding his infectious Bass groove, and all tied together by the rhythm of Bob Vnencak on his drums.
I truly believe that Gary Moore would have been quite proud if he would have experienced their performance!  It was a fitting tribute the this true bluesman whom will live on forever in our hearts.  You can watch and listen to their performance in the video here: 
They then continued on with another wonderful tribute to Stevie Ray Vaughn with their blues packed original entitled "Stevie Ray" which you can view here:  
Next they performed their original "Playin To Live" with an introduction by Charlie Ohlweiler who gave us the back story to how this song was created.  He explained that after the first time they'd had the wonderful opportunity to open for the guitar legend Sonny Landreth, also at Roy's Hall.  Charlie explained that after Mr. Landreth had heard and experienced The Atlanta Cafe Band's performance that evening he loved their music and performance so much that he'd asked if he could contribute to their upcoming CD release "American Spirit" by lending his talent to one of the tracks! 
So the band got together and penned the original "Playin To Live" and Mr. Landreth can be heard playing on the track on the album! 
The Atlanta Cafe Band then treated us to the sultry blues laden original entitled "Long Cold Nights".  This Original began with Alfonse Novelli on keys, and a bluesy groove guitar solo by Paul Sobolewski reminiscent of the greats such as Moore, Vaughn, B.B. King, etc. 
Charlie Ohlweiler then took the mic and delivered a stunning emotion filled vocal with his seasoned vocal range add to that the magic of the barrelhouse keyboard solo again by Alfonse, with Paul and Charlie joining together for more fire filled blues riffs, well, by the time they were finished with this one, we were all left breathless!!!!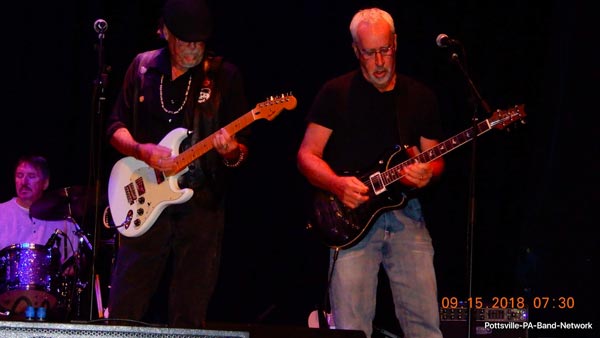 It's not often you hear a band deliver such a fantastic performance especially of true blues in the caliber of the greats!  The Atlanta Cafe Band have truly mastered and play the blues in it's truest form!!  Not an easy task that's for sure!!! 
You can watch and listen here:   
The Atlanta Cafe Band then ended their set with their original entitled "Jeopardy" a song also featured on their recent release "American Spirit" which also has the honor of being in rotation at many radio stations including New Jersey Stage's Online Radio Station AsburyMusic.com! 
The Lyrics tell the story of band members/musicians trying to find a woman/or vice/versa a woman musician trying to find a man if sung by a woman who truly understands the "life" of a traveling band and/or musician.
It takes a special kind of woman or man to love and understand the life of a touring musician/band who, more often than not, feels that their actual only true friend is the road and also playing and singing their songs and music for their adoring audiences/fans.
Because Music isn't just a hobby, it's who they are and it will always be a part of them as a person. Wives/girlfriends, Husbands/boyfriends may come and go, but their music and the road will always be there for them.
When The Atlanta Cafe Band ended their set, it was wonderful to hear the couple sitting next to me, who'd told me they'd never had the opportunity to hear and/or see them live before this exclaim that they'd enjoyed their set very much and would now be looking forward to attending more events in the future so I gave them the info on where they could find their tour schedule, etc.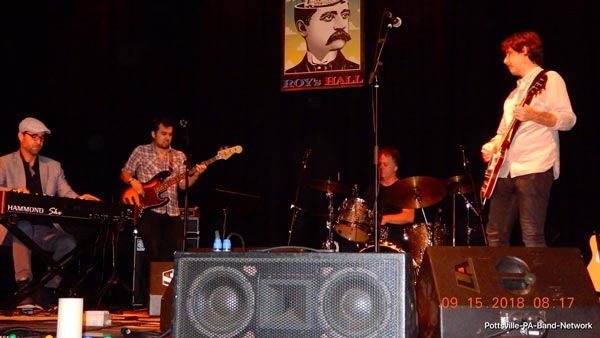 After a short intermission we returned to the main theater and were greeted by Mr. Scott Sharrard and his talented band featuring Scott (lead vocals/guitar), Brandon Morrison (Bass), Eric Kalb (drums) and Roy Dunlap (Keys).
Scott Sharrard, for those of you who may not know, is a 2018 Grammy Nominated Musician who has been called "one of the best Blues/R and B guitarists in the country" by Billboard Magazine.  
He was also a long time writing partner, musical director, and guitarist for Mr. Gregg Allman.  
Scott actually recently released his own fifth studio album entitled "Saving Grace" on 9/21/18.
Scott and his band began their set with an original entitled "Shadow Blues" which was featured on his last release. 
I, who had never had the honor or opportunity to hear Scott Sharrard live before, was immediately drawn in to the feel of this slow burn of a true blues ballad delivered by this young man who has a truly powerful velvet voice!
You could tell he truly feels the emotion behind the words he's singing and he nails it straight from his heart!  He also delivered a smoldering guitar solo that took our breath away!   Have a listen here:  
Sadly I didn't capture the whole set on video, but the next song that I did capture was one I've so very thankful I did!  It was Scott's original fresh from his recent release "Saving Grace" entitled "Words Can't Say".  
This performance, found us experiencing live one of the tracks from the Album "Saving Grace" before it's official release which was a real treat! 
Scott and the band's performance was seasoned with an earthy, sultry, R and B texture and resonance stirred by Scott's heartfelt gospel inflected vocals sauced up by he and the band with soulful, steamy guitar riffs by Scott on his beautiful, richly toned Gibson backed by Brandon on Bass, and the fat marbled chords brought out by Roy Dunlap on his venerable Hammond. 
All I could think of while being enveloped in this sultry performance was "Wow, what a velvet smooth voice this young man has and what a range!  I got chills and those familiar goosebumps popped up like I always get when I experience true music magic!! 
Oh, and especially when Scott reached those high notes, which were remarkably expressive with as I said, a wide range that seemed to extend up to a high D above middle C brimming with passion, sensitivity, and color. 
This performance so reminded me of the style and voice of Marvin Gaye, it's a song you'll definitely want to put on the stereo for a romantic evening with your beloved. 
Have a listen and enjoy!! 
Next up was "She Can't Wait" an up tempo R and B influenced original that Scott explained he'd actually written 20 years ago and had decided to give it a reboot and included it on his new release "Saving Grace".
"She Can't Wait" is a song reminiscent of that beloved Motown sound and I so wanted to get up and dance to it!! It's such a "Feel Good" tune which is sure to be a hit!!
Up next was "Everything A Good Man Needs" which I believe is actually the last known original song from Gregg Allman and Scott Sharrard and featured Sharrard on lead vocals and slide guitar.
"Everything A Good Man Needs" is also featured on Sharrard's new release and the iconic Taj Mahal guests as lead vocalist for this track on "Saving Grace" but actually, and no offense to Mr. Mahal, but I actually love it better by Scott and his band.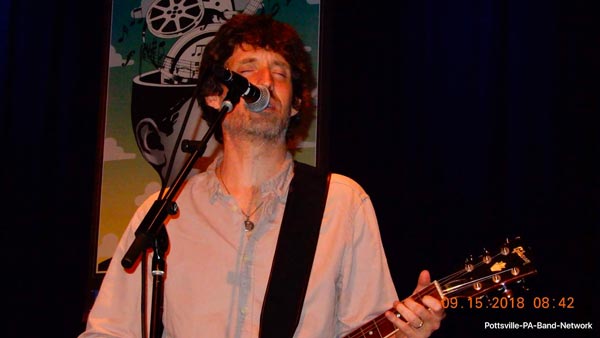 Mr. Sharrard, by this time during his performance, had won my heart and had truly reached deep into my soul! 
I was completely taken by his soulful vocals and by his playing of his beautiful Gibson and backed by his wonderful band.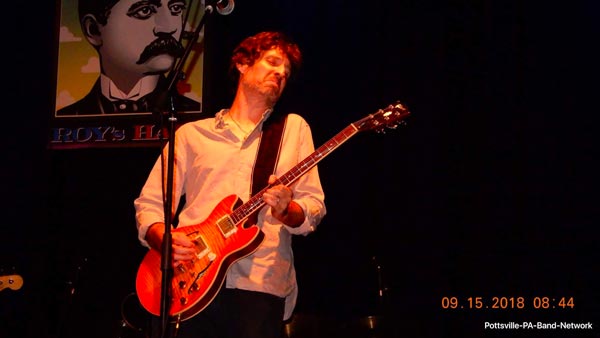 We were sadly coming to the end of the evening when Mr. Sharrard and his band continued on with the beautiful "My Only True Friend" which is actually the Grammy nominated original co written by Scott Sharrard and Gregg Allman. It also has the honor of being the only original and the first track of The Gregg Allman Band's final release "Southern Blood"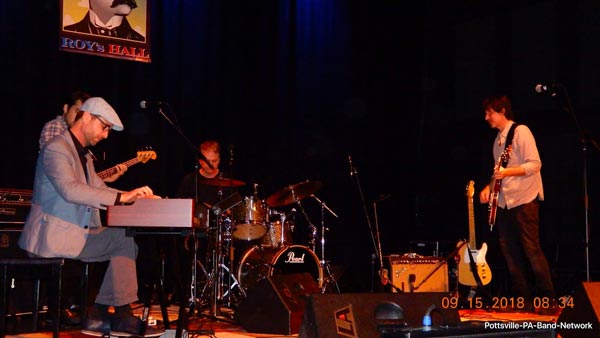 The performance by Scott and his band of "My Only True Friend" from it's stately introduction through a wrenching guitar solo at the close, the track exuded a surefooted classic-rock grandeur we don't hear much anymore, yet Scott kept it on an intimate scale.
The lyrics and soul of the song were brought to life by Scott's stunning vocals filled with emotion.
Especially the lyrics repeated throughout "You and I both know, the road is my only true friend".
These lyrics, which I believe were actually an admission by Mr. Allman that rang true for he and I'm sure rings true for many musicians and bands who are out there on that "Road" touring extensively. It really does become a part of them.
Scott delivered a stunningly beautiful tribute to Mr. Allman, and his brother Duane and actually, unknown to Gregg, Scott had secretly wrote the song in the voice of Gregg's late brother, Duane, as though he was speaking to Gregg.
While listening to Scott's vocals and the lyrics from beginning to end, I could almost feel Gregg Allman's presence in the room and it struck me, almost as if, it, the song and it's lyrics were actually a letter in which Mr. Allman had been confiding to a friend, and this case his family, friends, and family who loved him and were left behind at his passing.
It was almost as if Scott was allowing Mr. Allman to speak through he & his vocals, distilling hours of stock-taking and introspection by Mr. Allman.
It almost seemed as if Mr. Allman was sharing this with us all who were there in the audience that evening through Mr. Sharrard's soulful and emotion filled performance.
Mr. Sharrard, Scott's vocals truly brought out Mr. Allman, Gregg's personality, his soul, plainspoken, like always, and the casual air that added disarming resonance to what I felt was clearly a farewell statement by Mr. Allman.
I believe at the time Mr. Allman and Mr. Sharrard co-wrote the lyrics Mr. Allman may have sensed time was running out and I believe that he wanted to convey his feelings through the lyrics so He, and Scott, framed the act of roaming in romantic terms when they co-wrote this beautiful ballad.
Several times throughout the lyrics it states "I hope you're haunted by the music of my soul when I'm gone" and to be honest when I heard Scott vocalize the lyrics it truly reached my heart and brought tears because it's hard not to be haunted.
It was hard not to be haunted because here was Scott, whom, as I said, earlier, I could almost feel Mr. Allman's spirit filtering through Scott's heart felt vocals, explaining through the lyrics Mr. Allman, Gregg's devotion to the mythic transient place where he felt most alive and where things made sense.
Like I said, by the time Scott Sharrard finished I was in tears and I think we can all agree we were lucky to have shared a bit of the ride and the message that Gregg Allman left us, especially through Scott Sharrard and his band's beautifully executed performance.
We truly will forever be haunted by the music of Mr. Gregg Allman now that he's passed, especially every time Scott Sharrard takes to the stage and performs this epic song, which the song, and all his music is a legacy left by Mr. Allman
After Scott and the band ended "My Only True Friend" we all thought they'd finished their set but we were wrong, Scott continued on with delivering a fantastic solo blues intro and then he and the band smoothly segued into another original penned by he and Gregg Allman, the Texas tinged road house rocker "Love Like Kerosene"!!
Scott's vocals on this rockin original truly channeled Vaughn and Allman's blues/southern rock in the best way, that is straight from the heart!!
To this Scott added burning guitar riffs that immediately tore through my body and soul, again bringing chills and goosebumps!!
Then Scott and the band finished leaving us wanting more and he and the band returned to the stage for an encore ending the show on a high note!!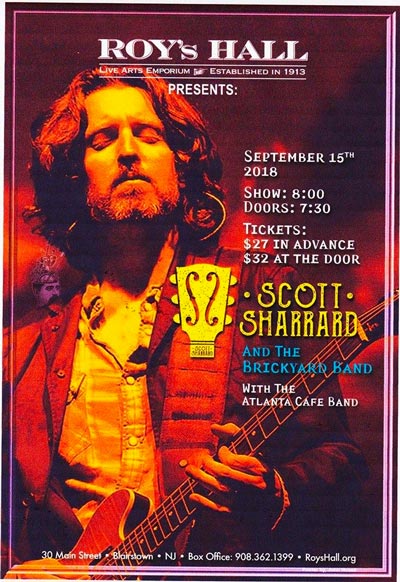 Like I'd mentioned earlier all throughout the show I felt chills and goosebumps as though I was definitely in the presence of truly great musicians between The Atlanta Cafe Band and Scott Sharrard and his band in that classic "where were you when" kind of moment.
Scott and his band then left the stage and we all made our way to the lobby where we were able to meet and greet all the members of both bands, talk with them, get pictures, and have our official posters signed.
Let me close by saying I highly recommend catching both The Atlanta Cafe Band and Scott Sharrard and his band while you still can at these smaller venues because I don't think it'll be long till we see them headlining at Stadium shows, filling the airwaves at all major radio stations, winning awards like Grammy's, and more!!
Again, Thank You to everyone for yet another memorable event I won't soon forget!!
Please be sure to be on the look out for both band's upcoming new albums, events, tours and more!!
The Atlanta Cafe Band - "American Spirit" -The Atlanta Cafe Band on iTunes
---
Scott Sharrard - "Saving Grace"-Scott Sharrard-Released 9/21/18-iTunes
---