originally published: 09/28/2018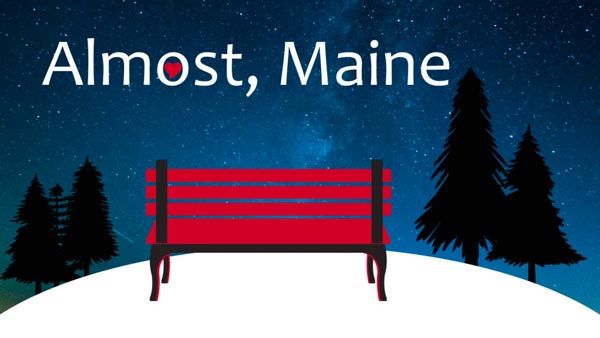 (TOMS RIVER, NJ) -- The Ocean County College Repertory Theatre Company will bring their production of Almost, Maine to the Black Box Theatre at the Jay and Linda Grunin Center for the Arts from October 18 through October 28. Welcome to Almost, Maine, a place that's so far north, it's almost not in the United States. It's almost in Canada. And it's not quite a town, because its residents never got around to getting organized. So it almost doesn't exist.
One cold, clear, winter night, as the northern lights hover in the star-filled sky above, the residents of Almost, Maine, find themselves falling in and out of love in unexpected and hilarious ways. Knees are bruised. Hearts are broken. But the bruises heal, and the hearts mend – almost – in this delightful midwinter night's dream.
Almost, Maine was written by John Cariani. The OCC Repertory Theatre production is directed by Paul Chalakani.
Performances: Thursday, October 18 at 7:30pm; Friday, October 19 at 7:30pm; Saturday, October 20 at 8:00pm; Sunday, October 21 at 2:00pm; Friday, October 26 at 7:30pm; Saturday, October 27 at 8:00pm; and Sunday, October 28 at 2:00pm.
 Tickets to the upcoming concert are $15 for adults and $12 for seniors, and can be purchased online at grunincenter.org; by phone at 732-255-0500; or in person at the Grunin Center Box Office, Monday to Friday, 10:00 a.m. to 5:00 p.m. Ask about group and student rates. The Grunin Center is located on the OCC Main Campus, College Drive, Toms River, NJ.
---