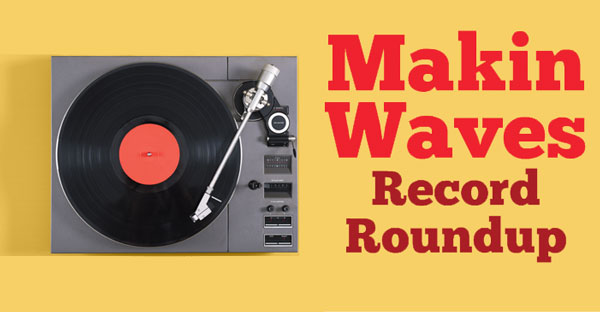 After two EPs co-produced with the great Sean Glonek in less than a year, Trenton punks Doc Rottenreturn with their first full-length, "Illusion to Choose." The 12-song collection features five excellent new tracks produced by Bouncing Souls guitarist Pete Steinkopf at his Little Eden studio in Asbury Park and mastered by Glonek, plus the entire five-song "Sick and Suffering" EP and two of the best tracks from the four-song 2017 debut, "Fallout." They are the upbeat "Better Days" and "Brass Tacks," a nod to Joey Ramone and The Clash's Joe Strummer that best demonstrates the band's inventive use of harmonic, melodic backing vocals behind singer-guitarist Wes Bentley's abrasive lead vox.
What I also really like about Doc Rotten is their songwriting. They write really tight, accessible but edgy songs, like The Ramones and Green Day, but far from wimpy pop-punk. It's true punk, rooted in the tradition of The Ramones and The Clash, but unlike a lot of modern-day punk bands, the songwriting is focused and well-constructed.
The fantastic "Illusion to Choose" opens with the five new songs. First off is the metal-tinged "Mind Control," a blast of nastiness that makes a statement about the need to unify in the face of hate and the shameful government and media that perpetuate it. The short but effective snarl 'n' sneer inspired the LP's title with the line: "The agendas of the news. The illusion to choose.
Stop playing a victim of the system. We enabled this abuse."
"Questions" is a funny, fascinating look at the dissolution of a relationship from the viewpoint of someone who doesn't know whether, "Should I leave, should I fight? Do you want to spend the night? And worry you'll tell his friends?" His mind ends up so twisted that he has more questions than answers.
Whereas "Questions" looks at a breakup, "Snake" examines the dissolution of a friendship with a double crosser. It features a strong, searing, soaring solo by lead guitarist Andrew Keris.
The standout track is "So Long," a rousing, rootsy Social Distortion-like anthem that is one of the best examples of Doc Rotten's frequent use of the gang vocal, along with the great "Sick and Suffering."
Whereas those new songs on "Illusion to Choose" are dark and at times disturbing, the last of the bunch, "Hold Fast," is hopeful. The duet between Keris and Bentley is a tale about moving forward at a rapid pace, which is exactly what Doc Rotten are doing. The band — also drummer A.J. Martinez and bassist Robert "Scrotes" Richardson — are on a two-month trek of Japan and Europe. Joining them will be their pal Dim from Honah Lee on guitar.
---
Wow! This is a great record, and Dan Apy is a fantastic songwriter whose bittersweet subtleties easily can be missed within the raucous party that is their live show, so if you've seen The Mercury Brothers, do yourself a favor and get their new sophomore LP, simply called "II." The follow-up to last year's "In Retrograde" debut features another eight well-crafted roots-rockin' songs that blend country and blues elements of early '70s Rolling Stones with the edgier approach of alternative and garage rock. The results are surprisingly more earnestly enlightening than entertaining, yet certainly more artistic than just another rock 'n' roll band from Asbury Park.
"Lightpol," an anthemic, soul-searching alt-roots rocker that combines the well-founded edge of Roadside Graves with the hot-rod appeal of Jan & Dean, kicks things off. Strong verses by vocalist-lyricist-guitarist Apy include "Cruising by a broken beach on a black summer night, I heard the wild winds whisper to me, 'hey,' in a lonely sigh, and my mind went cold, like an old soul looking to kill. I saw my mamma in the street. She told me I was going to hell.
"Baby broke down on the bend at about 185 in a drop-top boxter she flipped like she was looking to die, and my spine went cold like an old soul looking to kill. I saw my daddy and the devil. They told me that I'm going to hell." They are followed by a neat underwater-sounding solo by Mike Mazza on a guitar that flirts with surf throughout while riding the thunderous waves of drummer Luke McKenna and bassist Ryan Lascelles.
"Clean Sheets," a funky, jangly Spin Doctors-like nugget about a lonely fella who has trouble with linens, leads into the standout "East vs West." The Stonesy "Exile"-like track is about a misunderstood drifter who's been coast to coast without a car and away from his Eastern shore home so long in the wake of a suicide of a childhood friend within a group of stoner/surfer buddies, he can't distinguish the idyllic wasteful days of youth from the false comfort of a bar. I love the gorgeously harmonic lyricless vocal bridge between harrowing kick-ass verses that serve as a refrain for the chorus-less song, whose construction also is reminiscent of such great songwriters as Bruce Springsteen Jackson Browne and Warren Zevon.
"Wanna Dance," which is featured in a video by Mercurys manager KL Martin (on the previous page), references '80s dance pop, such as The Go-Go's, alongside the accessible garage rock of The Stokes and Jet.
Dichotomously upbeat-sounding, optimistically expressive anti-love song "Little Bridges" also will get the crowd going as it observes burning bridges as an opportunity to persevere. I love the opening lines, "Never had a bed, never dressed in time. Never wrote a song about love that I liked."
The tone and mood of the remainder of the record shifts back into introspection and confession starting with the staccato, REMesque stabs of "For Show" about an artist who feels stuck in self-promotion and the struggle to maintain a romantic relationship. Fans of Uncle Tupelo and Whiskeytown will enjoy "Till I End," a country-blues rocker that recalls and sometimes laments a first love. The phantom closer, "Song about a Tree," commences about 30 seconds later without a track or listing of its own. Apy's solo acoustic tune about the complexities of life and songwriting simplified by a sun-loving, leaf-shaking tree is touching in its Paul Westerberg-like ragged beauty.
The Burns main singer-songwriter, Joey Henderson, recorded most of "II" at Cedar Sound Studios in Oceanport. That's where he also recorded The Burns and Rachel Ana Dobken. Electric Sensei drummer Joey Papa ably produced "II," while veteran scenester Bruce Tunkel mastered in his Beanland Studio, where he's made many a record for himself, James Deely and others. The Cranford-based Papa-Tunkel team also produced and mastered The Mercury Brothers' equally impressive "In Retrograde," which was released at this time last year.
---
If you haven't heard Jersey Shore-based Sonic Blume yet, you're going to love the young dream-pop outfit if you're a fan of 1980s alternative-rock pioneers The Smiths, Joy Division, Depeche Mode and The Cure. At times, they emulate that great and greatly unsung style of music complete with a faux British accent.
Their latest on Asbury Park's MOTO Records, "Beach Karma," a nine-track follow-up to last year's five-song debut EP, features another five songs, as well as four interludes, all entitled "Door" and numbered 1 to 4. The interludes mainly focus on the effects of 17-year-old synth player Max Connery, who also handles lead vocal and some guitar duties, but I'll get back to them in a bit.
"Beach Karma" opens with an alternative dance beat ala Depeche Mode but devolves into a wonderful dichotomy that features a lush, sweltering atmospheric wash of keyboards juxtaposed with choppy rhythms into a dissonant guitar squall. A staccato beat and guitar jangle throughout also is reminiscent of The Cure.
After the quirky, hypnotic pulse of "Door #1," Andrew Phelan's jumping baseline and Chase Landgrebe's cascading guitar bounce on "Sunflower Bean" also recall The Cure, particular "Just Like Heaven." Both players, as well as drummer Danny Murphy, also are only 17. All four, who met at Count Basie Theatre's Rockit Academy, defy their age musically and composing-wise and are aided greatly by the rich production chops of Erik Kase Romero (The Front Bottoms, Deal Casino) via Lakehouse Recording Studios, which is related to MOTO, a division of the artist program at Lakehouse Music Academy.
"Door #2," a simple piano-driven water-like interlude that quotes FDR's "Nothing to Fear" speech, segues into "Palms." If the melancholy of The Smiths and Joy Division was the ice crushed in a shoe-gaze/dream-pop blender, you would have the musical smoothie that is "Palms."
An acoustic guitar and night sounds, such as crickets, are added to the synths of "Door #3." That leads to a cacophony of effects from Connery and Landgrebe mashed up against the punk-style drums of Danny Murphy on "All Things You Say."
The final interlude is the only one with vocals, which hauntingly match an eerie synth like Moaning Myrtle in the bathroom of Hogwarts.
Like they did with "Going Home" on their debut EP, Sonic Blume close "Beach Karma" with an epic dreamy jam, "In the Sun." Recently crafted into a video, the standout track features the same hypnotic, pulsing tone as "Door #2," but with a different melody and rhythm. The jam is kind of like a fifth interlude that will please the shoe-gaze and dream-pop fan, while turning older fans of such bands as Modern English onto those styles.
Sonic Blume will play on Oct. 19 with Covey and I/O at The Saint, Asbury Park, and Nov. 16 at Asbury Park Yacht Club for the Second Annual Makin Waves Hunger Benefit for Food for Thought, the folks who organize the annual Thanksgiving and Christmas dinners for the hungry and the homeless at Langosta Lounge. That bill also will include Wetbrain and The Cold Seas feat. Drew the Recluse.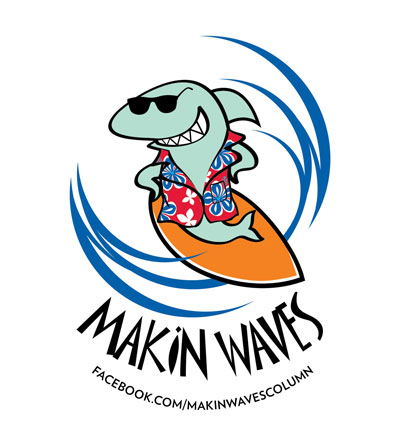 Bob Makin is the reporter for www.MyCentralJersey.com/entertainment and a former managing editor of The Aquarian Weekly, which launched this column in 1988. Contact him at makinwaves64@yahoo.com. And like Makin Waves at www.facebook.com/makinwavescolumn