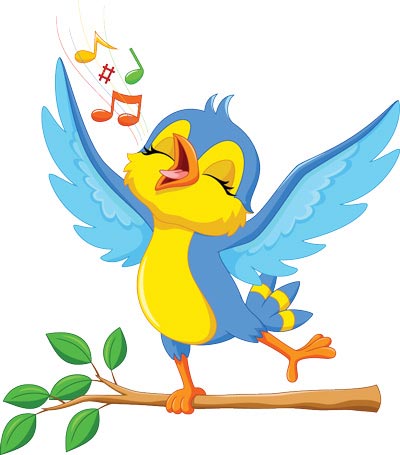 My plan was to spend 10 or 15 minutes soaking up nutrients from the sun.  It became so much more.  Indeed, it was a quiet Sun-day morning on my deck, surrounded by lush trees, cool woods, a creek…and all kinds of beautiful birds. 
 I'm not officially, a birder, but I know several musicians who are, and I understand why.  I know little about birds other than the male species being the colorful ones.  And I can identify the most common and popular ones by their size and colors. But mostly, it's the bird songs that grab me. 
This morning, I could distinguish five unique voices in the bird chorus. They seemed to be having a conversation, speaking politely -- one at a time.  One voice stood out, closer to me and more powerful than the others.  I did something I do a lot and enjoy:  I analyzed the pattern in the repetition of long and short phrases of the bird's song, as well as the variation in note choices. It's the singer/songwriter in me to hear birdsongs this way.  After all, they are composing. There is an environmental purpose to their singing even as their songs inspire generations of music composers.  
I relaxed into the moment, listening and memorizing the short melody of the stand-out bird. The sound grew closer, and I began to make a song of it on the spot.  The bird's song was not a cliché pop melody, and afraid I might forget a note of it later on, I began identifying the interval from one note to the next intending to write it down once I got to my piano.  
Suddenly the singing stopped.  And a tiny bird hopped from the top step of the long staircase to my deck….and it stood in front of my chair.  It was so tiny and beautiful.  I wished I could hold it.  It paused and looked at me as to have personally delivered a song right into my lap.  And then it flew away.  
---
The article continues after this ad
---
---
Here is what the little bird gave me.