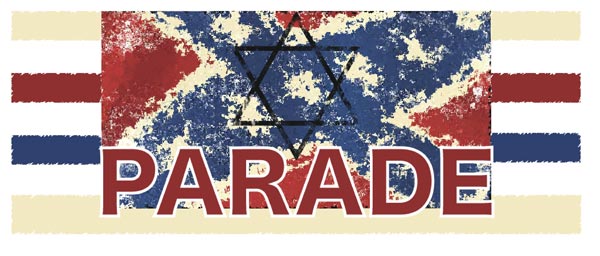 (FAIR LAWN, NJ) -- Old Library Theatre, Fair Lawn Recreation Department's resident theater company, presents Parade. Six performances only: October 12, 13, 19 & 20 at 8:00pm and October 14 & 21 at 2:00pm.  Parade tells the story of Leo Frank, a Brooklyn-raised Jew living in Georgia in 1913, who is put on trial for the murder of thirteen-year-old Mary Phagan, a factory worker under his employ.
Already guilty in the eyes of everyone around him, a sensationalist publisher and a janitor's false testimony seal Leo's fate. His only defenders are a governor with a conscience and, eventually, his assimilated Southern wife who finds the strength and love to become his greatest champion.

The musical features a Book by Alfred Uhry. Music and Lyrics by Jason Robert Brown. Presented through special arrangement with Music Theatre International (MTI).  The production is directed by Amy Calzone. Music direction by Gonzalo Valencia. Produced by Julie Galorenzo and Brendan Joel Bartlett. 
Parade stars Scott Baird, Danielle Meola Valencia, Paul White, Jayden Declet, John Zisa, Frank Norek, Ryan Fogler, Shane Long, Greg Paradis, Anthony Wills, Fia Fusco, Sarah Lepre, Prema Maringanti, Fallon Goskowski, Rashad Davis, Rebecca Dolan, Nell White, Aaron Noriega, John Villa, Kenny Lee, Jackie Leibowitz, Matthew Fitzgerald, Dorothy Wallace, Alyssa Balderama, Allyson Cabreza, Paige Marian, Lawrence Laurente, and Eileen Karlson White. 
Tickets are $20 for Adults, $18 for Seniors (60+), and $12 for Children Under 12. Tickets are available for purchase online, or to reserve by calling (973) OLT-4420. Old Library Theatre is located at 10-10 20th Street in Fair Lawn, New Jersey.
---