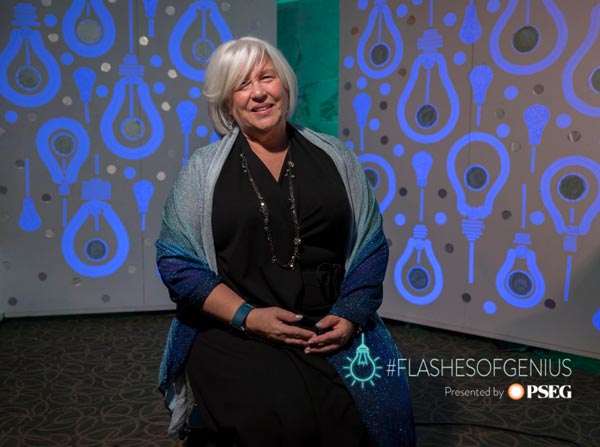 When Ellen Lambert was director of development at the Matheny School and Hospital in Peapack, NJ, from 1993 to 1995, one of her major achievements was the formation of a fundraising plan for what would eventually become the Robert Schonhorn Arts Center. The concept of Matheny's Arts Access Program  -- which enables people with disabilities to create art, assisted by professional artist-facilitators  -- was emerging in '93, and the arts center was eventually built in 2000.
Now, a quarter century later, Lambert, a resident of Basking Ridge, NJ, is joining Matheny's Board of Trustees just in time to help celebrate the 25th anniversary of Arts Access at Full Circle 2018: Then and Now, to be held on Saturday, November 3. Gabor Barabas, MD, Matheny medical director in 1993, and his wife SuzAnne, director of a children's theatre company, envisioned a program that would unlock the creative potential residing inside the minds of Matheny's students and patients. In its early stages, Arts Access focused mainly on the visual arts, but it has grown to include such other disciplines as dance, drama, and writing.
The goal at Matheny (now known as the Matheny Medical and Educational Center), Lambert recalls, was always "to normalize life as much as possible. Bob (CEO Robert Schonhorn) thought the arts were one way to do that."
A sculptor who holds a Master of Arts degree in teaching from Tulane University, Lambert taught sculpture as a volunteer during the early days of the program, in addition to her fundraising responsibilities. She gave tours of Matheny to prestigious organizations such as the Blanche & Irving Laurie Foundation and the Hyde & Watson Foundation, and she connected the Newark Museum with Arts Access, resulting in a sculpture exhibit of work created by Matheny artists.
Now, as a new board member, Lambert believes knowing and experiencing Matheny's history will help her expand the reputation of Matheny and Arts Access, assist in strategic planning, and help achieve a successful future "for this amazing place. I want to develop experiential visits. This is a special place. It's never been about feeling sorry for people." Her background since leaving Matheny has more than prepared her for the goals she envisions. For the past five years, she was chief diversity officer of PSEG, president of the PSEG Foundation and senior director of corporate citizenship and culture. She also held senior development and corporate relations positions at the Merck Foundation and the ROCHE Foundation. In April 2017, Newark Arts celebrated her life and career at an event called Flashes of Genius: A Powerful Celebration of Ellen Lambert.  The event highlighted her career as "an advocate for women, underserved populations, social investment, and the arts."
---
The article continues after this ad
---
---
For part of Lambert's tenure as Matheny development director, she worked closely with Donna Valente, a resident of Andover Twp., NJ, who, for the past 22 years has held development and grant making posts at the Christopher & Dana Reeve Foundation. Since 2009, the Reeve Foundation has provided Quality of Life grants to the Arts Access Program. Those grants, according to Eileen Murray, Arts Access director, "enabled us to expand our painting and dance programming. We are so grateful for the Foundation's support of our mission and the talented Arts Access artists."
Reunited on a recent August afternoon in the Robert Schonhorn Arts Center, Lambert and Valente reminisced about their brief but rewarding time as colleagues at Matheny. "It was a magical time," Lambert recalls. "We both loved walking the halls and talking to the students and working with a staff that was incredible."
Valente's most vivid memory was of one graduation day when a student named Charmar Huggins was given a computer: "He raised his diploma up and smiled the most beautiful smile." She also recalls working on a fundraising event called the Waiters' Race. "I remember planning meetings with representatives of two restaurants in town  -- Chatfield's and Rudolfo's. The wait staffs from area restaurants were recruited to participate." The participants received monetary prizes, and Matheny received a donation.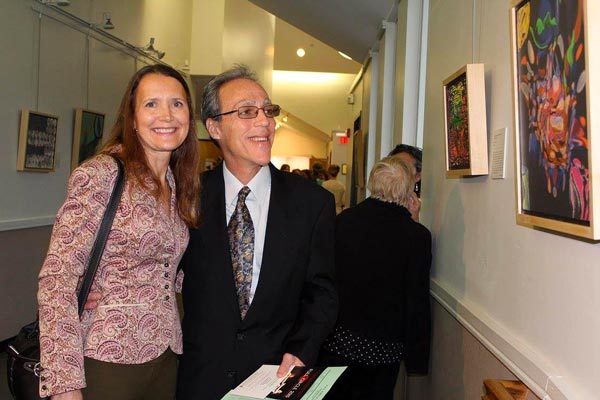 "The participants," Valente says, "had to pour water into glasses on a tray and then walk/run through town to Chatfield's. Dropped trays meant disqualification. There had to be water left in the glasses. It was very amusing. There was a crowd of people watching and cheering  -- families with kids and dogs. The community was very involved. There was a banner for the event that crossed the main drag by the park."
Arts Access was launched with a $35,000 seed grant from the Laurie Foundation. The Full Circle event will feature a visual art gallery exhibition of paintings and digital art created by the program's artists and a stage presentation showcasing performance pieces by its choreographers, dramatists, and writers.
Murray, who has been director of Arts Access since 2011, explains the program's philosophy this way: "We provide the creative freedom for the artists to express themselves, but it is the artists who bring this work to life. The art you will see at Full Circle represents 25 years of creativity by a remarkable group of artists."
To Valente, the art created by these Arts Access artists represents "freedom of artistic expression." Lambert calls it "joyous work, uplifting. People who come to Full Circle will experience art that's creative."
Full Circle 2018: Then & Now will be held on November 3 from 3:00pm-6:00pm in the Robert Schonhorn Arts Center on the Matheny campus at 65 Highland Ave. in Peapack. In addition to the visual arts exhibit and theatre, dance and creative writing presentations, there will be gourmet food tastings from area restaurants. Tickets are $50 and can be ordered online; by phone at 908-234-0011, ext. 260; or by emailing pcats@matheny.org. All event proceeds benefit the Matheny Arts Access Program.

 
PHOTOS: (TOP) Ellen Lambert (Courtesy of Newark Arts) taken at the recent celebration at Newark Arts to commemorate her career and commitment to the arts

(BOTTOM) Donna Valente (Courtesy of the Arts Access Program at Matheny) pictured with her husband Michael at the Full Circle 2015 event.