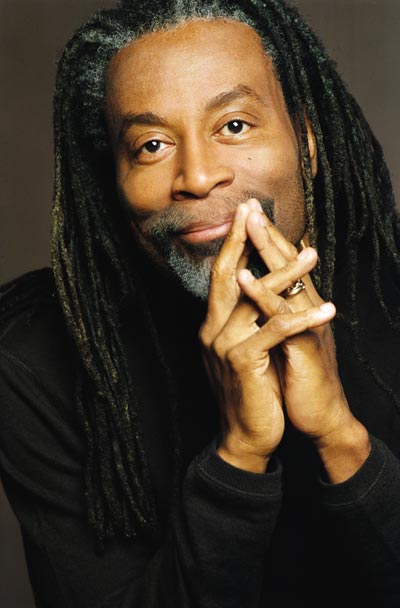 (PRINCETON, NJ) -- On Friday, September 21, 2018 at 7:30pm, 10-time GRAMMY award-winning artist Bobby McFerrin launches Princeton University Concerts' ("PUC") 125th Anniversary Season in a special event performance at Richardson Auditorium in Alexander Hall. The concert will feature McFerrin alongside members of his a cappella group Gimme5 in a program titled " Circlesongs " -- an evening of spontaneous music-making through shared improvised sound, in a language growing out of tribal chant and sacred music. 
With some additional help from the Princeton University Glee Club , the audience will be led in a call and response with the performers, leading them "into the incredible feeling of freedom that I get when I sing," says McFerrin. "I want everyone to leave the theatre and sing in their own kitchens the next morning." Tickets are $45 general/$15 student, available online at princetonuniversityconcerts.org.
At 12:30pm, McFerrin and Gimme5 will also perform the first Live Music Meditation of Princeton University Concerts' 2018-19 season. A partnership with the Princeton University Office of Religious Life open to all, these "Mindfulness with Music" programs feature half-hour meditations to live music performed by musicians on the PUC series, guided by Associate Dean of Religious Life Matthew Weiner. The first singing meditation of the program, the Live Music Meditation with McFerrin and Gimme5 is an unprecedented opportunity to experience music even more personally than a traditional concert setting allows. The Live Music Meditation is free, but reservations are required. The public can make free reservations to this event as of noon on Monday, September 17, online only at princetonuniversityconcerts.org. Any remaining seats will be available at Richardson Auditorium beginning at 11:45am on the day of the event.
Best known by many for his 1988 hit song "Don't Worry, Be Happy," McFerrin has since continued to bring joy through his genre-defying, groundbreaking music-making. "Bobby McFerrin' s greatest gift to his audience may be changing them from spectators into celebrants and transforming a concert hall into a playground, a village center, a joyous space" ( Los Angeles Times ). With this ability to bring people together in a remarkable way, McFerrin transforms Richardson Auditorium into the perfect "joyous space" in which to celebrate the launch of Princeton University Concerts' 125th anniversary season, bringing together the community in a bigger and bolder way than ever before in PUC's history.
Other highlights of PUC's upcoming celebratory season include the residency of legendary conductor Gustavo Dudamel, the current Music Director of the Los Angeles Philharmonic; a special event featuring opera star Joyce DiDonato in a jazz-infused program; a number of highly anticipated debuts, including violinist Patricia Kopatchinskaja, clarinetist Martin Fröst, and Gramophone Hall of Fame cellist Steven Isserlis; a brand new series, Crossroads, telling stories from all across the world through artists ranging from mandolin virtuoso Avi Avital with bassist Omer Avital to banjo royalty Abigail Washburn with the Chinese guzheng rockstar Wu Fei; Beyond the Music offerings, from more live music meditations to program illuminating talks, free to the public; and much more. For more information, please visit princetonuniversityconcerts.org.
Photo by Carol Friedman
---