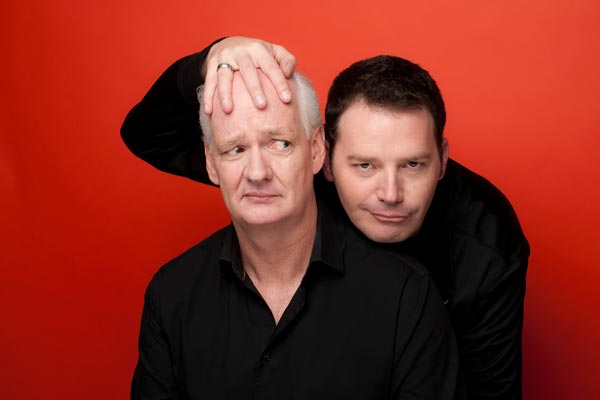 (NEW BRUNSWICK, NJ) -- State Theatre New Jersey presents improv comedians Colin Mochrie and Brad Sherwood from the hit show Whose Line is it Anyway? in The Scared Scriptless Tour on Thursday, October 4 at 8:00pm. Tickets range from $25-$65. 
Best known by TV audiences for their work on Whose Line is it Anyway?, Colin Mochrie and Brad Sherwood have hit the road for their new show, The Scared Scriptless Tour. Each night the duo improvises new material from audience suggestions and participation, so every show is different just like a live version of Whose Line is it Anyway?.
Millions of fans are enjoying Mochrie and guest star Sherwood in the triumphant return of Whose Line Is It Anyway? on The CW. The highly-rated series is more popular than ever and is now in its sixth season.
Colin Mochrie returns for a another season on The CW to the hysterical improv show Whose Line Is It Anyway?, along with host Aisha Tyler and fellow stars Wayne Brady and Ryan Stiles, who put their comedic skills to the test through a series of spontaneous improv games. After nine years as a regular on the British improvisation series Whose Line Is It Anyway?, he became a regular on the American version hosted by Drew Carey, which ran for six years on ABC and three years on ABC Family. He is widely considered to be one of the leading improvisers in the world. A native of Scotland but life-long resident of Canada, Mochrie has remarkably toured worldwide for over a decade, with Whose Line castmate Sherwood, performing a live improv show. 
Brad Sherwood is a regular cast member on ABC's Whose Line Is It Anyway? and was a regular on the British version on Comedy Central as well. His credits include The Drew Carey Show, The Green Screen Show, The Smartest Guy In Town, Jury Duty, VH-1's I Love The 70s, 80s, & 90s, and over 100 appearances in sketches on The Tonight Show with Jay Leno.Sherwood's other past credits include a season on LA Law, To Tell The Truth, The Newz, guest hosting Talk Soup, and hosting The New Dating Game.
---
The article continues after this ad
---
---
For tickets, more information, or group discounts, call State Theatre Guest Services at 732-246-SHOW (7469), or visit us online at STNJ.org. State Theatre is located at 15 Livingston Avenue in New Brunswick, New Jersey.