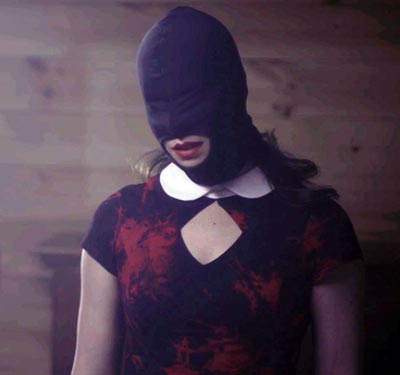 Christopher Wells's psychological-horror film The Luring has its World Premiere at the Fall 2018 New Jersey Film Festival this Saturday, September 15!
Here is an interview I did with Chris:
Nigrin: Your psychological-thriller and horror film The Luring follows a man who tries to recover a lost memory about something that took place on his tenth birthday. Please tell us more about your film and why you decided to make it?
Wells: In 1989 my Step Father Dave, along with my Mother, bought a small vacation house in Vermont which I grew to love. But after Dave's death my Mother couldn't afford to keep it and that was heartbreaking. Dave supported me and always wanted me to be a successful filmmaker and so I asked my Mother if I could shoot a film in the house before she sold it? After a pause to think about it she said yes. I didn't even know how I was going to pull this off but I knew I'd try my best to make Dave proud and to send off our family's vacation house into the sunset in a spectacular way. It was a lot for her to agree to even think about a film crew in our family's house so I wasn't about to let her down or make her regret her decision. I had two short scripts that I realized would be perfect as the opener and the final scene. From there I was able to let my creative flow connect the dots and I'm really excited to show off all the hard work I put into this project not just as a creator but as a producer.  
Nigrin: The locations selected for your film are really wonderful. Where was your film shot? 
---
The article continues after this ad
---
---
Wells: Vermont is a beautiful state and I knew we couldn't just shoot the whole film in the house because that would be boring so I wrote a scene that takes place at Harvey's Lake in Barnet and we also shot in Lyndonville, St. Johnsbury and at Missisquoi Lanes in Lowell which is close to the Canadian Boarder. 
It was mud season and rained for 15 straight days which meant we sometimes had to rearrange our schedule. The Harvey's Lake scene was shot in between rainstorms with a 20 minute window of clear weather.  At the time it was stressful but it's one of my favorite scenes because we have this nice long dolly shot slowly going in as we learn the status of our two protagonists relationship. And our actors knew we didn't have a lot of time but they nailed it on the first take. 
Nigrin:There are a number of twists and turns in your film to keep the viewer guessing. Was this part of the plan? 
Wells: Brian and I knew that if we were going to pull this off we needed to have a film that relied on the story. As a writer and producer I'm writing what I know I have access to and understanding my limits and then figuring out a way to think outside the box. I wanted to direct a film that doesn't spoon feed my audience. When I was writing the film at any point if I wrote anything that was cliché I then forced myself to go in the complete opposite direction and as a horror fan that's the kind of film I want to see. I personally like things that are a little weird and different and that's in the film for sure. It keeps the audience engaged because they're trying to figure things out because it's unfamiliar to them. I want my audience to be engaged but I also want them to watch the film a 2nd, 3rd, 4th time and see some subtlety they may have missed the first time around. I think horror fans are intelligent and when you watch a psychological thriller especially, you expect a certain level of mind trip. I also felt it was important not to give anything away in our trailer because I hate it when films do that. It may be a big risk but if I can convey the mood true horror fans will take notice and we then can build a solid fan base.

Nigrin:The acting ensemble you chose as the three leads are really engaging. Tell us more about them and how you selected them? 
Wells: Casting was not easy because we saw a lot of very talented people but its more about having talent, it's really 'are you right for the part'?  I needed to have a cast who understood my vision and who could give me feedback that was useful. It's a collaboration and when you write a script you have all these voices in your head that fill in the characters but when you hear actors read the lines, some things change and it should always move the script forward to a better place and my actors helped me out a lot. They made my job easy because I didn't have any weak links. They all were prepared, had a positive attitude and that allowed me to have fun. There were a lot of high-fives going around. 
Nigrin:Your film is very well directed and creates lots of tension throughout the film. I read somewhere you that there are connections to Kubrick's The Shining. Is this true? 
Wells: The Shining works mainly because Kubrick knew how to take an audience down a scene just enough to make them feel satisfied and yet come up with their own theories. For instance, we don't really know what happened in room 237 and yet no one feels cheated. What I did was take that philosophy and applied that to my film. The Luringis a slow burn and a lot of things are going on but it's subtle. There is a reason for everything, from the art in the house to the mention of the Christmas tree farm- there are a lot of bread crumbs and I only want people paying attention to see where it goes. 
Nigrin:  The cinematography, the soundtrack are excellent. Tell us more about the look and audio in your film. 
Wells: Our director of photography Amanda McGrady did such an amazing job not just in the obvious way but also gave me some important notes for the script. In one of my earlier drafts I wrote a scene that was pretty brutal but didn't say much and instead of telling me she didn't like it she simply asked me "What am I trying to say in this scene" and when I couldn't come up with an answer I knew to take it out. Most people don't know how to critique a script or give creative constructive criticism so having her on board was great. 
When we originally were raising money we had a low and a high and the low budget wouldn't allow us to have the money to score the film. With all the free music online I assumed if I need be I can just go on Soundcloud and find some creepy music and for a while I think I fooled myself but after we wrapped Sean Hamilton our sound guy pulled me aside and said he knew someone who would be perfect to score our film and after hearing his music Brian Berg and I raised more money to make it happen. Al Creedon and I collaborated very closely to create the perfect score and I can't believe that almost didn't happen. I'd drive down to Philly where Al lives and we spent a lot of time in his studio cultivating the score and we'd play it for Sean who was our first audience. When I watch the film I am so amazed how much our original score elevates the film. 
Nigrin: Are there any memorable stories while you made this film or any other info about your film you can pass on to us?    
Wells: When you're in the raising money faze there are a lot of ups and downs and it puts more grey hair on your head for sure. I'm still amazed how we were able to shoot a film in 22 days with 15 days of rain. There is still a lot of work to do and with every little victory we get it makes me feel so accomplished so there are a lot of memories. There was one moment in between shots I had by myself walking towards the house and this overwhelming feeling of pure joy and pride overcame me and I knew this is the happiest I've ever been. This is my shot and I'm not going to let this slip by. I'm grateful to everyone involved and humbled so many talented people believed in me.
Here is a link to the EBTV Interview I did with Chris and Brian a few weeks ago:


The Luring will be preceded by two terrific shorts Soot and It's A Mess. Here is more information on this screening:
Soot-Drake Woodall (Brooklyn, New York) In this beautifully eerie short film, a woman waits for the return of her long absent husband. 2018; 14 min. 
It's A Mess -Frank Prinzi (New York, New York) It's a Messis both a modern-day fairytale, and an ode to the solitude of New York City.  As it enters the night-worlds inhabited by a homeless man with a troubled past (played by Vincent D'Onofrio), and by two young sisters with a dark secret, it unfolds as a study of the loneliness that comes from knowing that innocence and evil are separated by a fine mist that dissipates after sunset. 2018; 29 min.With a Q+A Session by Director Frank Prinzi!
The Luring -Christopher Wells (Brooklyn, New York)  In this compelling psychological thriller, a man tries to recover a lost memory about something that took place on his tenth birthday. Unbeknownst to him, he was found that day in a non-responsive state, which resulted in an extended stay in an institution. Psychiatrists call this state dissociative amnesia - a loss of memory due to a traumatic event - and Garrett will soon learn that some memories are best kept forgotten. 2018; 109 min. With a Q+A Session by Director Christopher Wells and Producer Brian Berg as well as members of the cast and crew! Co-sponsored by the Rutgers University Cinema Studies Program!
Saturday, September 15, 2018 at 7:00 p.m.


Voorhees Hall #105/Rutgers University


71 Hamilton Street, New Brunswick, New Jersey


$12=General; $10=Students+Seniors; $9=Rutgers Film Co-op Friends


Information: (848) 932-8482; www.njfilmfest.com