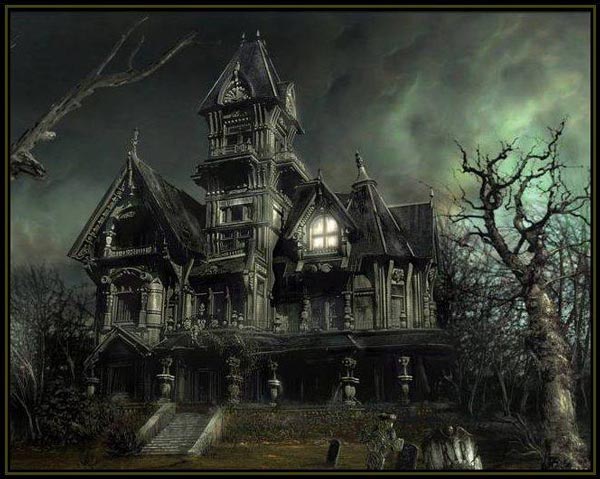 (METUCHEN, NJ) -- The Forum Theatre will present the World Premiere of House on Haunted Hill, "a horror of a comedy"  from October 12 to November 3. Adapted and directed by Peter J Loewy, based on the 1959 motion picture, the play tells the story of five unrelated people chosen to spend the night in what is purported to be a haunted house.
Several murders have taken place in the house in the past. If all the guests stay the night, their host, will give them each $10,000 (it is 1959 after all). The guests include leading man-type, a very nervous secretary, a drunken believer in ghosts, and a debonair Dr of hysteria. It doesn't take long for the unusual occurrences and minor creeps to begin. Soon, the inhabitants are locked in and couldn't leave even if they wanted to! 
Eerie music, the undependable lights, slamming doors, secret passages and the the most ugly housekeeper ever put on stage. Directed by Peter J Loewy, Forum Theatre Producing Artistic Director has lovingly and comically adapted the screenplay to the stage in the vein of Mel Brooks and Neil Simon.
"I have always loved the classic B and C horror movies of the 50's and 60's, although written in a very comic style, House On Haunted Hill is still an homage to the thrillers of that genre, with quite a few laughs, many laughs, along the way!" said Loewy.
The cast includes Patrick J Cogan as Frederick Loren (played by Vincent Price in the original motion picture), Susie Paplow as Annabelle, Vicki Tripodo as Ruth, Paul Whelihan as Pritchard, Todd Fenstermaker as Dr. Trent, CJ Carter as Lance Schrotchum, and Katie Clair McGrath as Nora.
The production is presented by Marloe Ent Inc.  It features scenic design by Anthony Ross and technical direction by Jason Jackson.  
House on Haunted Hill opens October 12 at 8:00pm and runs through November 3 on the following schedule: Thursdays at 7:30pm, Saturdays at 8:00pm*, Sundays at 3:00pm* Special performances, Sunday, October 14 at 7:30pm; Saturday, October 27 at 11:00pm; Wednesday,Halloween October 31 at 7:30pm; and Saturday, November 3 at 10:00pm.
Tickets are $25 reserved seating, $23 seniors & students. Groups of 10 or more $20.  Tickets are available at www.forumarts.net or by calling the box office at (732) 548-5600
The Forum Theatre is located at 314 Main Street in Metuchen, New Jersey. 
---